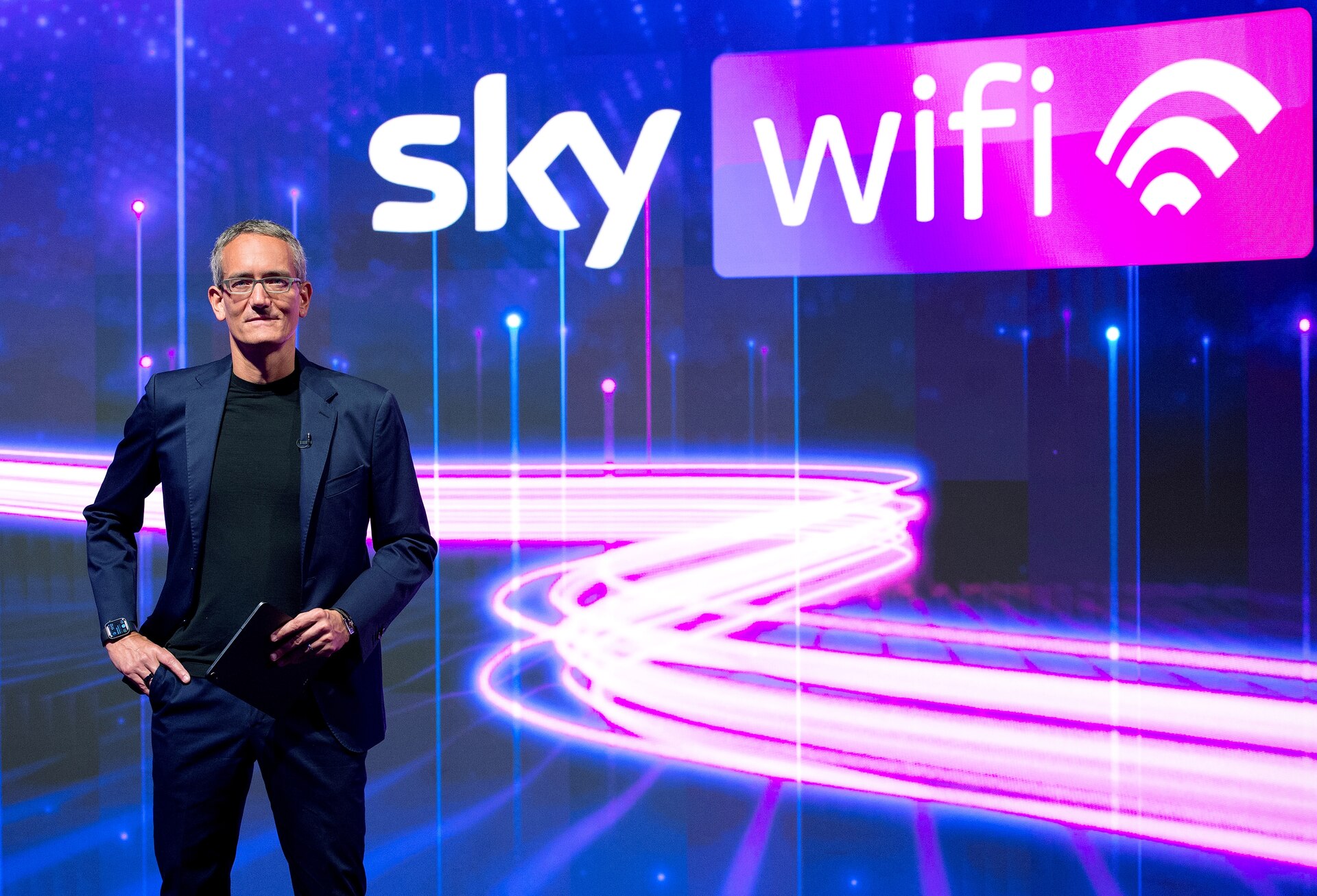 By Claus Hetting, Wi-Fi NOW CEO & Chairman
We don't see it often: Launching a major new broadband service with the word 'wifi' as part of the brand. But that's exactly what Sky Italy – owned by US cable giant Comcast – made happen last week. Sky Italia is relying on field-proven Wi-Fi technology from Comcast and FTTH backhaul to deliver top-quality services.
Sky is well known in the UK for broadband and satellite TV services but probably lesser know for its Italian subsidiary, which – at least until last week – was mostly about satellite TV. All of that changed last week when Sky Italy launched 'Sky wifi', a fibre-based triple-play broadband service complete with whole-home Wi-Fi and up to a gigabit of speed.
Sky wifi hardware looks very much like a replica of Sky UK's (Comcast's) widely successful and field-proven whole-home Wi-Fi gateways and pods. Sky wifi is going to market with three offerings: Gateway only, gateway plus two pluggable pods, and finally a top-of-the-line version including gateway, two pods, and telephony. The pods are similar – at least visually – to the pluggable units originally introduced by Plume but in this case Sky-branded.
And Plume is indeed also involved in Sky Italia's new service launch: According to Plume CEO Fahri Diner, all of the hardware runs on Plume's open-source middleware platform OpenSync. Diner says Plume's original pod hardware design was licensed to Comcast but that current pods – including those of Sky Italia – are now also designed by Comcast.
According to Sky Italyias press release – which can be found here – the service is based on a wholesale agreement with fibre network operator Open Fibre. The service is currently available in 26 cities across Italy although this local news report claims that the service will grow to a footprint of 120 cities & towns by end of summer. The coverage area will include "most of the Italian [regional] capitals and 5 large districts in Rome," Sky Italia says.
Sky Italia have not revealed the exact specs but suffice it to say that Sky wifi is not a Wi-Fi 6 service, at least not yet. Sky Italia's somewhat wordy explanation on how optimized Wi-Fi works runs like this: "The algorithm processes data in real time from devices in the household ensuring a fluid browsing experience in every corner of the house, minimising structural barriers and external interferences as well as automatically self-adjusting to ensure the best signal coverage."
According to Sky Italia CEO Maximo Ibarra, the company has invested €230 million into the project while creating 270 jobs, says this local news source.
/Claus.