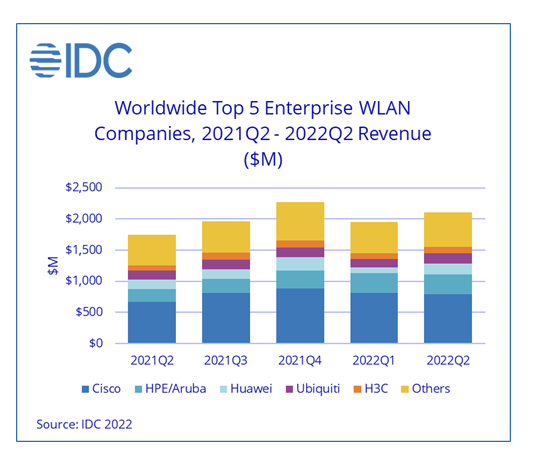 By Claus Hetting, Wi-Fi NOW CEO & Chairman
The enterprise Wi-Fi market grew at an impressive rate of 20.4% year-on-year for the second quarter of 2022, IDC says. The overall value of the enterprise Wi-Fi market stands at US$2.1 billion according to IDC's 'WLAN tracker' with Cisco still leading the market by a wide margin.
The enterprise Wi-Fi market is on track for a strong post-pandemic recovery with a year-on-year second quarter 2022 growth rate of more than 20%, IDC says. The market also appears to be accelerating from an 18.4% growth rate in the first quarter and continues to be driven by Wi-Fi 6 adoption. Wi-Fi 6 APs constituted more than 76% of the shipments in the period according to IDC.
Meanwhile the consumer Wi-Fi market was down about 3% for the same period, IDC says.
Cisco's WLAN revenues increased 19.3% over the period bringing in an impressive US$792 million and leading to a market share of 37.7%. Across the globe the enterprise Wi-Fi markets have grown at very different rates including 15.7% in the US while Latin America grew a whopping 47.7%.
/Claus.