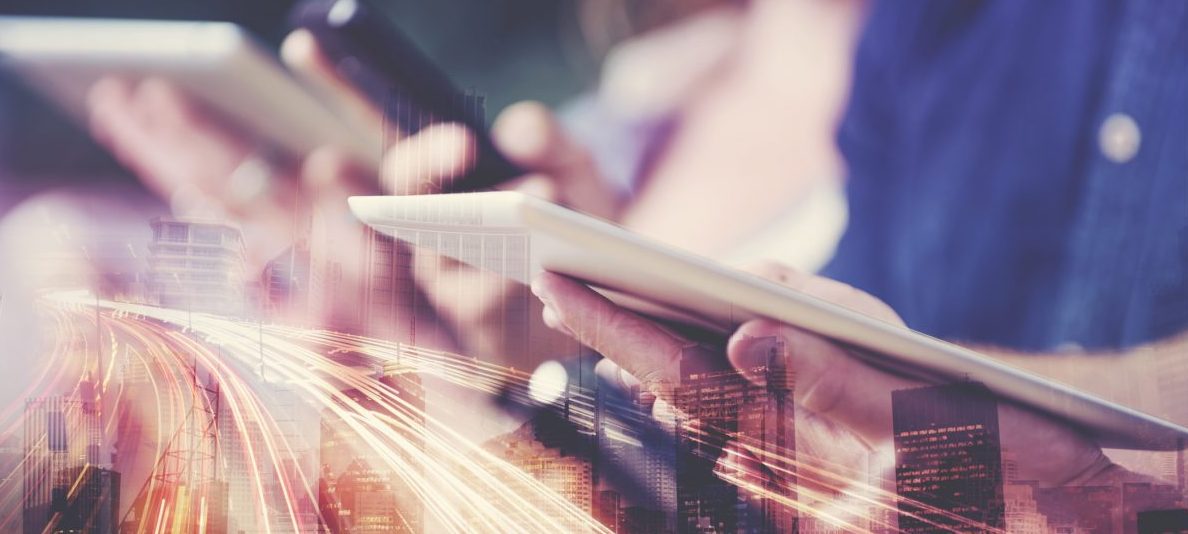 By Claus Hetting, Wi-Fi NOW CEO & Chairman
We don't know yet what the regulation is going to look like for the new 6 GHz Wi-Fi bands but that is not stopping experts from trying to assess what impact the new band could have on Wi-Fi performance and use cases. Broadcom says 6 GHz will be a huge boost to speeds and drive down latency, too. 
How will future 6 GHz bands impact the world of Wi-Fi? That is the billion-dollar question which will not be completely resolved before rules for the 6 GHz bands are finalised by the world's regulators. But it is of course possible to speculate – and even test – what 6 GHz Wi-Fi may be able to deliver.
More than doubling speeds with 160 MHz channels
And that is exactly what chipset vendor Broadcom has been working on: As a starting point 160 MHz channels (for which there will be plenty of room in 6 GHz) will more than double the throughput rate compared to 80 MHz 5 GHz channels – but the benefit is even more pronounced than that: Because of interference and congestion in 5 GHz, single-user 5 GHz performance is mostly not up to scratch. Six GHz Wi-Fi will not suffer from the same problems, Broadcom says.
Another part of the reason for the performance boost is that legacy devices (meaning anything below Wi-Fi 6) will not be permitted to operate in 6 GHz. Sources knowledgable on the matter say that 160 MHz bands in 6 GHz in the end may deliver several multiples better performance compared to 80 MHz in 6 GHz – and not just a little more than double, as illustrated in the graphic below.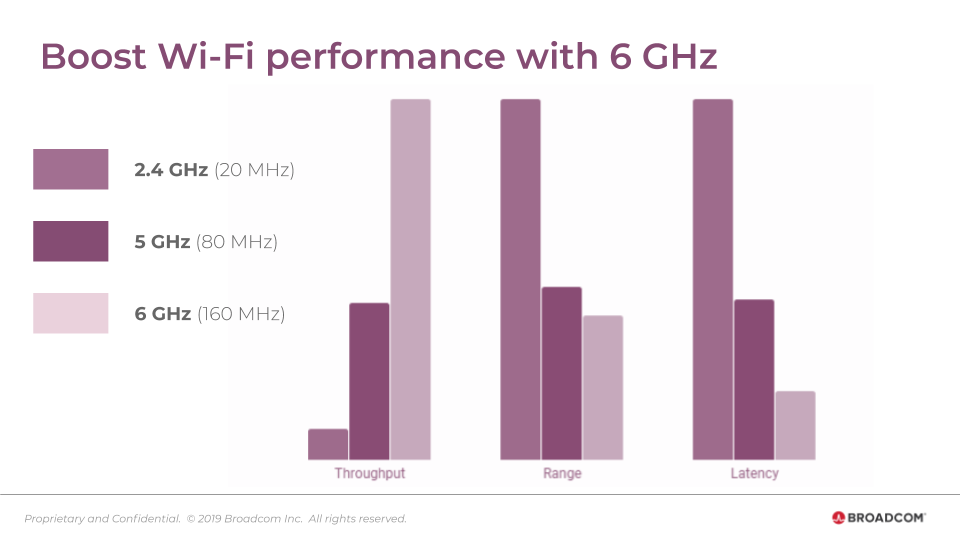 Driving down latency
The new band will also be instrumental in driving down latency. The reasons are similar to the above: Without the congestion and interference prevalent in the 5 GHz band – and without legacy devices – the OFDMA and scheduling functions of Wi-Fi 6 will have unfettered access to the new band, creating stable and consistent low latency performance down to just a few milliseconds, Broadcom says.
The only slight negative is that 6 GHz range will be a few percent shorter than that of 5 GHz (see diagram of relative range, throughput, and latency values above) simply because radio propagation range varies with the inverse square of the frequency. The reduction in range is not particularly consequential in this case because it is small, Broadcom says.
Meanwhile regulators are creeping closer to making a final decision on rules for the 6 GHz band. A source working closely with the FCC and technology vendor partners says the final 6 GHz ruling could come as soon as January 2020. A ruling on the 3.7 – 4.2 GHz band (for 5G) in December is 'first in the pipeline' and hence likely to precede the final 6 GHz decision, the source says.
Cellular industry begins deployment of countermeasures
Thus far cellular carriers have been fairly passive on the 6 GHz issue but this could be changing. On October 24 T-Mobile suggested to the FCC that spectrum above 6425 GHz should be allocated to licensed use (see the FCC ex-parte filing here), which in turn would lead to the not insignificant challenge of removing tens of thousands of microwave links from the band.
Cellular vendors also appear to be trying to obstruct or delay plans to extend 6 GHz unlicensed regulation across the globe. Ericsson and Huawei recently hatched a scheme pushing the ITU to commission a study of International Mobile Telecommunications (IMT) in 6 GHz, which could – at least in theory – delay 6 GHz adoption in regions outside the US by 4 years or more. The prospects of that actually happening are unclear at this time.
The original consortium of 6 GHz proponents – including Facebook, Microsoft, Apple, Cisco, Broadcom, and others – last week reacted swiftly and firmly against the cellular industry's attempt at derailment. They urged the FCC "to remain steadfast to the goal of opening the 6 GHz band to unlicensed use and to consistently work toward this goal with respect to both its domestic and international agendas," this ex-parte filing says.
/Claus.