By Claus Hetting, Wi-Fi NOW CEO & Chairman
Taiwan-based Wi-Fi equipment vendor Edgecore is taking aim at big contracts with large Asian carriers as part of an ambitious plan to become the leading global vendor of TIP OpenWiFi-based networks. Meanwhile hundreds of Edgecore OpenWiFi APs have already been deployed at Taiwan's National Yang Ming Chiao Tung University. The NYCU campus network is one of the first live OpenWiFi networks in the world. The company believes strongly in the transformative power of the new OpenWiFi networking paradigm.
The Telecom Infra Project's recently announced OpenWiFi program – which aims to disaggregate the Wi-Fi network software stack and introduce open-source Wi-Fi networking to the world – is already now empowering Wi-Fi equipment vendors to grow their market share as well as expand into new market segments. Case in point: Taiwan-based Wi-Fi vendor Edgecore Networks.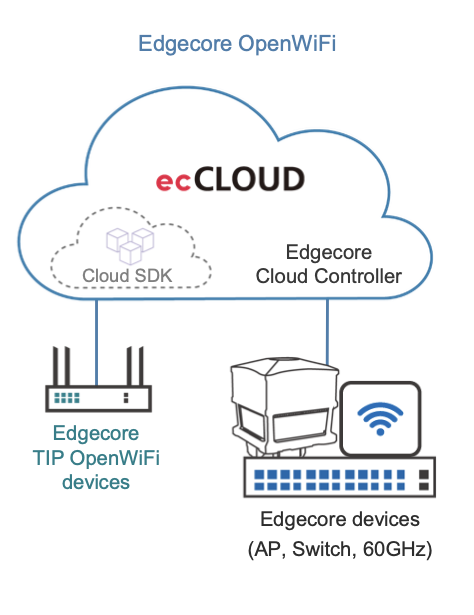 Edgecore says they are now aiming at becoming the major provider of OpenWiFi-based Wi-Fi network equipment to some of the worlds largest carriers and service providers, including some in South East Asia. Add to this that Edgecore is expanding its OpenWiFi ecosystem to include collaboration with a selection of innovative software companies and managed service providers. This means that Edgecore OpenWiFi solutions will include applications aimed at various Wi-Fi market verticals such as Wi-Fi networks for chains of retail stores or restaurants, campus networks, enterprise networks, as well as affordable connectivity for rural areas.
"Especially large service providers are very interested in our OpenWiFi solutions because OpenWiFi offers a long list of operational benefits and service flexibility that carriers never had before, while maintaining all the performance benefits – for example – of Wi-Fi 6. And we can easily customise our OpenWiFi systems to carrier specifications," says Max Wu, Edgecore's senior product manager for OpenWiFi-capable family of products. "We are big believers in the value and utility of OpenWiFi networking for carriers but also for hospitality, MDUs, campus networks, and more," Max Wu says.
Edgecore was one of the first vendors to launch OpenWiFi-ready hardware and has already released multiple indoor and outdoor Wi-Fi 5 enterprise-grade OpenWiFi APs. Wi-Fi 6-capable OpenWiFi APs are also available in several indoor models while outdoor Wi-Fi 6 AP models are expected to be released in Q4, Edgecore says. The company has also released a couple of OpenWiFi-compatible PoE switches to complete the solution portfolio. The Edgecore Cloud controller – called the ecCLOUD – now supports both native Edgecore devices as well as OpenWiFi-compatible APs via the TIP OpenWiFi Cloud SDK.
NYCU students connect with OpenWiFi
Meanwhile hundreds of Edgecore OpenWiFi APs are already in operation at one of Taiwan's most renowned tech universities. Students at the campus of the National Yang Ming Chiao Tung University (NYCU) in Taipei are already connecting to Wi-Fi via Edgecore OpenWiFi APs and some students are even contributing to the ongoing work on developing applications and services based on the OpenWiFi standard, Edgecore says. The NYCU campus network is one of the first live OpenWiFi networks in the world and – as far as we know – thus far the largest.
Edgecore has in record time become of one of the leading contributors to the global TIP OpenWiFi ecosystem. The company is already today operating a TIP OpenWiFi-capable test bed – a lab for the TIP community – to test OpenWiFi equipment for interoperability, traffic handling capability, RF performance, and more. Edgecore solutions also support the Wireless Broadband Alliance's OpenRoaming standard for Passpoint-based seamless authentication, roaming, and offload. Edgecore is Wi-Fi NOW's Official TIP OpenWiFi-ready HW provider.
/Claus.