What is Wi-Fi NOW all about?
Our mission is to support and promote Wi-Fi for everyone, everywhere – and for things, too. To do that we're bringing together the entire Wi-Fi industry for three days of Wi-Fi technology innovation and business opportunity. Here are just some of our conference themes for the Wi-Fi NOW event series in 2021: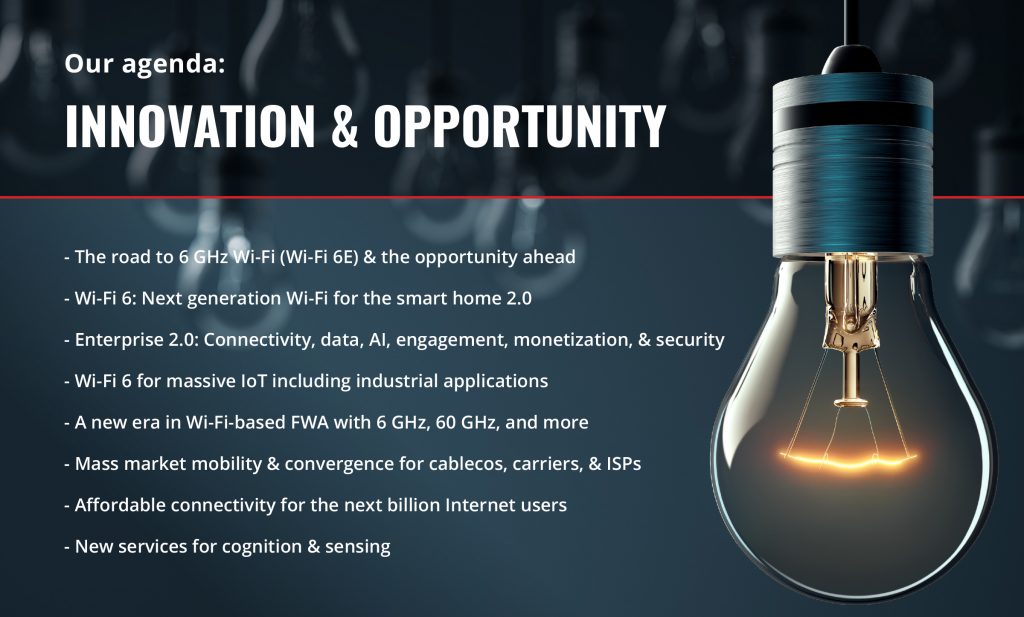 The road to 6 GHz Wi-Fi (Wi-Fi 6E) & the opportunity ahead
Without a doubt the biggest opportunity in Wi-Fi – and probably in wireless in general – in a generation is 6 GHz Wi-Fi. Releasing 1.2 GHz more spectrum is not just an opportunity, it's a paradigm shift in wireless. We will dig into all the details and help you make sense of this new windfall for wireless.
Wi-Fi 6: Next generation Wi-Fi for the smart home 2.0
The home and everyone in it have become the biggest consumers of Wi-Fi – and they want more. Opportunities in making home Wi-Fi better and delivering new, high-value services over home Wi-Fi have never been more abundant. We've invited the home Wi-Fi leaders to deliver the insights.
Enterprise 2.0: Connectivity, data, AI, engagement, monetization, & security

The wireless enterprise is evolving in leaps – with plenty of new technology and new opportunities to boot. More & better connectivity is a given – but how about applying AI, harvesting data, delivering real engagement, monetizing public venue Wi-Fi, and not least making it all safe and secure? We'll bring you all the details and connect you with the experts.
Wi-Fi 6 for massive scale IoT including industrial use cases
Wi-Fi 6 comes with just the right toolbox of features to enable mass market and massive scale IoT. What are the right industrial use cases for Wi-Fi 6 IoT, and how can they be enabled? We will have the Wi-Fi pioneers on hand to tell you more.
A new era in Wi-Fi-based FWA with 6 GHz, 60 GHz, and more

Wi-Fi-based FWA is coming of age fast and with the introduction of the 6 GHz band, the opportunities abound. How can vendors and ISPs capitalise on new spectrum and new Wi-Fi technology to deliver more broadband services better and at low cost? We will answer this question and more.
Mass market mobility & convergence for cablecos, carriers, & ISPs
Bringing great Wi-Fi into a gapless service fabric together with 4G/5G mobile is the Holy Grail of connectivity – and we're getting closer to full convergence this year. We will have the experts on hand to discuss mass market Wi-Fi roaming, 'offload', and mobile/Wi-Fi convergence in all its forms.
Affordable connectivity for the next billion Internet users
Wi-Fi is a great, cost-effective way to connect the unconnected or make more connectivity available affordably across the globe. So who is leading the charge and what's the right strategy and the right technologies to do this? We will have the pioneers on hand to inspire you to do more.
New services for cognition & sensing
One of the hottest new emerging opportunities in Wi-Fi in recent years is cognition and sensing. We dive into the details of the technology and how it can be applied to develop and deliver powerful and valuable new service for the home, healthcare, public spaces, and more.
Security In Focus
Wi-Fi security is a big deal because it's a real threat to the proliferation of public and any other kind of Wi-Fi. With help from some of the world's leading security experts and specialised technology vendors, we take on the Wi-Fi security challenge. It's a big deal and we need solutions now.
Quality, Quality, Quality
New Wi-Fi 6 standard is blazingly fast – but not all Wi-Fi is created equal. We look at all the great innovations out there for boosting performance and especially for taking Wi-Fi services to the next level of guaranteed quality both indoors and out.