Wi-Fi NOW is the world's premier Wi-Fi industry event, media, & advisory organisation. Our events are renowned for excellence in thought leadership as well as for outstanding & exclusive Wi-Fi industry content available nowhere else. We also provide our delegates with unique opportunities to meet and network with the world's Wi-Fi leaders.
Our mission
The mission is to support and promote all things Wi-Fi. Our goal is to make high-quality, high-performance Wi-Fi available everywhere, for everyone – and things. We work with individuals, carriers, service providers, tech vendors, and regulators – in short: Any organisation that shares this important mission and goal with us. For more about our values also see our Manifesto here.
What to expect 
You will meet the industry leaders, entrepreneurs, innovators, and experts from across the global Wi-Fi industry. We showcase the most innovative companies and case stories driving the Wi-Fi industry forward. In short: We bring the industry together for three days of networking and knowledge sharing – and we're the only major 100% Wi-Fi conferencing event in the world.
Our latest conferences & expos in San Francisco, Berlin, and Washington DC were rated with an overall scores of better than 4.3/5 (see below).

Agenda 
Our conference agenda is packed with inspirational keynote speakers, innovators, and experts. At the expo you can experience live demos and meet typically more than 40 companies representing every aspect of the Wi-Fi industry. Wi-Fi NOW is the perfect place to drive your Wi-Fi business forward. If your company operates in the Wi-Fi industry, Wi-Fi NOW is the one event you won't want to miss.
An exceptional track record
Wi-Fi NOW CEO Claus Hetting has since 2013 created more than fifteen major Wi-Fi industry events in Europe, USA, Asia, and Africa. Wi-Fi NOW USA in San Francisco builds on the successes of our previous events in Amsterdam, London, Cape Town, The Hague, Bangkok, Shanghai, San Francisco, and Berlin, which have spanned more than three thousand delegates as well as more than 200 sponsors and exhibitors.
Attendee profile & seniority                                      Ecosystem mix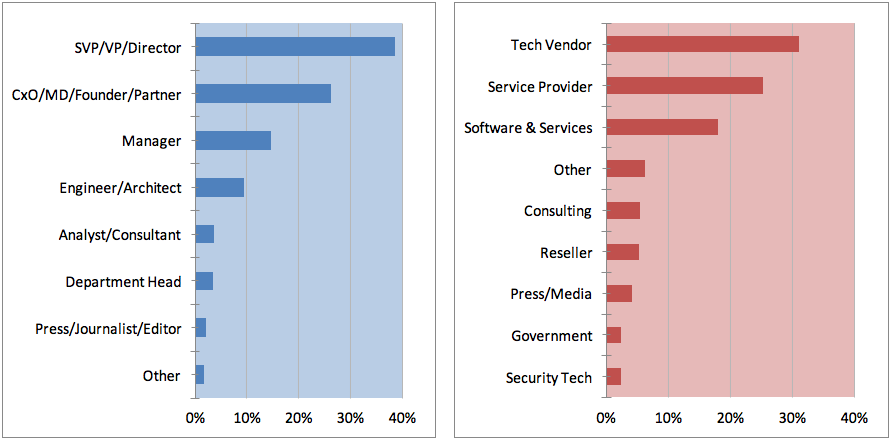 Above: Aggregated data from our five previous Wi-FI NOW events in Washington DC April 2016, London October 2016, Washington DC April 2017, Cape Town May 2017, and Berlin November 2018.