撰稿人: 柯乐思,  Wi-Fi NOW CEO & Chairman
 Plume IQ 表示,在欧洲连接设备方面,苹果是无可争议的品牌领导者。在由 Plume 提供服务的欧洲家庭中,82% 的家庭至少拥有一台 苹果设备。 在品牌忠诚度方面,苹果也大大击败了其余的设备品牌。 Plume IQ 基于从 Plume 解决方案支持的家庭中提取的匿名数据,为智能家居行业提供情报和见解。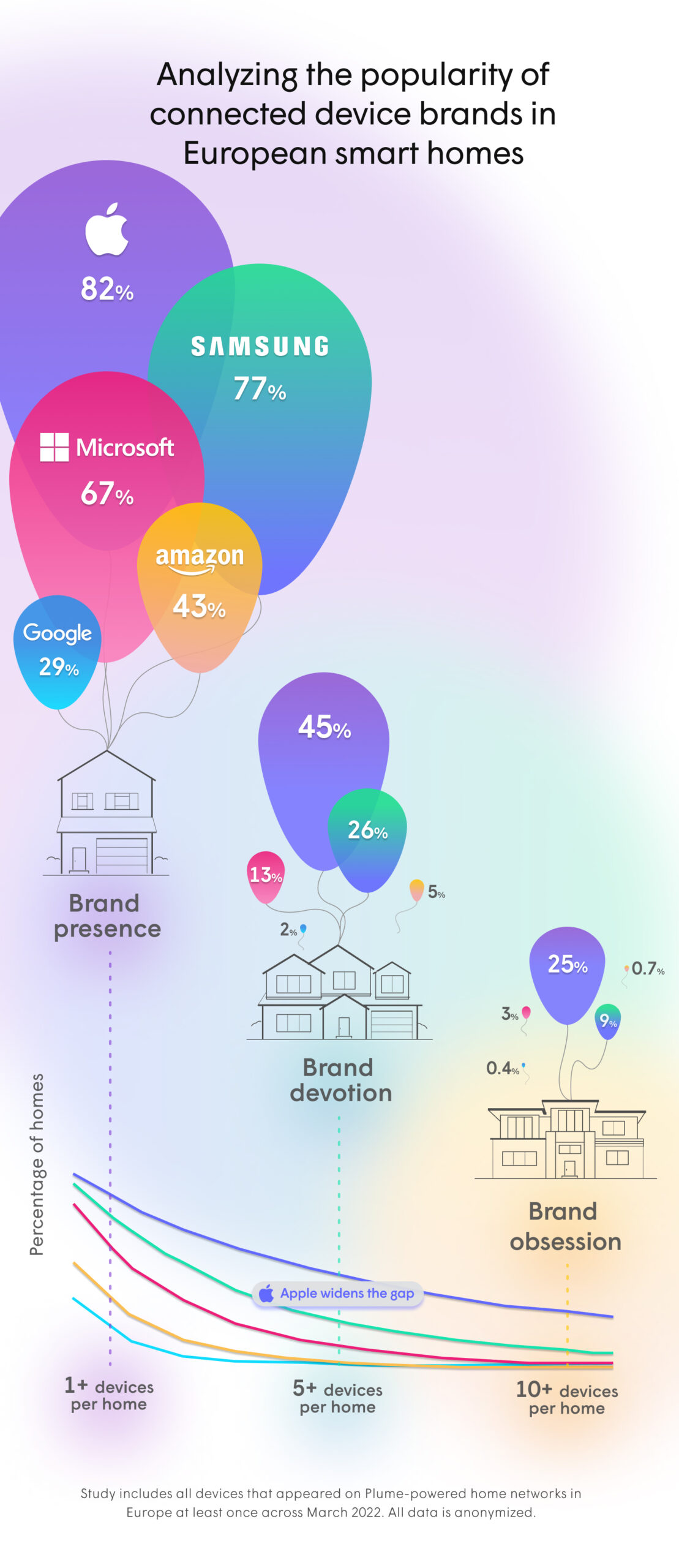 与竞争对手相比,让苹果更加与众不同的是品牌忠诚度:高达 45% 的拥有苹果设备的家庭连接的不仅是一台 苹果设备,而是五台 ——其中超过 25% 的家庭甚至连接了惊人的十台或更多的苹果设备。
排名第二的品牌是三星,欧洲 77% 的使用  Plume 解决方案的家庭至少连接了一台三星设备,而微软、亚马逊和谷歌则紧随其后。 但根据 Plume IQ 的最新数据,三星在欧洲的品牌忠诚度并没有达到苹果这样的极端水平。
Plume IQ says brand loyalty data – such as the information revealed here – is critical for service providers to understand in order to 'optimise sales and support around the most popular devices'. Overall Plume IQ extracts and analyses data from 1.6 billion connected devices in more than 40 million locations – all managed on the Plume Cloud.
Plume IQ 表示,品牌忠诚度数据(例如此处披露的信息)对于帮助服务提供商了解信息,以便 "围绕最流行的设备优化销售和支持"非常重要。 Plume IQ 可从总共超过 4000 万个地点的 16 亿台连接设备中提取和分析数据 – 所有这些都在 Plume Cloud 上进行管理。
Don't forget to sign up for monthly home broadband insights from Plume IQ here.
点击此处可注册 Plume IQ 的每月家庭宽带信息及见解服务。