The next Wi-Fi NOW expo will be held in Miami, Florida, USA on March 29-31, 2022. For more information see this link and for expo opportunities contact our Event Director Inna Simeonova at [email protected]  for more information.
Wi-Fi NOW EXPO at a glance
Wi-Fi NOW Expo services brings you branding, media exposure, and expert interviews. Our expo service is the fastest, and most effective path to industry-wide recognition for your products. We use own media channels, and our own acclaimed industry expertise to get you all the exposure your products deserve.
Showcase your Wi-Fi products to the world
40+ exhibitors
Live products demos
Pre-event PR push: Creation and distribution of press releases and articles
Matchmaking service: Meet your ideal business partners and clients
Distributions of content to thousands of industry professionals
Connecting you to members of the press, and PR support
More services for more exposure
Lanyard branding
Give-away of your product on stage (raffle)
Sponsored cocktail/drinks reception
Branded coffee cups or other consumables during all three days of the event
Sponsored lounge in the expo area
Company branding & banners in conference rooms, registration area, main conference hall
Sponsored, eye-catching gimmicks at the expo and in the registration area
What our expo clients had to say
"Networking opportunities with innovators, and new business partners," – Andrew von Nagy, Education Networks of America
"Great cross segment on Wi-Fi ecosystem provided excellent insight into complementory solutions/partners," – Keith Sinclair, Adaptrum
"High amount of exiting attendees at VP level," – Fouad Zreik, Cape Networks
"Brings everyone in the industry together to share knowledge, and information of what works, what is trending, and where we are headed," – Eric Feazel, IT WORKS! Inc.
Interested being part of our expo? Email Inna Simeonova today to learn more.
Our credentials
The history of the Wi-Fi NOW event series is remarkable: In less than 5 years, more than 100 leading Wi-Fi companies have chosen to partner with us. And we expect many more to come onboard and join us soon!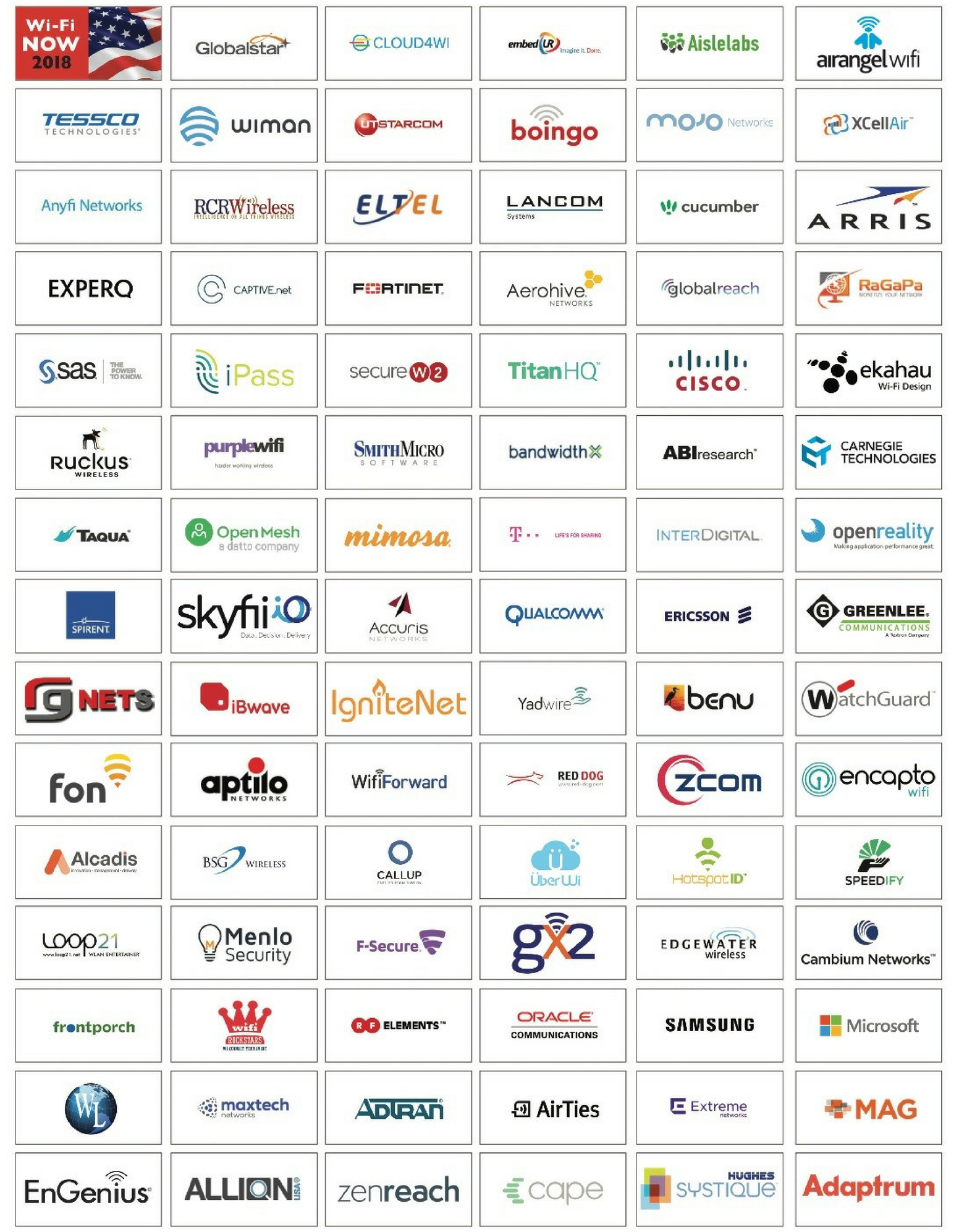 Above: Sponsors & exhibitors from previous Wi-Fi NOW & other events managed & directed by Claus Hetting.