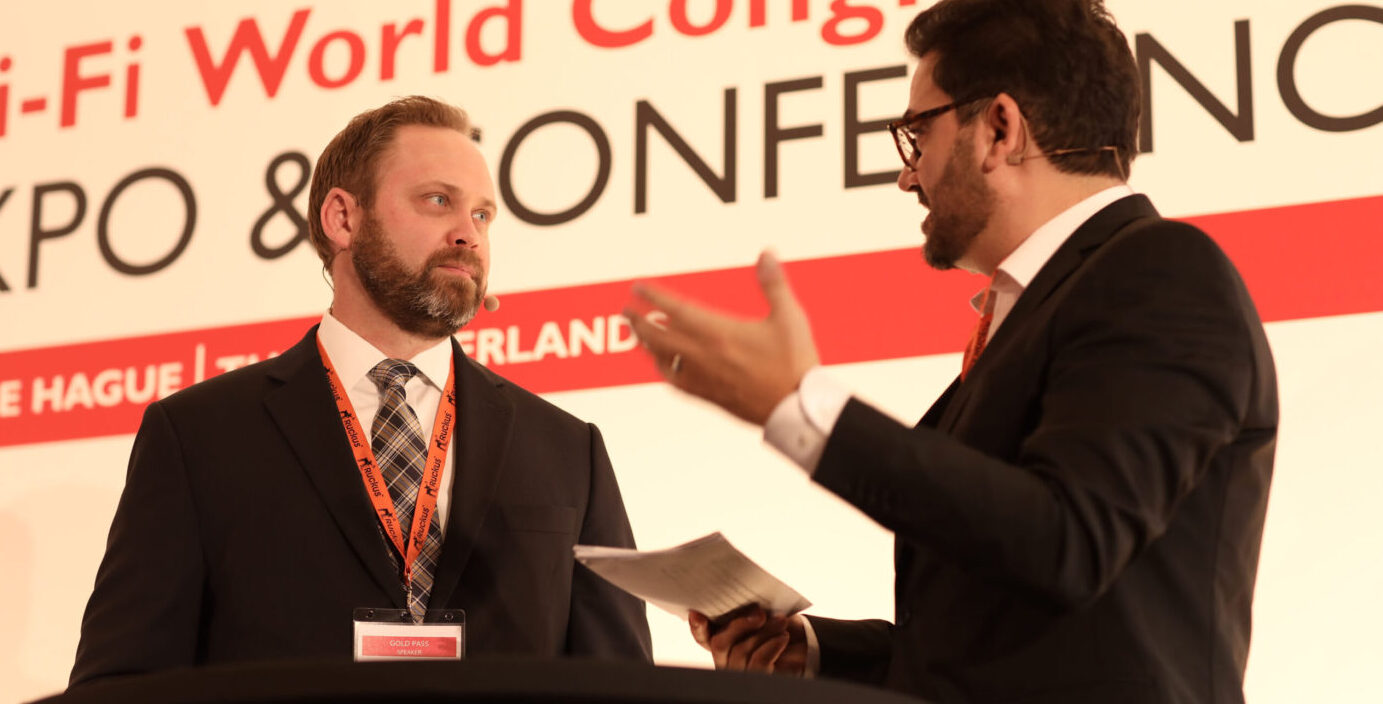 Por Claus Hetting, CEO & Presidente Wi-Fi NOW
¡Es oficial! La semana pasada la Wi-Fi Alliance nombró a Kevin Robinson su nuevo presidente y CEO. Kevin Robinson es un veterano de Wi-Fi Alliance, a la cual se unió hace 15 años, es graduado de la Academia Militar de los Estados Unidos de West Point, cuenta con un Máster en Administración de Empresas por la Universidad de Texas en Austin y es veterano de la guerra de Irak. Las prioridades de Kevin Robinson para la Wi-Fi Alliance incluyen ampliar su rol y seguir un enfoque más centrado en los negocios.
Con quince años de experiencia en la Wi-Fi Alliance (incluidos siete años como vicepresidente y vicepresidente sénior de marketing), Kevin Robinson es, desde el 20 de octubre, el nuevo director ejecutivo y presidente de Wi-Fi Alliance. A medida que el mundo del Wi-Fi continúa expandiéndose en múltiples direcciones y creciendo a un ritmo sin precedentes, Kevin Robinson y el resto del equipo de la Wi-Fi Alliance tendrán mucho trabajo por delante. Pero eso no es un problema.
Porque probablemente nunca haya habido un momento más emocionante para encabezar una organización en la industria Wi-Fi. Y podría decirse que las nuevas prioridades de Kevin Robinson reflejan los enormes cambios por los que ha pasado la industria Wi-Fi durante su historia. "Queremos ser el foro de colaboración elegido por nuestros miembros y por la industria, así como el hogar natural de la próxima generación de innovadores en Wi-Fi", dice Kevin Robinson.
Enjoying this story?
Leave your email here and we'll get you all the latest Wi-Fi news.
También dice que quiere que la Wi-Fi Alliance esté más en contacto con los equipos de productos y servicios de sus miembros. "Queremos que la Wi-Fi Alliance sea el lugar donde nuestros miembros vengan a discutir y abordar los desafíos y oportunidades del mercado, eliminando los impedimentos para el éxito del mercado del Wi-Fi que frustran a sus equipos de productos y servicios. Este es uno de varios objetivos nuevos", dice, reflexionando sobre un enfoque más orientado a los negocios para el liderazgo de la Wi-Fi Alliance.
Kevin Robinson dice que sus tres áreas de enfoque inmediato son: "Asegurar un espectro Wi-Fi global suficiente y unificado, profundizar el compromiso y la cohesión en todo el ecosistema Wi-Fi, y hacer evolucionar la organización Wi-Fi Alliance para garantizar que sea tan ágil como la industria a la que sirve."
En su vida personal, Kevin está casado con Bree Anne y es padre de Ella, de 12 años, y Harper, de 10 años. Kevin es originario de San Diego (de hecho, es uno de los pocos californianos de cuarta generación) pero ha hecho de Austin, Texas, su hogar desde el año 2000. Kevin sirvió en Bagdad en 2004 y es la única persona que conocemos a la que han disparado con un proyectil explosivo de 107 milímetros. Afortunadamente falló.
Kevin Robinson fue la primera contratación del ex presidente y director ejecutivo de la Wi-Fi Alliance, Edgar Figueroa, y cumplirá 15 años trabajando para la Wi-Fi Alliance en enero del próximo año. Esperamos celebrar en un futuro su vigésimo aniversario, y muchos más. Una enorme y calurosa bienvenida a Kevin Robinson de parte de todos nosotros en Wi-Fi NOW.
"Queremos felicitar a Kevin Robinson por su nombramiento, y a la Wi-Fi Alliance por su excepcional nuevo presidente y director ejecutivo. En nuestra opinión, la Wi-Fi Alliance no podría haber elegido a una persona con más experiencia, visionaria y ferozmente dedicada a este trabajo. También queremos agradecer a Edgar Figueroa por su enorme e invaluable contribución al Wi-Fi a lo largo de los años. Le echaremos de menos". – Claus Hetting.
/Claus.