Wi-Fi NOW Training – The fast track to the Wi-Fi knowledge you need!
Welcome to our new Wi-Fi NOW Academy live online Wi-Fi training series offered in conjunction with our well-known partner Nanocell Networks. Wi-Fi NOW Academy is the FAST TRACK to the knowledge you need on Wi-Fi standards and technology – we cover ALL the new Wi-Fi standards including Wi-Fi 6, 6E, and 7. End result: Save time, save money – and get the training you need!
What others say about Wi-Fi NOW Masterclasses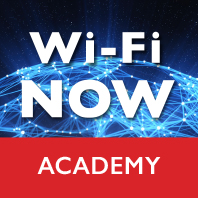 "The 2 day web training (6hrs) on WiFi6 (802.11AX) from Srikanth was very informative. His presentation was crisp and clear and was pretty engaging too. The depth and width of his presentation on MAC and PHY was quite right. By attending this seminar, I saved weeks and weeks of 802.11AX document reading. By making the recordings of the presentation available for a limited time, Srikanth offers all the attendees', a 2nd chance to listen to the seminar and solidify his/her knowledge. I would definitely recommend this course to anyone who like to get a good knowledge on the inner workings of WiFi6. I will give 5/5 for Srikanth's presentation skills".

Vamadevan Namboodiri, PhD. Samsung Electronics USA
Upcoming Masterclasses
More information on Wi-Fi Training
Who should attend Wi-Fi NOW Academy Masterclasses?
Marketing Managers, Project Managers, Wi-Fi Engineers, Network Engineers, & Network Architects. If you are in doubt if a particular course is for you, feel free to contact [email protected]

What is included in the Wi-Fi 6 training program?
🌟Full training in all aspects of Wi-Fi (general), Wi-Fi 6, 6E & 7
🌟On-demand recording of the Masterclass
🌟The course slides for review
🌟Reference and worksheets used in the course

How is it possible to attend a Wi-Fi NOW Academy Masterclass?
To attend an Wi-Fi NOW Academy Masterclass, you need to register and purchase tickets to the class itself.
Corporate Wi-Fi Training
Looking for Wi-Fi training for your team? It's a great idea. Here's why.
There are a lot of good reasons why we encourage companies to attend our Wi-Fi NOW Academy training in teams. We're big believers in this – which also means we've widened our portfolio with new corporate training packages including our new certified 'Wi-Fi Evolution Expert' program and package.
Here are our top four reasons why we think team training is a great idea:
🌟 Improving corporate knowledge-base raises productivity
🌟 Social learning connects & engages team members
🌟 Supportive interactions with work colleagues is linked to better results
🌟 Easier to review & maintain corporate knowledge-base
Interested in corporate training packages?
Contact our Training Administrator Maria Thomsen here.