Por Claus Hetting, CEO & Presidente de Wi-Fi NOW
Wi-Fi 6E ya está aquí y Wi-Fi 7 podría estar listo en menos de 6 meses, según algunos expertos. Entonces, ¿cómo afectará la tecnología Wi-Fi de 6 GHz a uno de los segmentos de servicios gestionados más importantes del sector? Uno de los MSP más grandes de Norteamérica  examina esta pregunta en un nuevo documento: "Modern Life Requires Transformative WiFi: Enabling the Technology Revolution with 6 GHz and WiFi 7" – descárgalo a continuación.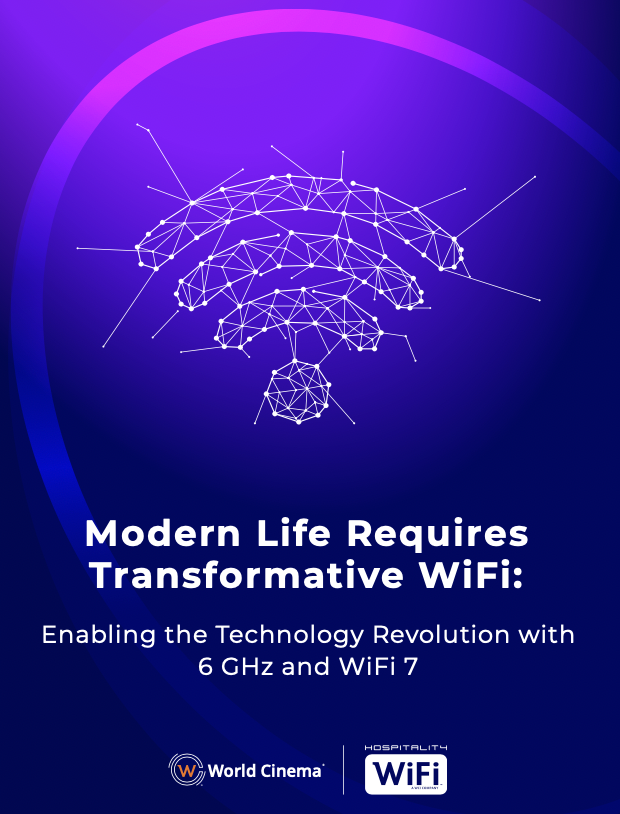 Los primeros dispositivos Wi-Fi 7 de usuario final podrían estar disponibles en menos de 6 meses y la tecnología Wi-Fi 7 promete ser otro gran salto en el rendimiento de conectividad. Las características del nuevo estándar incluyen bandas más anchas, modulación de orden superior, operación multienlace para velocidad y redundancia, y más. Pero, ¿cómo afectará Wi-Fi 7, por ejemplo, a la conectividad para hostelería y MDU?
Un nuevo artículo de World Cinema (WCI) y Hospitality WiFi (el segundo adquirido recientemente por el primero) explora en profundidad esta pregunta. La pregunta es importante porque uno de los segmentos de mercado de Wi-Fi más grandes y lucrativos, las soluciones y servicios para hospitalidad y unidades de viviendas múltiples (MDU), se encuentra en la cúspide de un cambio generacional en tecnología de conectividad.
"Creemos que los avances de WiFi 7 tanto en espectro como en inteligencia de red realmente cambiarán la forma en que usamos Wi-Fi en los hoteles, proporcionando una mayor justificación para las actualizaciones de infraestructura", dice World Cinema en el documento. La compañía también dice que Wi-Fi 7 proporcionado por la comunidad se convertirá en el estándar de la industria para MDU y redes de campus – también para permitir la gestión inteligente de edificios.
Mientras tanto, se recomienda a los propietarios que se preparen construyendo redes troncales basadas en fibra en todas sus instalaciones. En el caso contrario, dice Word Cinema, "los propietarios que no se mantengan al día con estos desarrollos verán sufrir la calidad y el valor capitalizado de su comunidad".
Para obtener una perspectiva completa sobre el impacto futuro de 6 GHz y Wi-Fi 7 de uno de los líderes del mercado norteamericano, completa el siguiente formulario para descargar el documento.