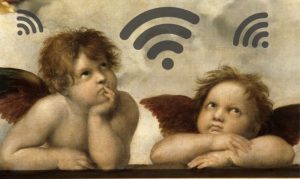 Everyone's talking about 5G (if you want to know what we think of it read this) – meanwhile, what's going largely unnoticed are the huge strides of advancement being made in good-ol' fixed wireless access, or FWA. So what's new on that front, you ask?
We're glad you asked. It's actually quite a lot.
Massive MIMO leads the way
The first thing is that massive MIMO is real and here today. Not only is this hiking speed & performance. The leaders in this space are driving down cost per bit in leaps and attacking what used to be the solitary domain of fibre.
Google Fibre also recently seems to have taken a turn towards FWA with the purchase of the Webpass ISP and with new plans for extending Google Fiber wirelessly to American households. All of this is indicative of what we like to call 'the fixed wireless Renaissance'.
A couple of the companies we like on this front are Mimosa Networks, Cambium Networks, and the antenna tech innovators from RF Elements. And if you include other leaders such as hugely profitable Ubiquiti Networks and mmWave newcomer Siklu, new FWA is a formidable field of promising contenders.
Driving down the cost of access everywhere
The idea of course is to offer gigabit speeds to home and office at a fraction of the cost of laying down fibre – and not least with a much shorter deployment time.
A few big deployments of this type could well shake up the cable markets in a few countries including in the USA and – not least – in emerging markets. In big parts of the world where Internet access is still scare, we're betting that new FWA could drive down the cost of broadband to below the $5 per month limit, which is where it needs to be to connect the next billion.
Wi-Fi is a critical enabler
So what's the role of Wi-Fi in all of this? We expect that Wi-Fi will be critical as the last leg for new FWA deployments because it will reach everyone with any kind of device. And unlicensed bands – including 5GHz, mmWave, and TV White Space – will be the zero-cost spectrum used for all of this including the FWA links themselves.
Yo can meet 'fixed wireless Renaissance' leaders Mimosa, Cambium, and RF Elements at Wi-Fi NOW in London – and we will also be covering how to build emerging markets Internet access to support $3 dollars a month services with our great team of hands-on experts. Register now here!
/Claus.