By Martynas Tovarovas, Wi-Fi NOW Staff Writer
A group of six young Canadians from Red Deer, Alberta, have invented a rapid deployment flying Wi-Fi hotspot capable of delivering connectivity in remote areas. The drone can be used for rescue operations, tours & tourism, or even in dangerous work environments. The group of six were finalists at the Capstone Project of the Year Award by the Association of Science and Engineering Technology Professionals of Alberta (ASET).
Life in rural Canada can be adventurous: It's not hard to get lost in the wilderness or even stumble upon a bear. At the same time Internet connectivity can be scarce outside the big cities, especially because cellular coverage in rural areas often is unreliable or spotty at best. 
Enter a group of students at Red Deer College: The six students have invented a 'connectivity drone' featuring specialised equipment to enhance radio signals. The drone is capable of autonomous flight and can be deployed rapidly in the event of an emergency, the students explain.
Enjoying this story?
Leave your email here and we'll get you all the latest Wi-Fi news.
"The drone automatically takes off when you are about to make a call. Then, as it reaches an altitude of around 200 feet, it acquires a signal from a cell tower and projects a Wi-Fi hotspot over a wide area on the ground for calls to be made through Wi-Fi calling. When the call is over, it will automatically land and charge its battery," says Jonathan Wong, student at Red Deer College.
The flying Wi-Fi hotspot drone relies on cellphone signals from towers. By elevating the signal reception point to substantially above terrain there is a much better chance of acquiring a useful signal, Jonathan Wong says. The drone could also be used for exploration, drilling operations, search and rescue, or even a simple hiking trip, say the creators of the flying hotspot.
The students have already been lauded for their creation. "The flying Wi-Fi hotspot reflects the innovation and ingenuity of ASET engineering technologists and Alberta's polytechnic educational institutions. It serves a genuine and unfulfilled public need for communication in isolated circumstances," says Barry Cavanaugh, CEO of the Association of Science and Engineering Technology Professionals of Alberta.
Although the flying hotspot is already fully functional, there is still plenty work to be done, says Jonathan Wong. "At the moment all electronics are exposed on the prototype, so it's not very durable. We need to find the right solution to that, of course," says Jonathan Wong.
The team is planning on building a 3D-printed enclosure to protect the electronics. Thus far they have not had to use more than 30% power so there is no issue with overheating and the motors are completely waterproof. Test flights have also shown that it can withstand the cold and snow very well, at least down to temperatures of -20 degrees Celsius. Flight time in that case is significantly reduced, the students say.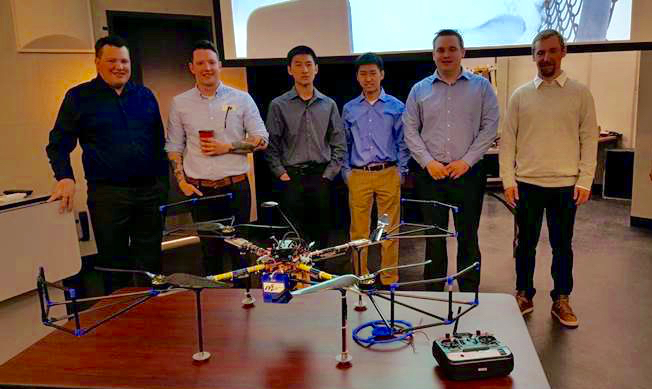 /Martynas.