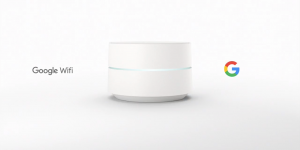 It's a nagging problem in millions of households around the world: Great Wi-Fi in the living room and crappy Wi-Fi everywhere else. Now Google is throwing some weight behind a fix to this problem. Just yesterday, Google launched its new Wi-Fi router product called simply 'Google WiFi' and it comes packed with some pretty nifty features.
The first is the look: Google's done a great job in creating a hockey-puck shaped pod that will look good anywhere in your home. The new device supports 802.11ac Wave 2 with 2×2 MIMO – so the performance should be right up there with the best.
The units hook up to form a self-optimizing mesh and not only that: Google says that the connection (for your smartphone, for example) will seamlessly transition between units as you walk around your home. Very nicely done, Google. For all the details read more here.
So why is Google getting deeper into the router business? Well – the idea is not new for Google who launched the OnHub router about a year ago. At Wi-Fi NOW USA in Washington, D.C. in April, Google's own Trond Wuellner explained it like this: When 80% of traffic on Google sites and services is served up via Wi-Fi, of course Google is interested in making sure that home Wi-Fi is as good as it possibly can get.
But meshed in-home routers are also a big business opportunity in its own right, maybe even one of the biggest in consumer electronics right now. By our reckoning the right fix to the nagging bad home Wi-Fi problem could reach into the billions of dollars in market value.
For all the details and the inside story, don't miss Google's own Sanjay Noronha at Wi-Fi NOW London this October 25.27. Get your ticket here!
/Claus