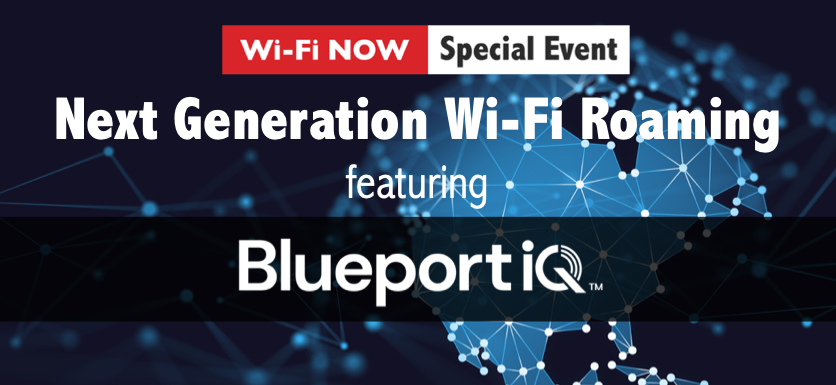 To view the recorded event register above and the viewer window will clear. Please note this is the unedited file. The program starts at about 9 minutes into the video file. Enjoy!
A Wi-Fi NOW Special Event: Next Generation Wi-Fi Roaming
– featuring BlueportiQ
Seamless and secure Wi-Fi roaming is the key to boosting the value of Wi-Fi services everywhere – and also the key to sustained Wi-Fi industry growth. BlueportiQ has reimagined the case for Wi-Fi roaming and has reengineered the infrastructure required. Spoiler alert: It is a lot simpler, more capable, and more efficient than any roaming solution you have seen before.
In this 1-hour interactive Special Event we'll be digging into all the Wi-Fi roaming details:
The case for Wi-Fi roaming: Challenges & opportunities
– with Fred Reeder, President & Principal Analyst, HBR Global
Effective, seamless Wi-Fi roaming for MDUs
– with Tyler Nesper, Manager of Product Development, Enterprise, DISH Network
Presentation by Ruckus Networks (CommScope)
– with Alan McCorkle, Service Provider Account Manager, CommScope
Introducing the BlueportiQ VAULT solution
– presented by Gaurav Jain, Director, Growth (Products), BlueportiQ
For any additional information about BlueportiQ don't hesitate to contact VP Sales Urbino Lobo at [email protected].
With big thanks to our sponsor: