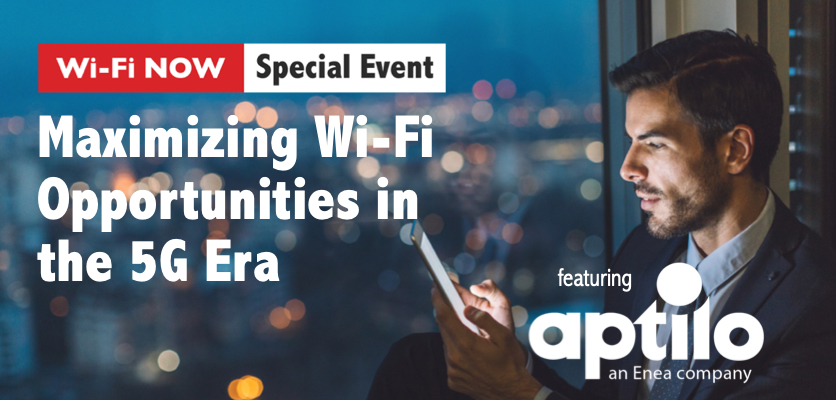 To view the recorded event just register above and the viewer window will clear. Enjoy!
A Wi-Fi NOW Special Event: Maximizing Wi-Fi Opportunities in the 5G Era
– featuring Aptilo
Wi-Fi and 5G are perfectly complementary for delivery of mobility (5G) and high-capacity indoor coverage (Wi-Fi) – which is why the time for operators to embrace Wi-Fi as a strategy is now, says Aptilo Networks. In this webinar we will be digging into business models and technology architectures for service providers to extract maximum value from vastly improved new Wi-Fi technology today:
Examining the opportunities presented by new Wi-Fi technology and more spectrum
Business models and methods for service providers to capitalise on Wi-Fi today
Technology and architectures for effective, carrier-grade Wi-Fi services
Join us for all the details delivered by some of the world most experience carrier-grade Wi-Fi experts. To reserve the date and time in your calendar click the add to calendar icon above.
With big thanks to our sponsor: