This live stream will begin at 10 AM PST (7 PM CET) on October 1, 2020. To reserve this in your calendar click on the calendar icon above. If you have questions please write to our producer Maria Thomsen at [email protected] and we will do our best to answer.
The technology at the core of any Wi-Fi solution is developed by the world's great Wi-Fi chipset vendors. For this session on the evolution of Wi-Fi we're delighted to welcome the Wi-Fi chipset and core technology leaders – and not least three of the industry's finest analysts.
Welcome to Day 3 – Claus Hetting, Wi-Fi NOW CEO & Chairman
Analyst view of the Wi-Fi markets – with Chris Depuy, Technology Analyst, 650 Group
Enterprization of the home – with Rahul Patel, SVP & General Manager, Qualcomm
A birds-eye view of the evolution of Wi-Fi – with Dean Bubley, Disruptive Analysis
Why Wi-Fi 6/6E is Reinventing the Smart Home – with Larry Olivas, Head of Marketing, NXP Semiconductor
New home networking paradigms for Wi-Fi 6E & beyond – with James Chen, AVP, MediaTek
Industrial IoT & Wi-Fi 6, 6E, and 7 in protected spectrum (LLS) – with Matt MacPherson, Cisco
Wi-Fi 6 & 6E On The Go: Automotive Frontier – with Irvind Ghai, VP Marketing, ON Semiconductor
Q&A panel: What new use cases can we expect from Wi-Fi 6 and 6E? What new opportunities?
More speakers & companies TBA!
To download a copy of the full event program click on the graphic below: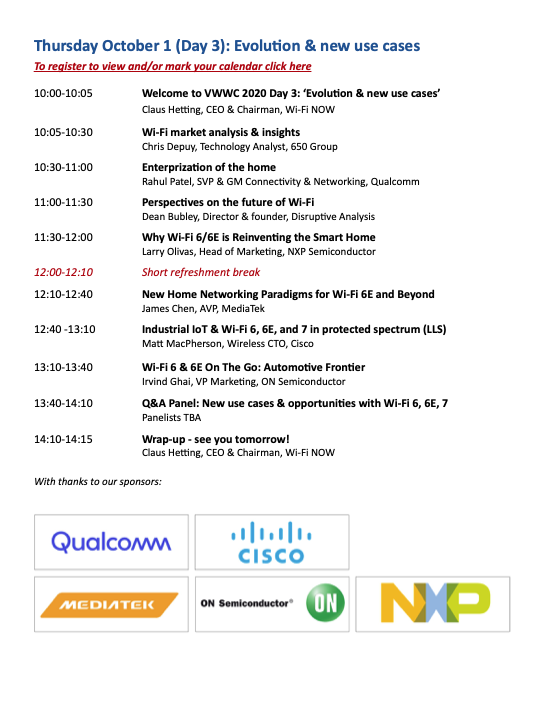 With thanks to our sponsors:

And our speakers: