This live stream will begin at 10 AM PST (7 PM CET) on October 7, 2020. To reserve this in your calendar click on the calendar icon above. If you have questions please write our producer Maria Thomsen at [email protected] and we will do our best to answer.
Cognition & sensing:
Welcome to Day 6 – Claus Hetting, Wi-Fi NOW CEO & Chairman
Product launch: Wi-Fi 6 Mesh – with Alex Qi , Co-founder & CEO, Mercku
Creating compelling Wi-Fi sensing services – with Taj Manku, CEO, Cognitive Systems
Contextual performance with NMESH – with Sudarsan Vasudevan, CEO, Qubercomm
Wi-Fi sensing – with Spencer Maid, Origin Wireless AI
Optimisation & performance:

Critical insights into Wi-Fi 6 testing – Abu Islam, Director Business Development, Spirent
Remote optimisation for the enterprise – with Tom Barrett, CEO of 7Signal
Effective, high-performance smart antennas – with Daniele Piazza, Adant
Vendor-agnostic AI-driven Wi-Fi Automation – with Anil Gupta, Co-founder and CTO, Wyebot  
Network optimisation with Wi-Fi Vantage  – with Consuelo Ortiz, Senior Manager, Wi-Fi Alliance
To download a copy of the the day's program click on the graphic below.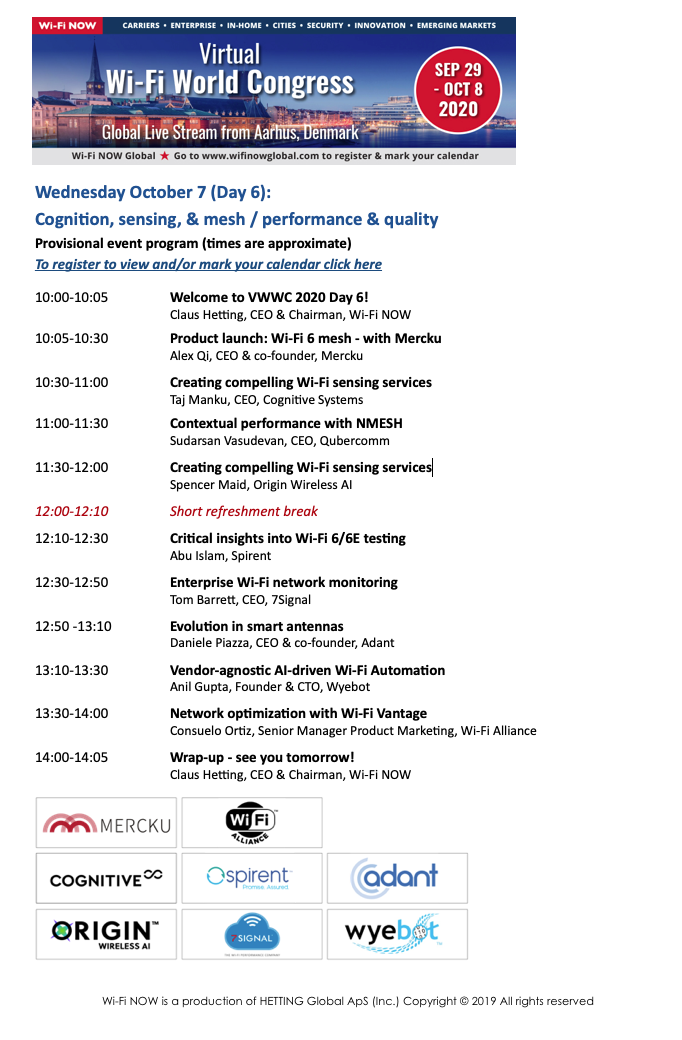 Thanks to our sponsors:
 – and to our great speakers: