Date: Friday, April 24, 2020 @ 1 pm – 5.30 pm EDT

Register above to access the full recorded event.
Documents (presentations) from this event will be made available to all who have registered as soon as possible.
The allocation of the 6 GHz band to Wi-Fi is a historic moment in wireless and will impact the world of connectivity for decades to come – in fact, we believe this is nothing less than a paradigm shift. To give you the full update on the FCC's new spectrum decision and its impact on our connected world, we've asked the world's leading 6 GHz Wi-Fi experts to join us for this virtual Wi-Fi NOW Special Event. Here are parts of the agenda (more to come):
Opening Keynote & Q&A with FCC Chairman Ajit Pai
A 6 GHz vision for a new, Wi-Fi connected world – Vijay Nagarajan, Broadcom
What are the 6 GHz rules and what do they mean? – with Chris Szymanski, Broadcom
Wi-Fi 6E: Wireless to meet the moment – with SVP Rahul Patel, Qualcomm
The Wi-Fi 6E view from Charter Communication with Craig Cowden, Charter
Wi-Fi 6E and the connected home – with Charles Cheevers, CommScope
Keynote by Wi-Fi Alliance – with President & CEO Edgar Figueroa
Wi-Fi 6E for the enterprise with Chuck Lukaszewski, HPE/Aruba
Perspectives on Wi-Fi 6E for mobile/Wi-Fi convergence – with Matt MacPherson, Cisco
What Wi-Fi 6E will mean – with Eric McLaughlin, Intel
What is AFC and how will it work? – with Jennifer McCarthy, Federated Wireless
Wi-Fi 6E chipset solutions – with Irvind Ghai, ON Semiconductor
Wi-Fi 6E challenges in R&D and manufacturing – with Adam Smith, LitePoint
The event is free but you will need to fill out the registration form above to join the stream. If you have any question about the event and how to access it, etc. don't hesitate to write me at [email protected].
Click below to download the program: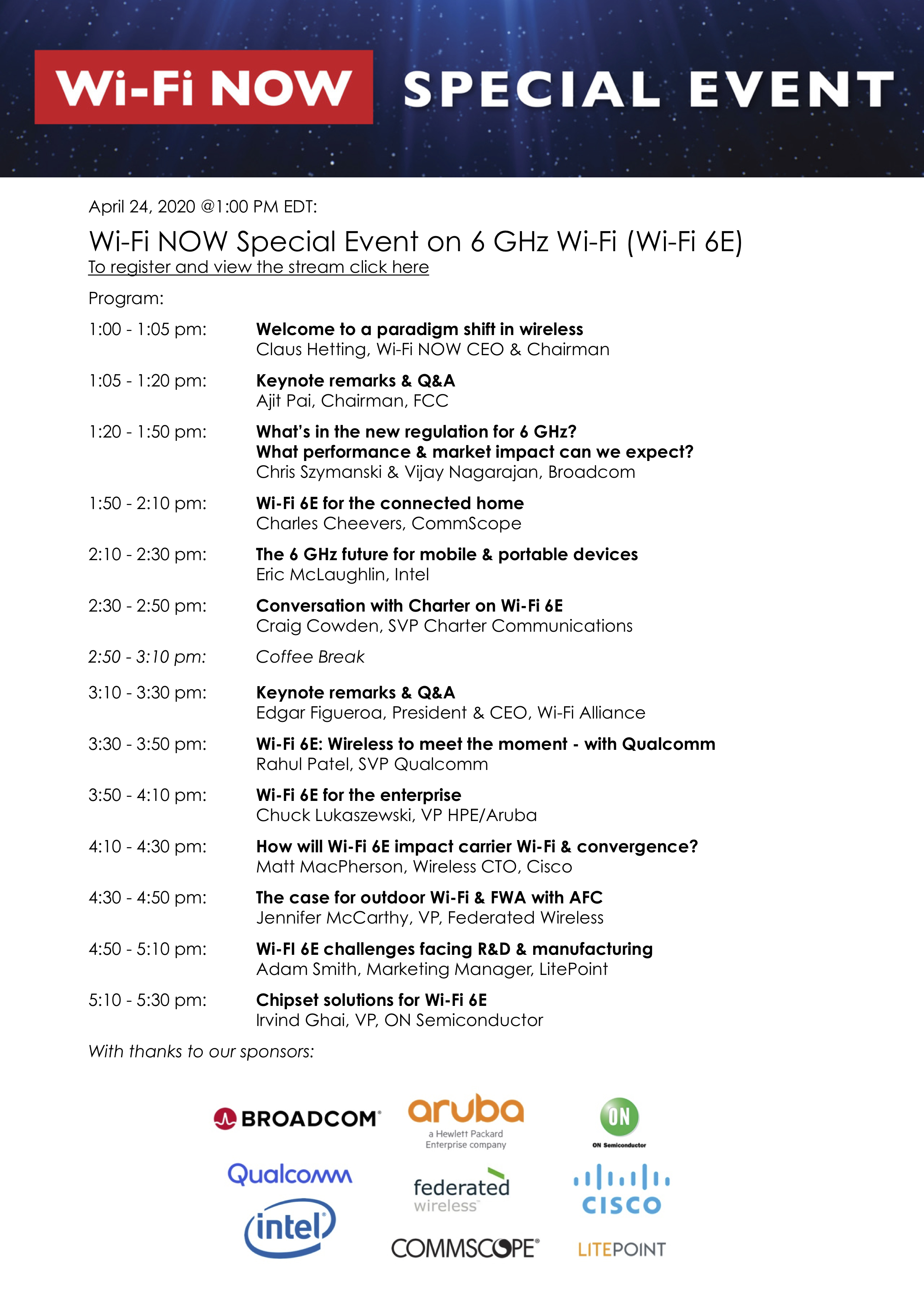 Presented with thanks to our sponsors:

Speakers below – more to come: