Por Claus Hetting, Wi-Fi NOW CEO & Chairman
Qualcomm ha lanzado hoy la primera solución comercial Wi-Fi 7 del mundo. Desde Qualcomm afirman que la nueva solución rompe el récord mundial de velocidad de rendimiento de Wi-Fi en el dispositivo final, reduce la latencia sostenida a menos de 2 milisegundos e incluso incluye características que van más allá de la esperada primera versión del estándar Wi-Fi 7. En conjunto, un lanzamiento formidable que marca el ritmo para el próximo gran salto en conectividad Wi-Fi, incluida la conexión al tan esperado 'Metaverso'.
Como ya se preveía desde que Qualcomm comenzó a preparar el escenario para Wi-Fi 7 hace apenas unas semanas, la compañía ha lanzado hoy, durante el Mobile World Congress, la primera solución Wi-Fi 7 disponible a nivel comercial. Este primer chip que hará uso de las especificaciones Wi-Fi 7 estará disponible comercialmente para teléfonos móviles y PCs inteligentes a nivel internacional. El nuevo chip FastConnect 7800 es también la solución Wi-Fi más rápida del mundo para teléfonos y PCs, alcanzando una velocidad de 5,8 Gbps.
Las especificaciones del FastConnect 7800 también incluyen una latencia sostenida de menos de 2 milisegundos, la mitad del estándar Wi-Fi anterior (Wi-Fi 6), y el consumo de energía se reduce hasta en un 50 %. Qualcomm afirma que se espera que la nueva plataforma se preste perfectamente a las "experiencias móviles, informáticas y XR inmersivas", de manera que es imposible que el Metaverso no venga a la mente de inmediato. Qualcomm dice que los chips están ahora mismo en la fase final de prueba y estarán disponibles comercialmente en la segunda mitad de 2022.
Enjoying this story?
Leave your email here and we'll get you all the latest Wi-Fi news.
Entonces, ¿cómo ofrece Qualcomm especificaciones Wi-Fi como estas? En primer lugar, el nuevo estándar Wi-Fi 7, cuya certificación aún no está lista pero forma parte de los planes de la Wi-Fi Alliance, opera en canales de 320 MHz (ya sea a través de canales emparejados de 160 MHz o un solo canal de 320 MHz) así como modulación de amplitud en cuadratura QAM 4K. La combinación de ambas funciones ofrece una velocidad récord de 5,8 Gbps. A esto habría que agregar lo que Qualcomm llama la "implementación definitoria" de Wi-Fi 7: el enlace simultáneo de banda alta o High Band Simultaneous (HBS) Multi-Link – también conocido como multi-link operation (MLO) en el estándar 802.11be.
El HBS Multi-Link no cambia la tasa de bits máxima, sino que agrega dos canales simultáneos de 160 MHz (cuatro flujos) en las bandas de 5 GHz y 6 GHz. Este método contribuye a reducir la latencia sostenida a menos de 2 mS. Esto significa que el nuevo chip Wi-Fi 7 de Qualcomm es exactamente lo que las aplicaciones de tipo XR de súper alto rendimiento necesitarán para que los usuarios permanezcan dentro de la experiencia inmersiva, ininterrumpida y sin retrasos. Y quizás ese sea realmente el mensaje "entre líneas" más importante de Qualcomm a los mercados: Sí, el mundo de la conectividad está preparado para el Metaverso.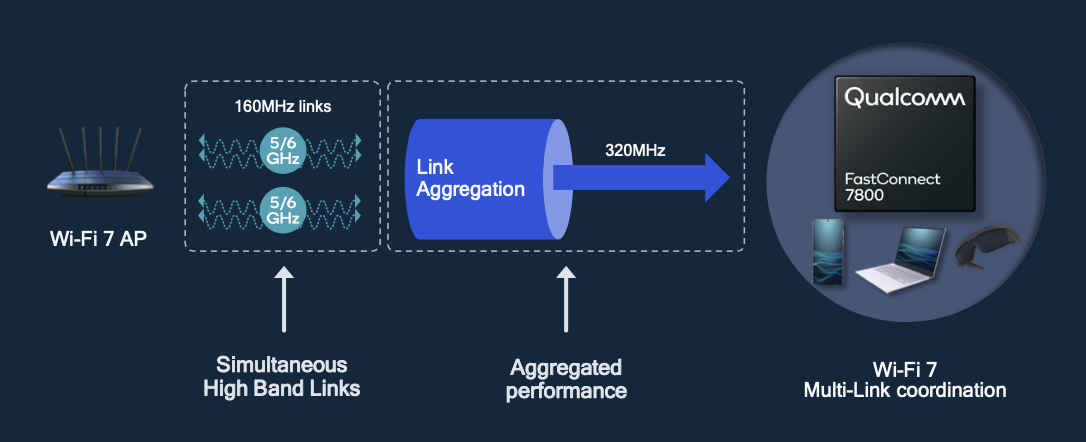 El estándar Wi-Fi 7 (y la plataforma FastConnect 7800) es realmente la primera versión Wi-Fi creada específicamente para la banda de 6 GHz, lo que plantea una pregunta: ¿Qué sucede en países sin asignación de banda de 6 GHz para Wi-Fi, como por ejemplo China? Según Qualcomm, no hay razón para preocuparse. Puedes obtener casi los mismos beneficios aplicando la función HBS Multi-Link a dos canales en la banda de 5 GHz, obteniendo un total de 240 (160+80) MHz de ancho de canal mientras conservas gran parte del rendimiento de latencia (gracias a la función multi-link). La única diferencia es que la tasa de bits máxima en el caso de agregar dos bandas de 5 GHz (240 MHz en total) cae a 4,3 Gbps, una tasa que, sin embargo, sigue siendo sorprendentemente rápida.
La latencia también se ve reducida gracias al Qualcomm 4-stream DBS (2×2 + 2×2) (puedes leer más sobre esto aquí), que en la nueva plataforma se extiende ahora a las bandas de 5 GHz y 6 GHz (anteriormente admitía bandas de 2.4 GHz y 5 GHz). Qualcomm dice que la renovada función DBS de 4 flujos también puede usarse para nuevos casos de uso combinado, como cuando un teléfono o un PC portátil se conectan a un AP y, por ejemplo, a gafas de realidad aumentada al mismo tiempo. En conjunto, un lanzamiento formidable y repleto de funciones, que establece un ritmo agresivo para el desarrollo del mundo del Wi-Fi.
/Claus.