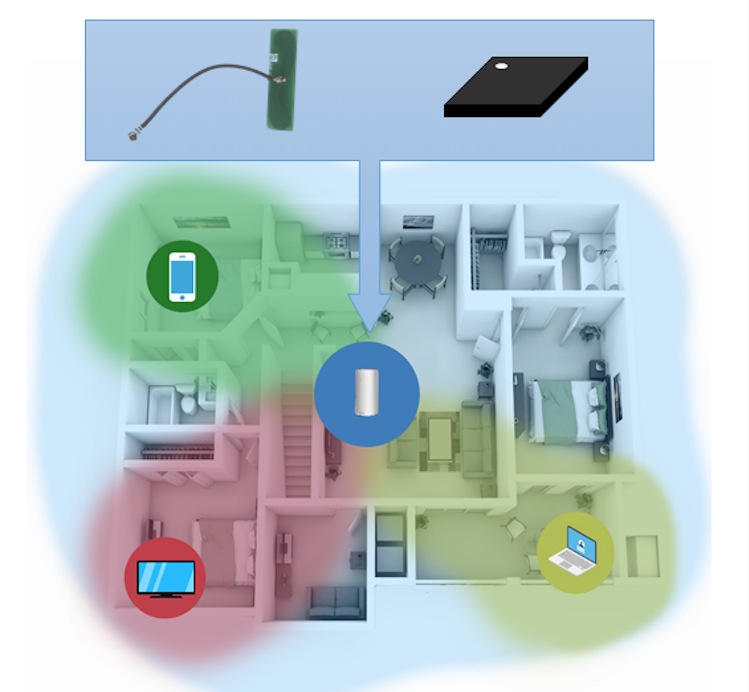 By Claus Hetting, Wi-Fi NOW CEO & Chairman
Smart antenna Wi-Fi technology has until now been reserved mostly for the high-end enterprise market. Now leading smart antenna technology provider Adant is releasing a low-cost smart antenna solution aimed at boosting home gateway and retail Wi-Fi router speeds by an average of 30%, the company says.
Smart antennas offering beam shaping techniques to boost Wi-Fi performance have thus far been the domain of high-end enterprise Wi-Fi systems from Ruckus Networks, Huawei, or the like. Now this is about to change: Smart antenna technology provider Adant is introducing a low-cost smart antenna system that can be added to any home gateway or consumer-grade Wi-Fi router by simply including a single IC component with no change to standard passive antenna system designs, Adant says.
The system delivers a 30% boost in throughput on average and even up to 4-5 times the usual performance at peak, the company says. The system works by creating a uniformly spherical coverage area around the device with 'almost constant radio link strength' and it reacts to other devices by steering RF signals away from interference sources, Adant says.
"Smart antenna technology offers a big boost to performance but has in the past been difficult to incorporate in home gateway or consumer-grade routers and mesh Wi-Fi because of cost constraints. We've created a solution that lets anyone incorporate true smart antenna tech into their AP with only one additional component and at very low cost," says Daniele Piazza, CEO of Adant.
The new solution – called 'sMART-2' – is 'BoM' neutral in the sense that no bill-of-materials additional costs are added nor is additional PCB area required, Adant says. The company is already working with a number of household name Wi-Fi router ODMs and expects the new sMART-2 systems to be included in off-the-shelf Wi-Fi products already by end of this year, Daniele Piazza says.
For more information contact CEO Daniele Piazza at daniele.piazza@adant.com.
/Claus.