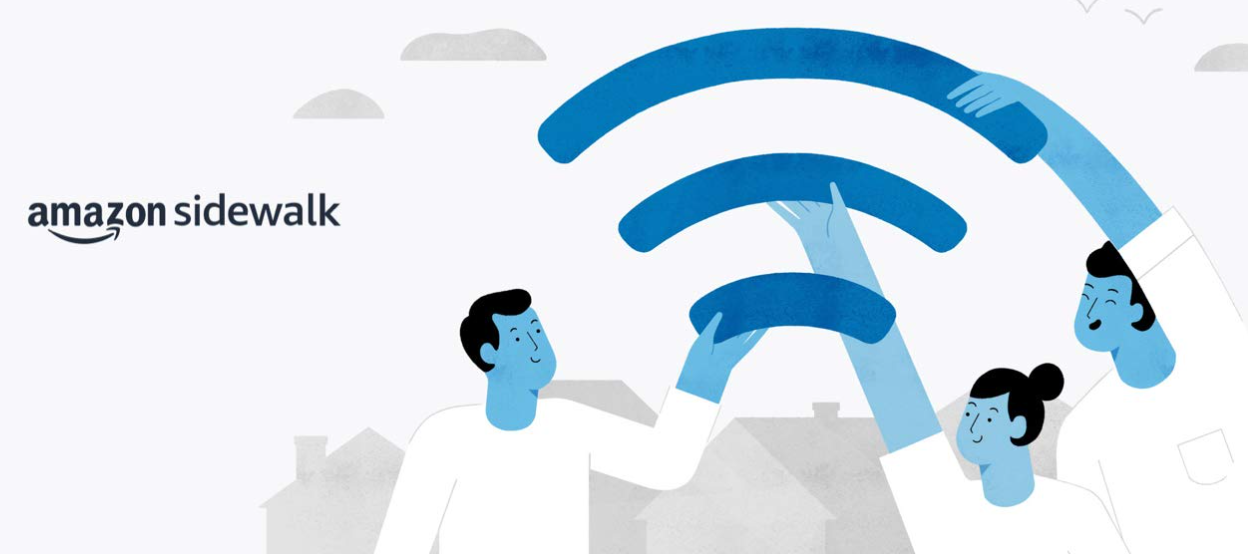 By Claus Hetting, Wi-Fi NOW CEO & Chairman
Is Amazon about to become an ISP? Well, not exactly, but today – June 8th – the company is switching on their 'Sidewalk' network bandwidth sharing scheme, which allows participating Amazon devices and gateways to share a small slice of their bandwidth with others, such as neighbours or passers-by. This is tantamount to creating a 'neighbourhood network' by meshing together devices over Wi-Fi, Bluetooth, and 900 MHz LoRa technology. It's all very clever but – according to some US tech media – also somewhat controversial. 
If you're lucky your home Wi-Fi connection will continue to serve you a few feet from your house but even Wi-Fi devices mounted on the outside of your home will often have difficulty connecting to your home network. Amazon knows this of course. So as of June 8 – today – you just might get a little help from Amazon and your neighbours for extending your wireless coverage within your neighbourhood.
The solution to better connectivity – says Amazon – is Sidewalk: A new scheme that allows you to share a small chunk of bandwidth with your neighbours or passers-by. In return – if you keep Sidewalk activated on your device – you get better connectivity and especially coverage by being permitted to use small slice of bandwidth on nearby participating devices, for example within your neighbourhood. It's all about keeping you better connected 'beyond your front door' says Amazon in their guide to Sidewalk here.
Amazon's Sidewalk network is formed by so-called Sidewalk Bridge devices, which for now include a range of Echo (Alexa) smart speakers and a couple of Ring camera models. Amazon says any participating device will share a maximum of bandwidth of 80kbps, so it is not as if network sharing in this case will bleed your Internet dry. An interesting aspect of Sidewalk is that it supports 900 MHz LoRa – which should deliver substantial range – although it is unclear what participating devices actually deliver that.
Enjoying this story?
Leave your email here and we'll get you all the latest Wi-Fi news.
But Sidewalk is also not without controversy. Following the announcement, most US tech media are covering Amazon's announcement mostly by advising readers on how to switch off the Sidewalk option in the Alexa app. This is easy enough to do. But is also required if you don't want to participate because Amazon has set all Alexa accounts to be participating in Sidewalk per default. The second concern is privacy. To address the issue Amazon has published a White Paper on the issue available here.
How consequential Amazon's new scheme will become is not entirely obvious. It will largely depend on how well Sidewalk works in practice – and we'll be sure to follow the review press on this – as well as how many Alexa subscribers choose to participate. But with a substantial proportion of 46 million installed Amazon Echo devices across the US participating, Sidewalk could become a connectivity force to be reckoned with. Time will tell.
Disclaimer: Not all the details of Sidewalk are entirely clear at this point, which is why we've asked Amazon some questions. We will report back with clarifications.
/Claus.