By Claus Hetting, Wi-Fi NOW CEO & Chairman
Who will be the first company to launch a Wi-Fi 6E mesh router? Unsurprisingly we were fairly certain it would happen at CES 2021 and sure enough, Linksys – the smart home division of Belkin – today jumped ahead of the pack by launching the tri-band AXE8400 with Wi-Fi 6E. The unit is powered by Qualcomm's Networking Pro chipset series released in May of last year.
Yes, it was bound to happen at CES 2021: The debut of the world's first Wi-Fi 6E-capable (6 GHz) mesh router. And although other new Wi-Fi 6E routers could well launch later this week, it looks like Linksys really did get there first with the AXE8400 tri-band mesh system (pictured above left). The AXE8400 is powered by Qualcomm's Networking Pro 1210 platform released in May of last year – read our coverage of the Networking Pro series here.
8400 Mbps of speed including 4800 Mbps (four streams) at 6 GHz
The AXE8400 gets its by adding an 'E' from 'Wi-Fi 6E' to its Wi-Fi 6 version (called AX6000) and the rest from its tri-band speeds of 1200 Mbps (2.4 GHz) plus 2400 Mbps (5 GHz) plus 4800 Mbps (6 GHz), which equals a whopping 8400 Mbps of speed. Linksys says the AXE8400 is 'the ideal solution for bandwidth-heavy homes' and for supporting multiple concurrent home activities, including work-from-home video conferencing, VR gaming, remote learning, and more. The spec sheet as expected lists both major Wi-Fi 6 and Wi-Fi 6E features: 4×4 MU-MIMO and OFDMA.
One node covers 3000 square feet (about 280 square meters) and supports 64 concurrent devices, Linksys says. Another useful feature is that the AXE8400 is compatible with previous Linksys mesh units, such as the AX6000. The unit is certified by both the FCC and the Wi-Fi Alliance and supports WPA3 encryption and security, Linksys says. The AXE8400 will be available in the US starting this spring at the fairly substantial retail price of US$849.99 for a two-pack.
Enjoying this story?
Leave your email here and we'll get you all the latest Wi-Fi news.
Wi-Fi 6E for backhaul means immediate performance gains for devices
One of the big benefits of Wi-Fi 6E at the moment – before any significant number of 6 GHz client devices are available on the market – is that the 6 GHz band can be used to create a super fast mesh backhaul network. This in turn will deliver a serious boost to Wi-Fi performance because the entire 5 GHz band is then free of any backhauling duties and thus fully available to serve client devices only.
Qualcomm is of course very much aware of this major initial benefit of Wi-Fi 6E and had this strongly in mind when designing the Network Pro series (also read this Qualcomm blog for more details). The spec sheet says Linksys AXE8400 supports 'tri-band dynamic backhaul', which we take to mean that the unit will configure itself to make best use of the available bands. This is turn should mean that 6 GHz is used for backhaul to the extent that other mesh units support it and exclusively so until client devices arrive and begin to request use of the band for fronthaul.
And there truly is a gigantic amount of 6 GHz spectrum available for backhaul according to US regulations: All of seven non-overlapping 160 MHz channels are available, each capable of delivering 4.8 Gbps of data rate for four-stream 6 GHz devices, such as the AXE8400.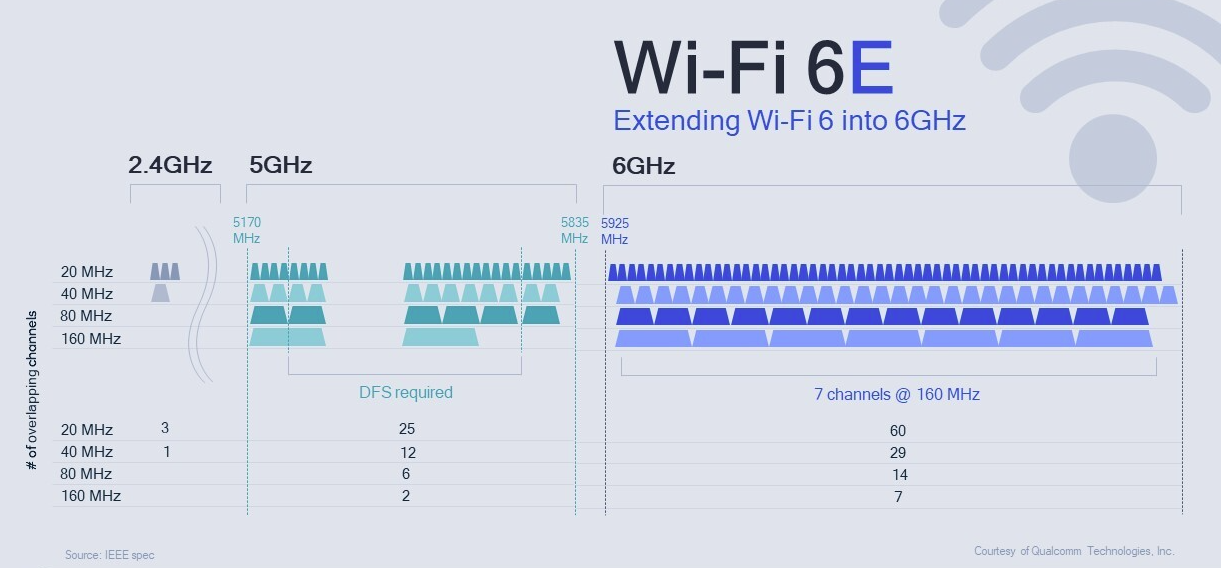 Upgraded Linksys Aware motion detection
Last but not least the AXE8400 includes support for an upgraded version of Linksys' motion sensing technology called 'Linksys Aware', which was introduced in late 2019. The upgrade enables the use of third-party Wi-Fi devices to expand the motion sensing coverage area. There are also substantial updates to the sensing functionality available via the Linksys App. Motion sensing is offered separately as a service at a price of US$2.99 a month (US prices).
Linksys has been named a CES Innovation Award 2021 Honoree for the AX8400 product.
/Claus.