By Claus Hetting, Wi-Fi NOW CEO & Chairman
Two weeks ago Broadcom released their family of Wi-Fi 7 chips and this week the company backed up their Wi-Fi 7 speed and capacity statements with a demo: Broadcom showed single user data rates topping 5 Gbps for their new Wi-Fi 7 chip and also demonstrated a quad-band Wi-Fi 7 test access point delivering an aggregate rate of 10 Gbps to four Wi-Fi 7 clients operating in all three Wi-Fi bands. Results like these are powerful arguments for convincing regulators to open up the full 6 GHz band to Wi-Fi, the company says. And they're right.
There is no denying it: The world of Wi-Fi 7 connectivity has arrived in earnest following Broadcom's comprehensive ecosystem chipset release two weeks ago as well as releases and demos by other major Wi-Fi silicon vendors earlier this year. This week Broadcom walked the talk with a convincing online demonstration of very high Wi-Fi 7 data rates on both the client and network sides.
All of this means that Wi-Fi 7 is no longer just a set of theoretical specs and instead tantalisingly close to actually being implemented in the first prototype client devices and APs. Once again the move to the next Wi-Fi standard – this time Wi-Fi 7 – has happened at a record pace, industry-wide.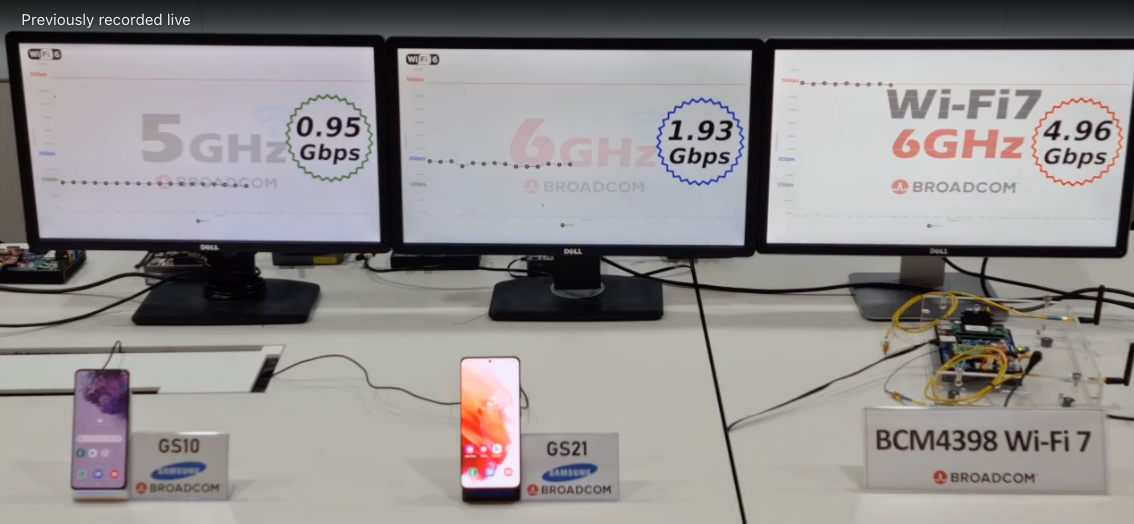 Demonstrating client and network-side Wi-Fi 7 performance
The side-by-side presentation of devices connected with Wi-Fi 6 (5 GHz, 80 MHz channel), Wi-Fi 6E (6 GHz, 160 MHz channel), and Wi-Fi 7 (6 GHz, 320 MHz channel) shown during the demo (watch about 23 minutes into the video) is an excellent illustration of the pace of evolution the Wi-Fi industry has gone through in the course of the past two to three years.
Actual smartphone Wi-Fi 7 data rates now stand at a whopping 5 Gbps based on Broadcom's new BCM4398 chip operating at 4kQAM modulation with a 320 MHz channel. That is a factor of five increase over current Wi-Fi 6 devices. Such speeds will not only delight smartphone users but arguably lay the connectivity foundation for – among other innovations – the much-anticipated Metaverse (XR) concept championed by Meta (formerly Facebook).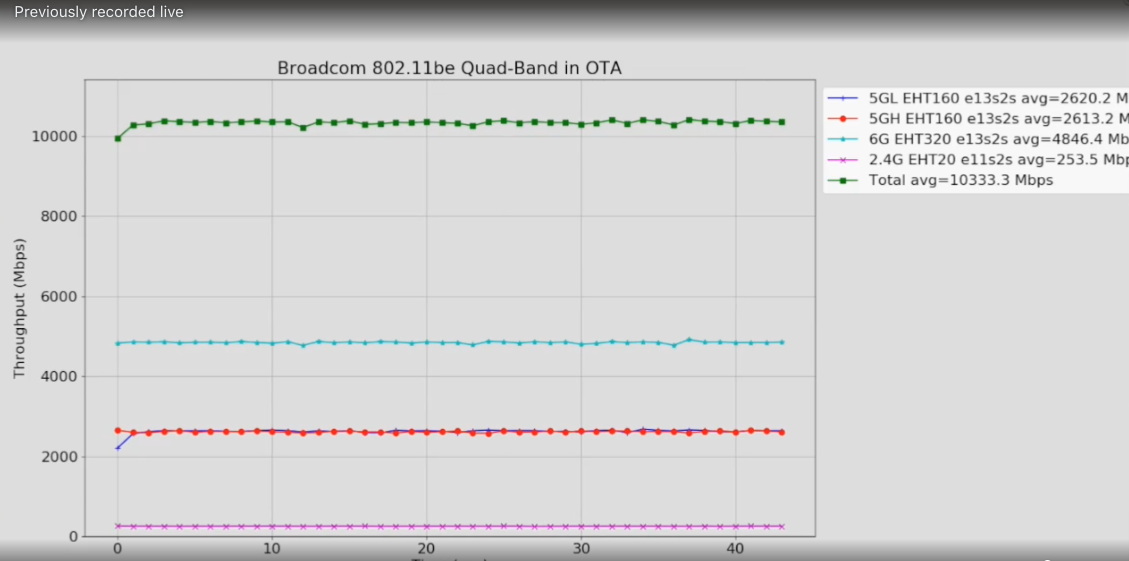 On the network side Broadcom demonstrated a quad-band Wi-Fi 7 access point test configuration delivering an aggregate data rate of just above 10 Gbps on all of 2.4 GHz, 5 GHz, and 6 GHz bands (watch this part of the demo at about 27:40 minutes into the video). The test AP (or home gateway) configuration comprised four 4-stream Wi-Fi 7 chips each connecting to one client-side BCM4398 chip. During the demo the 6 GHz Wi-Fi 7 client consumed around half (just below 5 Gbps) of the aggregate data rate delivered by the test AP.
Could such demos sway regulators towards full 6 GHz band release?
According to Broadcom some 46 countries have already opened up the 6 GHz band to Wi-Fi and another 75 countries are actively looking into it. But there is a huge difference between opening up the full 1.2 GHz-wide swath of 6 GHz spectrum – such as in the US, Brazil, South Korea, and elsewhere – and releasing less than half of the band only, such as in the EU.
In the latter case there is only space for one 320 MHz channel, which is the channel width required for the 5 Gbps smartphone data rate and 10 Gbps aggregate data rate demonstrated by Broadcom above. In the former case there would be space for three such channels.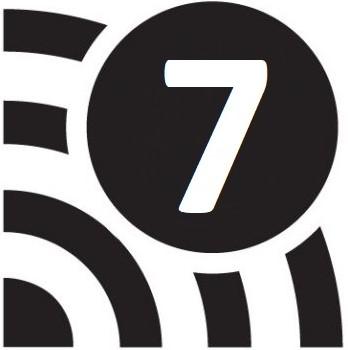 While some regulators ponder next steps, one fact is undeniable: Wi-Fi 7 has been designed and optimised specifically for full-band 6 GHz Wi-Fi including standard power Wi-Fi 7 with AFC. As a result countries and regions deciding to postpone a regulatory decision on releasing the full 6 GHz band to Wi-Fi will be disadvantaged, says Chris Szymanski, Director of Product Marketing & Technology Strategy at Broadcom.
"There are really two options for regulators. The first option is to enable full-on Wi-Fi 7 – meaning opening up the full 6 GHz band to unlicensed use – now. This means that 10 Gbps broadband data streams entering homes and businesses can be extended to reach devices wirelessly with no significant barriers. This is what will drive broadband investment and next generation services," says Chris Szymanski.
The other option being discussed right now involves waiting for the cellular industry to come up with some version of cellular (IMT) that might work in the 6 GHz band, a scenario which appears highly unlikely at this time. A regulatory decision to wait – perhaps for decades – would result in lost opportunities for innovation and GDP growth in the meantime. "Such a decision appears to make little sense when the ecosystem enabling Wi-Fi 7 is already here today," Chris Szymanski says.
/Claus.