By Claus Hetting,  Wi-Fi NOW CEO & Chairman
Tired of lag and cables in VR gaming? Now Intel and Meta are teaming up to deliver a Wi-Fi connected solution that gets you the low latency you need for gaming and eliminates the need for cables. The new solution is based on Intel 'Double Connect Technology' and was revealed at CES this week as part of a features and functionalities package released together with Intel's thirteenth generation Core™ HX Processor platform. 
If you know gamers you also know they're an exacting bunch when it comes to connectivity performance and especially with regards to the dreaded lag (or latency): Too much lag simply ruins the gaming experience. Now Intel is upping its Wi-Fi game by delivering more of what serious gamers want: Low latency connectivity for VR gaming on laptop PCs – and fewer cables for more mobility.
Enjoying this story?
Leave your email here and we'll get you all the latest Wi-Fi news.
Intel released the first version of its 'Double Connect Technology' or DCT (literally two parallel and simultaneous Wi-Fi connections to and from the same PC) at CES last year and now Intel says the time has come to apply DCT to make your VR gaming setup and performance a lot more slick. DCT can now connect your Meta Quest VR headset device directly to your PC over Wi-Fi while the second Wi-Fi connection is used to connect the PC to the router as always.
Previously the Meta Quest headset would need to connect to the PC via the Wi-Fi router, which means the new scheme eliminates one connectivity hop (see figure below). Intel also says that Ethernet cabling – which is often used between the PC and the router – is no longer necessary when using DCT. The end result is up to 20% lower latency compared to the typical hybrid setup. That is a noticeable performance improvement when it comes to VR gaming, Intel says.
With this new feature – and more – Intel continues to demonstrate that great connectivity is not only about keeping up with an evolving stream of new Wi-Fi standards. How connectivity (and traffic) is managed and optimised is equally critical to the user experience. Over the past couple of years Intel has been widely successful in making cutting-edge Wi-Fi attractive to gamers first and then applying the same new technology or a variation thereof to enhance the professional user experience, too.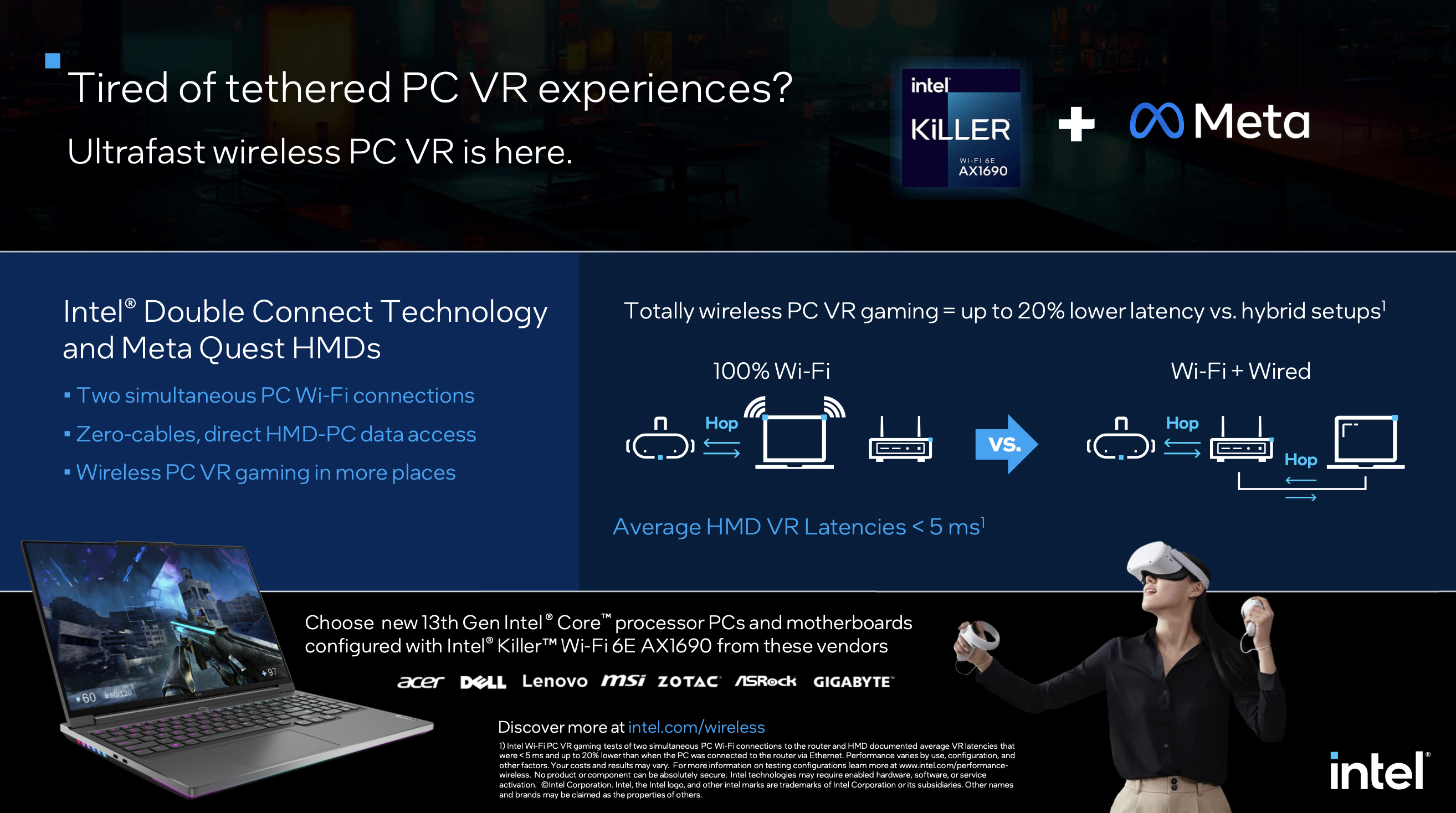 Intel Double Connect – now with direct connectivity for Meta Quest headsets – is part of Intel's Killer™ Wi-Fi 6E AX1690 connectivity platform, which in turn is part of Intel's 13th GenCore™ HX Processor platform for high-end gaming laptops just released. For a closer look at the benefits of the double-connect approach to VR connectivity, also see Intel's demo video below.
/Claus.