By Claus Hetting, Wi-Fi NOW CEO & Chairman
Today at CES 2022 Intel announced a raft of new 12th Gen Intel® Core™ mobile processors (for notebooks) this time with Wi-Fi 6/6E capabilities integrated. To sharpen its competitive edge the silicon giant is this year betting big on the features of its recently acquired Killer™ Wi-Fi 6/6E connectivity solution – aimed mostly at the gaming market – plus a new 'Intel Connectivity Performance Suite' for business and personal use. Finally, Intel's sophisticated and performance-boosting new 'Double Connect' technology looks very promising.
No vendor has been faster out of the blocks with Wi-Fi 6E solutions for PCs and notebooks than silicon giant Intel – and now the world's leading vendor of Wi-Fi connectivity for PCs is at it again at this year's CES. For starters, Intel is launching its 12th Gen Intel® Core™ Mobile Platform as "the first laptop platform with integrated Wi-Fi 6E," Intel says. But that is definitely not all. Intel is banking on a suite of sophisticated new Wi-Fi performance features to sharpen its competitive edge.
Enjoying this story?
Leave your email here and we'll get you all the latest Wi-Fi news.
The new 12th Gen Intel® Core™ mobile platform portfolio includes an H-series version aimed at the high-end gaming notebook market. The H-series incorporates Intel's relatively new Intel Killer™ Wi-Fi 6/6E technology – which Intel calls Wi-Fi 6/6E (Gig+) to highlight its more than one gigabit per second performance – and even features Intel's new 'Double Connect' solution (read more below) as an option.
Intel's H-series platforms are typically found in gaming laptops from the likes of Razer, Asus, HP, Lenovo, MSI, and others – which means notebook gamers will soon have much more responsive (low-latency) Wi-Fi connectivity to look forward to.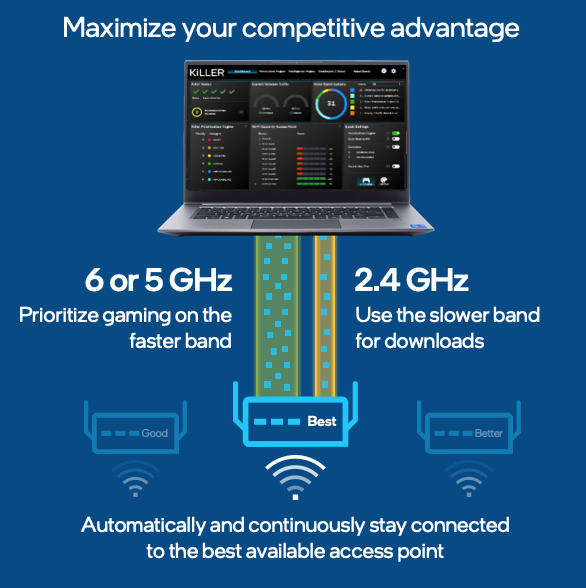 Intel also released a new specification for the third edition of Intel Evo™, which means that any notebook carrying the Evo™ designation is now required to be equipped with both Wi-Fi 6/6E (Gig+) and Intel's new 'Intel Connectivity Performance Suite', which in essence is the Killer™ connectivity suite more widely adopted to suit high-end personal or business notebooks and not gaming-focused devices only. For the business segment Intel's 12th Gen vPro will now also require Wi-Fi 6/6E (Gig+) and the new connectivity app.
In essence the Killer™ platform uses a sophisticated Wi-Fi traffic prioritisation engine to drive down online gaming latency by up to 70% (read here for more details). Add to this a feature for the intelligent selection of the best performing Wi-Fi network or AP. Intel's repackaging of its Killer™ technology for non-gaming laptops and PCs and branding it 'Intel Connectivity Performance Suite' makes a great deal of sense since the hike in Wi-Fi performance will work just as well for applications such as teleconferencing, video streaming, and more.

Perhaps most exciting from a Wi-Fi innovation point of view is Intel's 'Double Connect' technology' (see graphic above), which powers two simultaneous Wi-Fi connections on the same device: One on the 2.4 GHz band and another on either the 5 GHz or 6 GHz band. Intel has not yet released an official figure as to what the latency reduction with Double Connect might be during gameplay but we can confidently state that it will be substantial.
Intel Double Connect is available now for the 12th Gen Intel Core H-series platform and will be available as a part of the Intel Connectivity Performance Suite feature package for Evo™ and vPro platforms in first quarter of 2022, the company says.
Without a doubt Intel's new processor portfolio with integrated Wi-Fi 6E functionality (non-integrated platform versions also available) is a must for any competitive PC or notebook manufacturer of any segment that you can think of – and the company's aggressive rollout of Wi-Fi 6E-capable platforms will surely fast-track the adoption of Wi-Fi 6E networks and devices everywhere.
Intel says that 6 GHz Wi-Fi – meaning Wi-Fi 6E – is 'Wi-Fi's biggest advancement in 20 years' delivering nearly three times the speed of standard Wi-Fi 5. Now add to this the traffic and connection optimisation features of the Killer™ platform and extend these to non-gaming PCs. Finally throw into the mix Intel's new 'Double Connect' technology and Intel's Wi-Fi portfolio will be exceedingly hard to beat.
/Claus.