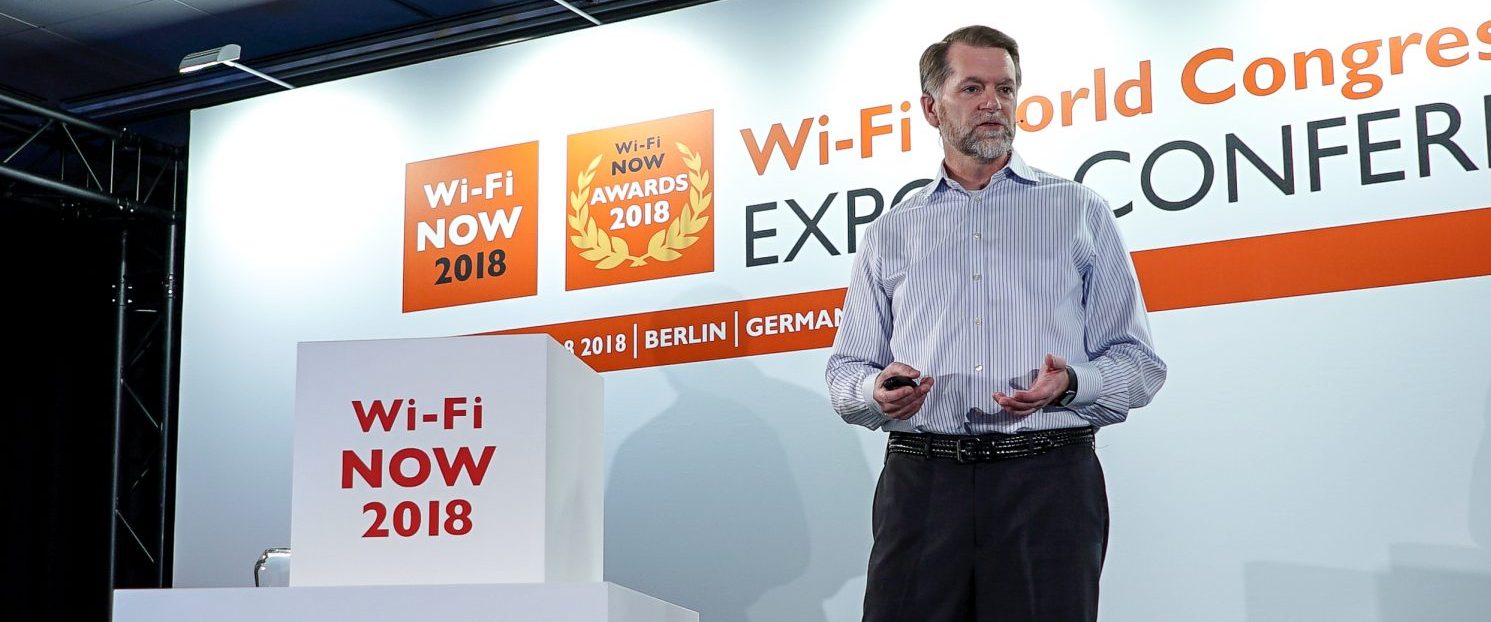 Above: Cisco's wireless CTO Matt MacPherson speaking at Wi-Fi NOW Europe in Berlin on November 7.
By Claus Hetting, Wi-Fi NOW CEO & Chairman
It is the recurring criticism levelled against Wi-Fi technology since its inception: That Wi-Fi – despite still carrying the vast majority of wireless Internet traffic – is unpredictable and cannot form the basis for guaranteed services of any kind.  Now all of this is about to change with Wi-Fi 6, said Cisco's wireless CTO, Matt MacPherson at Wi-Fi NOW Europe in Berlin.
It is the Holy Grail of monetizable Wi-Fi: Delivering predictable performance including making it possible for service providers and enterprises to serve up Wi-Fi according to definable SLAs. Now – after close to twenty years of Wi-Fi technology improvements – the Wi-Fi industry is on the cusp of precisely that, says the world's largest Wi-Fi equipment vendor, Cisco.
The catalyst is the imminent market entry of Wi-Fi 6, which Cisco says provides determinism at scale. "Wi-Fi 6 is not only cost effective and ubiquitous but is now capable of delivering on real SLAs," said Matt MacPherson, Cisco Wireless CTO, at Wi-Fi NOW Europe in Berlin on November 7. And that is nothing less than a sea change for the business of delivering wireless.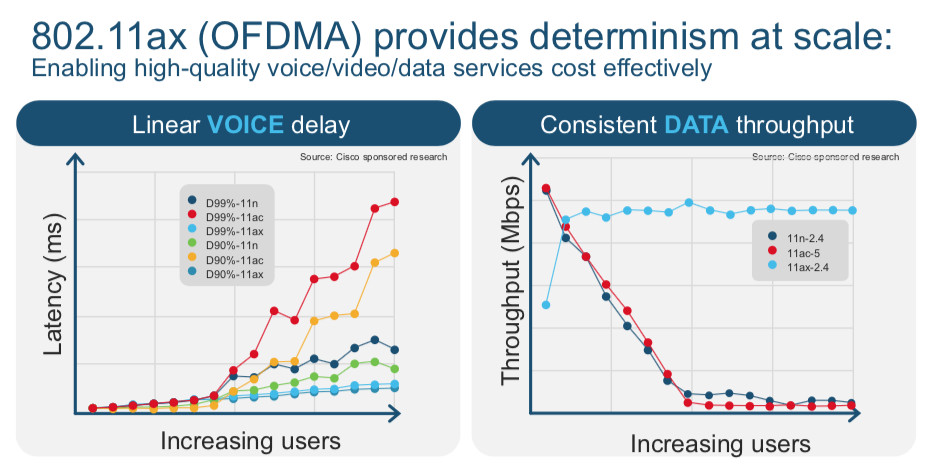 Source of above graphic: Cisco
OFDMA delivers the performance gains
The technical reason is Wi-Fi 6's adoption of OFDMA, which will deliver consistent, linear voice delays as well as consistent data throughput as a function of an increasing density of devices. In this way Wi-Fi 6 does away with many of the roadblocks that have held back and hampered Wi-Fi performance since its inception, said Matt MacPherson.
The adoption of OFDMA also means unlicensed spectrum will be used much more efficiently, allowing for many more types of devices and a diversity of services to be delivered with quality over the same Wi-Fi medium – all with very little spectrum wasted, MacPherson said.
Altogether Wi-Fi 6 is likely to foster a host of new use cases, including forms of industrial IoT and much more robust services in for example high density usage scenarios, whether they be stadiums or train stations. Matt MacPherson also drew attention to the Wi-Fi Alliance's 'Agile Multiband' certification program that aims to standardise Wi-Fi's handover mechanisms.
The Wi-Fi 6 journey starts now
But as with all new wireless standards, the market entry of Wi-Fi 6 will be a journey, said Matt MacPherson. "The journey starts now and will lead to a massive expansion of Wi-Fi 6 clients starting from the beginning of 2020," he said. Cisco estimates that 11% of new devices will be Wi-Fi 6 capable in 2019 and that the proportion will grow to 26% by 2022.
The Cisco VNI forecast predicted last year that the global number of Wi-Fi hotspots will grow from 179 million in 2017 to a whopping 542 million in 2020.
/Claus.