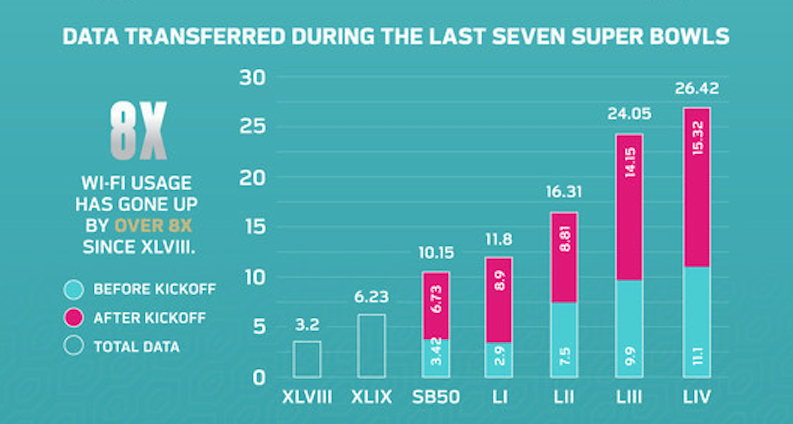 By Claus Hetting, Wi-Fi NOW CEO & Chairman
As customary this time of year Extreme Networks last week posted Wi-Fi traffic and usage stats from this year's Super Bowl – and also as always, the numbers keep rising. None of the many 5G services supposedly widely available at Miami's Hard Rock Stadium appear to have made visible dents in the traffic.
So if you still think that only 5G can do the right job for high-density stadium wireless, think again. Last week Extreme Networks – still the official Wi-Fi Solutions Provider of the NFL – posted stats from this years NFL final and once again they increased compared to last year.
The total traffic delivered grew by about 10% to 26.42 terabytes despite 10,000 fewer attendees compared to last year – add to this that the total traffic has multiplied by an incredible factor of 8 over just 7 years. All of 71% of Super Bowl LIV's attendees used the Wi-Fi service and on average each consumed 595 MB. A staggering 24,837 was the peak number of concurrent users.
In comparison Verizon said that its subscribers consumed some 21.5 terabytes of mobile traffic 'in and around the stadium' on game day – see Verizon's full statement here – although this number appears to relate to total mobile traffic and not 5G as such.
Enjoying this story?
Leave your email here and we'll get you all the latest Wi-Fi news.
There really has never been any doubt that Wi-Fi is the go-to technology for high-density, high-usage scenarios such as for sports and entertainment events. Extreme's latest Super Bowl data simply confirms that Wi-Fi's delivery capability is still trending up. When you add to this the big boost in performance soon to be delivered by Wi-Fi 6 and Wi-Fi 6E, stadiums and all kinds of high-density venues can be certain they will be well served by Wi-Fi for years to come.
Extreme Networks provided all of the Wi-Fi infrastructure for the event, the company says.
/Claus.