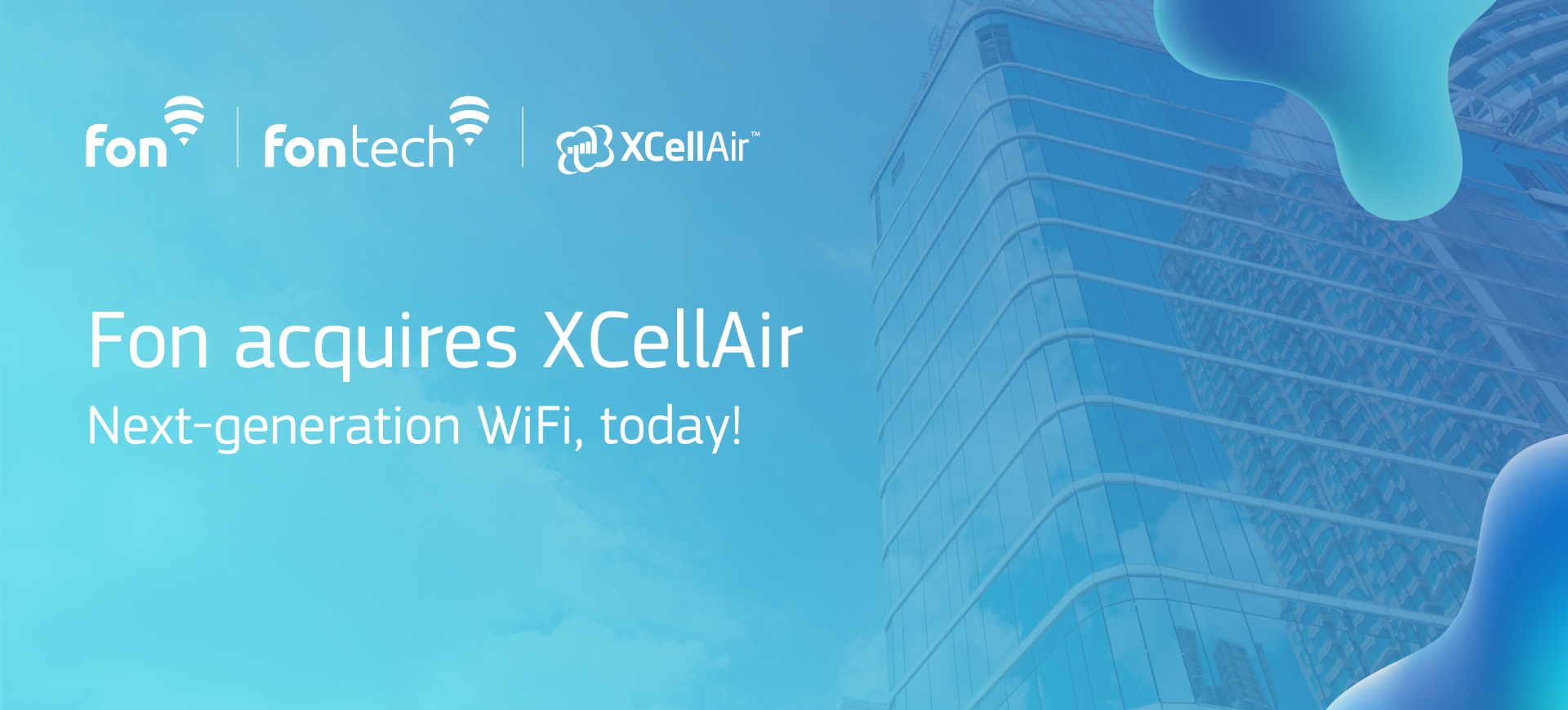 By Claus Hetting, Wi-Fi NOW CEO & Chairman
Madrid-based Wi-Fi service provider and technology vendor Fon last week acquired Wi-Fi NOW Award-winning startup XCellAir for an undisclosed sum. With the acquisition, Fon deepens its ambitions of becoming a major software solutions vendor for carrier-managed home Wi-Fi. 
In addition to strengthening Fon's in-home Wi-Fi product portfolio, the acquisition gives Fon its first real corporate presence in North America as the company appears to want to retain XCellAir's sales and technical teams, many of which are based San Diego. Read the full press release here.
"Like most acquisitions, with Fon acquiring XCellAir there is strong product leverage between our portfolios and a mutual benefit from a sales perspective. For me, what is unique in this case is the complementary experience, expertise, and culture between the two organizations," says XCellAir founder and executive VP of sales & marketing, Todd Mersch in a statement to Wi-Fi NOW.
"The most important long-term outcome is we've created a team with core competencies and expertise that is hard to match and is poised to attack some of the most difficult challenges facing wireless service providers," he says. XCellAir was spun off from wireless research and development giant InterDigital in 2015.
Our take: Radio resource optimisation lends strength to Fon
While Fon solutions (today called Fontech) have thus far mostly dealt with Wi-Fi service management, XCellAir should give Fon the ability to optimise home Wi-Fi services by managing radio resources. Radio-layer technology for Wi-Fi optimisation is otherwise difficult to source outside the portfolios of chipset vendors such as Qualcomm, Quantenna, and the like.
Hence XCellAir's solutions should provide good value to Fon as a complement to existing products. Still the challenge for relative newcomer Fontech remains: Making real inroads into an increasingly crowded market for carrier Wi-Fi software will require finesse and not least tenacity.
A brief history of Fon
Fon's business model and technical approach has cycled through a few iterations since the company was founded in 2006 by Argentinian-born serial entrepreneur and multi-millionaire Martin Varsavsky. Fon began by selling Wi-Fi routers to 'Foneros': Individuals ready to share a part of their home Wi-Fi bandwidth in return for free access to a world-wide, crowd-sourced Fon Wi-Fi network.
The concept was cleverly devised but never really caught on at scale. Instead, carriers across the world began to take an interest in the home Wi-Fi sharing concept – aka 'homespots' – as a simple and low-cost method for building out a public Wi-Fi footprint, and Fon has since been widely successful in developing router software and Wi-Fi roaming partnerships with household-name clients like BT, Deutsche Telekom, & others. Fon says its network spans 21 million hotspots around the world.
In late 2016 the company launched its solutions arm called Fontech hence entering the somewhat overcrowded Wi-Fi service management marketplace.
/Claus.