By Claus Hetting, Wi-Fi NOW CEO & Chairman
It rarely happens but Apple may – within the course of weeks – have changed its mind: It now appears that Apple's new 'Private Wi-Fi' feature (a form of MAC randomisation) will be introduced in iOS14 in a more docile form. Companies across the Wi-Fi industry could be breathing a little sigh of relief – at least temporarily.
MAC randomisation – in Apple-world this is called Private Wi-Fi – means the operating system of your phone changes your phone's hardware address so as to protect its identity. Just a couple of weeks ago we reported that Apple (always the one to focus on privacy) would introduce such a feature by default into iOS14, which most believe will be released next month.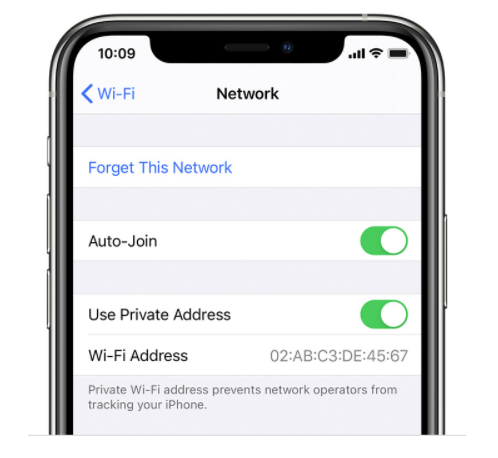 The feature was – to say the least – not well received by the Wi-Fi community because plenty of Wi-Fi service functionality relies on fixed MAC addresses. It now appears that backlash from the industry – and we're guessing fairly harsh criticism of Apple delivered by big carriers – perhaps has made Apple see the error of its ways. It now appears Apple is keeping the feature but is changing important details as to how it works. You can read the full description here.
First of all Apple says that iOS14 will use a different MAC address for each Wi-Fi network you use – and that you can choose to activate MAC randomisation or not. This appears to be a departure from the previous version, which appeared to apply MAC randomisation to any network connection and change the randomised address every 24 hours. The previous method would mean any Wi-Fi network connected to would appear to 'forget' the credentials of a user every 24 hours, which would be – needless to say – a considerable inconvenience. This would also disrupt home Wi-Fi services such as parental controls.
Our expert sources tell us that the method Apple now appears to have adopted is similar (or even identical) to how MAC randomization is managed on Android devices. We still don't know if Private Wi-Fi will be turned on as a default for each network but Apple says you will be warned if the feature is off as soon as you try to connect to a Wi-Fi network.
Some industry commentators suggest MAC randomisation by Apple has been expected to happen for a long time. The Wi-Fi industry has therefore already had plenty of time to deal with it – they say – but sadly hasn't. Other expert commentary suggest Apple's current solution is an intermediate step inevitably leading to a harsher and more universal form of MAC randomisation, which in the end may render MAC-based authentication and services largely useless or at least extremely inconvenient.
Many vendors and service providers working with forms of public Wi-Fi argue that Passpoint – meaning certificate-based secure authentication and roaming – is the right solution. We will try our best to keep you updated on the Private Wi-Fi issue as iOS14 nears.
We don't pretend to know everything about this issue so if you have valuable, credible information to share with us please contact me at [email protected]. 
/Claus.