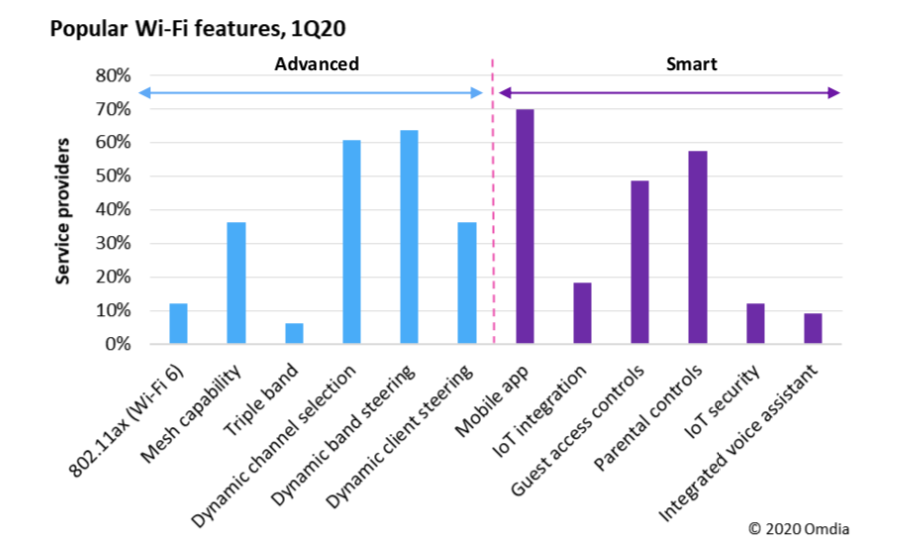 By Claus Hetting, Wi-Fi NOW CEO & Chairman
A new study by Omdia says smart Wi-Fi is a key market differentiator for ISPs: Today's ISPs must expand Wi-Fi services to include new smart Wi-Fi functionality in order to stay competitive and monetize effectively. The new study reads like an ISP's guide to upgrading to progressive Wi-Fi service strategies as working-from-home drives up demand for home Wi-Fi quality and high-value features. A recent webcast featuring Omdia and smart Wi-Fi vendor AirTies highlighted the findings.
Are you an ISP and are you intent on delivering the highest broadband speed for the lowest price? Then think again. Such strategies are bound to drive down ARPU or result in diminishing returns because users – beyond 50 or 100 Mbps – mostly don't feel they get more value from more speed.
Instead the answer is to make services stand out in the marketplace offering better Wi-Fi in every room as well as smart Wi-Fi features, says Omdia in their new study 'Marketing Smart Wi-Fi: The Key to Broadband Differentiation' which can be downloaded here.
Smart Wi-Fi vendor AirTies and the study's author – Omdia – recently discussed perspectives on why CMOs and marketing teams should be the driving force towards capitalising on the benefits of smart Wi-Fi. AirTies CEO, Philippe Alcaras and Michael Philpott, Research Director for Consumer Services at Omdia, discussed the findings in a webcast that can be viewed here.
Smart Wi-Fi services are the real differentiators
The report's findings are clear: So-called 'advanced features' – which are mostly technical improvements – are instrumental in delivering the right home Wi-Fi quality. But smart Wi-Fi services are the real market differentiators, Omdia says. Omdia's studies show (see figure above) that mobile apps and guest access control for the most part are available from ISPs already today, while IoT security and parental controls are trending upwards in popularity.
Add to this motion detection (sensing) and premium technical support, which Omdia expects will be 'firmly on the roadmap' for smart Wi-Fi services. All of these must of course be managed from the Cloud for real-time optimisation and troubleshooting, the study says.
Industry at an inflection point, says AirTies
"The industry is at a real inflection point in the evolution of Wi-Fi. Many people still think of smart Wi-Fi as a means to fix problems, but it is also used to differentiate and create targeted marketing opportunities with the right, real-time analytics capacity," says Philippe Alcaras, CEO of AirTies.
But of all of this is for naught – of course – unless ISPs understand how to monetize the new services. In many cases – ranging right across the world – ISPs are offering new whole-home Wi-Fi mesh systems (including extenders or repeaters) or upgraded routers at a premium and some even offer some form of Wi-Fi quality guarantee. The paper offers a survey on how some of the world's leading ISPs are approaching the new smart Wi-Fi paradigm.
/Claus.