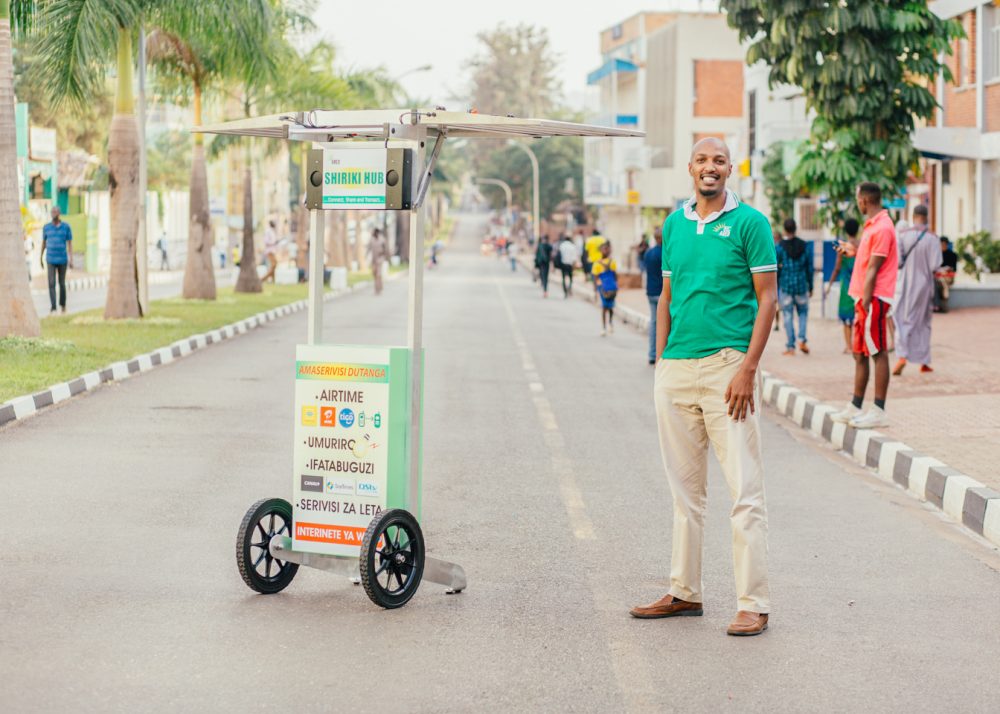 By Martynas Tovarovas, Wi-Fi NOW Staff Writer
If you ever end up in Rwanda with a dead phone battery and no Wi-Fi keep an eye out for bright-green solar-powered kiosks. 'Shiriki hubs' are Wi-Fi hotspots and charging stations in one also offering free offline content and other digital services. Customers pay only 5 cents to charge a phone and 3 cents for 10 minutes of Wi-Fi. One hotspot connects up to a 100 people within a range of 30 to 50 meters, the company says.
While such service might not seem like a big deal in the West it has indeed been a groundbreaking innovation in Rwanda: ARED's kiosks have been providing affordable digital services since 2013 serving 200,000 people in the last six years and processing nearly 500,000 transactions.
"People were asking for Wi-Fi"
The company also serves an important role in keeping people's smartphones charged and ready to be used. According to the World Bank there are 72 mobile phone subscriptions per 100 people in Rwanda, yet only 34% of the population had access to electricity (numbers are from 2017).
The mastermind behind the kiosks – ARED's founder Henri Nyakarundi – says that the project first started as a phone charging booth. But he quickly realised that charging services were not going to be enough. With smartphones becoming commonplace, customers started asking for Wi-Fi. 
Business model: Micro-franchising & sales commissions
"Wi-Fi is something that most people are not aware of – at least at the base of the population pyramid – in rural areas and semi-urban areas. But customers already knowledgeable about the Internet were asking if there was a way to get connected. So we thought – why don't we turn this kiosk into a Wi-Fi hotspot? – and that's how the idea started. Today the concept is even more than that but the original idea actually came from the customers, not from us," says Henri Nyakarundi.
Instead of traditional routers Shiriki hubs use mini servers that provide Wi-Fi and are able to store offline data. Customers can download localised free content – such as information on health and education. ARED's business model applies micro-franchising: They make money by leasing the hubs to ISPs, NGOs, telecoms companies and other partners, and then collect commissions from sales. Another source of income is displaying ads on the kiosks themselves.
A plan for digital literacy
Henri Nyakarundi had to realise early on that getting used to new technology takes time – claiming that people accepted phone charging services a lot more easily than Wi-Fi. "Getting people to use Wi-Fi has taken a bit longer, especially in low-income areas, refugee camps, and in rural areas where most people have never even heard about it. We've had to develop a digital literacy plan and encourage people to use the Wi-Fi solution," Henri Nyakarundi says.
"Ultimately what we are trying to do is bridge this digital gap between rural and urban areas. Lots of investments and resources are going into urban areas. Some resources are going to rural areas, but there's a lack of education and understanding. So we're trying to bridge this gap of digital literacy by not just providing a solution, but also by teaching and helping people learn about the solution," says Henri Nyakarundi.
ARED eventually wants to build their own separate network, offering a whole package of digital services, including up to 30 minutes of free Wi-Fi. Shiriki hubs are now operating in Rwanda and Uganda, and Nyakarundi has plans to expand to the Ivory Coast, Nigeria and even South Africa.
/Martynas.