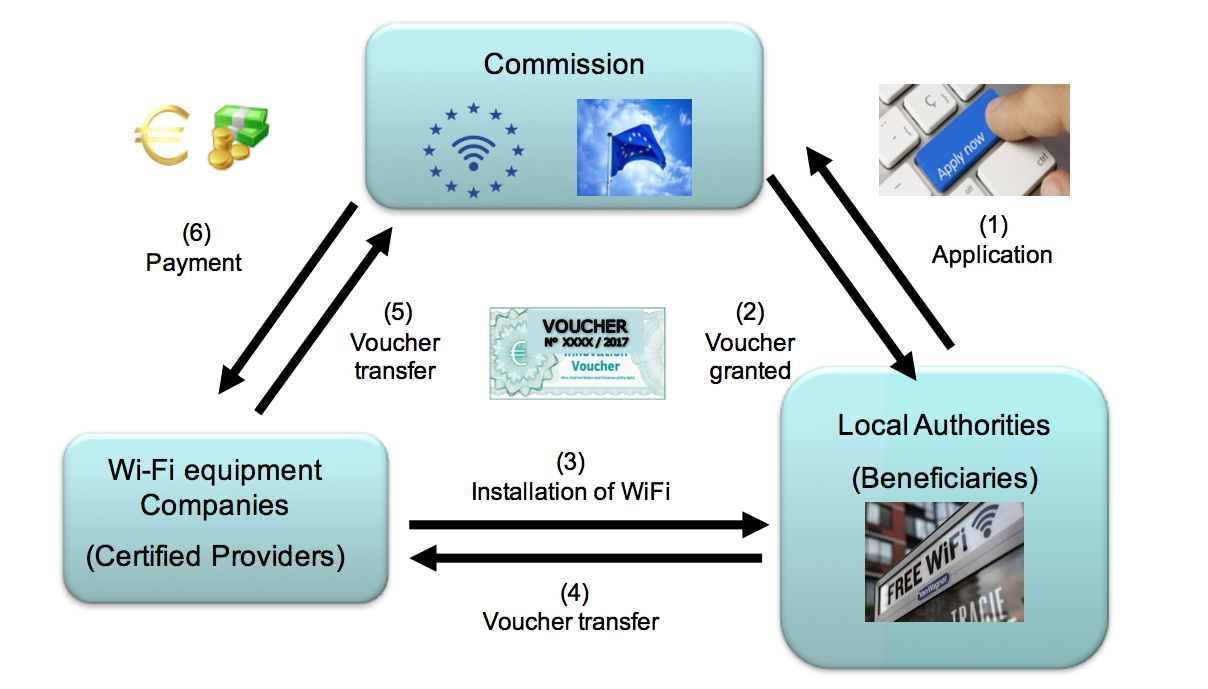 By Claus Hetting, Wi-Fi NOW CEO & Chairman
The €120-million grant project for free Wi-Fi across the EU is moving ahead steadily – and at Wi-Fi NOW Europe, the European Commission's Fernando Ferrero presented an update. Here are the salient points.
The facts
The basic facts should be well known by now but here's a recap: Earlier this year the EU decided to give away €120 million to support the buildout of free Wi-Fi services at some 6,000-8,000 locations across the continent.  Grants will be disbursed in batches of 15,000 – 25,000 EUR (the final lump sum value yet to be decided) and funds may be used for purchase and installation of Wi-Fi equipment.
Running costs – like maintenance, ISP backhaul, etc. – must be paid for by the beneficiaries (typically city governments) themselves. The $120 million in funding will be awarded in the course of the next three years following a number of 'call for projects' the first of which is expected to happen before the end of February 2018.
The voucher scheme revealed
At Wi-Fi NOW Europe, the EC released new details on the program: The EC has developed a voucher scheme by which suppliers will be paid for equipment and installation. The figure above illustrates how this is going to work. Note that providers will need to be 'certified' – which in practice means that local (or EU-wide) equipment providers (resellers, integrators) will need to register on the EC's portal, the details of which are still to be released.
Distributing the funds
The EC also said that there will be rules for how the grants will be distributed across the EU states, although the details of this scheme were not announced. The rules will include a ceiling on how much WiFi4EU funding each member state can receive. The EC will "encourage co-funding of bigger projects," said Fernando Ferrero at Wi-Fi NOW Europe. This means that the EC would like to see the WiFi4EU service adopted more widely including on existing government Wi-Fi networks.
Authentication & apps
The EC will also mandate a single authentication system and the networks will be remotely monitored for the duration of their 3-year operating period. The EC expects to release an app "to facilitate onboarding of users" and for local providers to register the details of the local WiFi4EU network.
If all of this goes according to plan, Wi-Fi network providers and city governments should prepare now so as to be ready to apply for grants around early February 2018.
We will keep a keen eye on the European Commission's progress, so make sure to check back with us for more information as it is released.
/Claus
The full set of presentations and videos from Wi-Fi NOW Europe are now available for purchase. Go to this link to purchase and download.