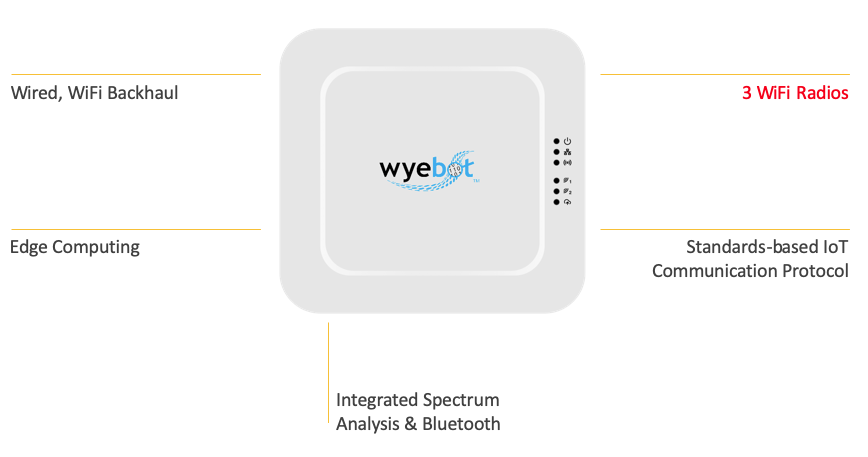 By Claus Hetting, Wi-Fi NOW CEO & Chairman
Massachusetts-based Wi-Fi automation company Wyebot last week announced the addition of Wi-Fi 6 capability to its enterprise Wi-Fi optimisation and security platform. The company says it is the first among independent optimisation platform vendors to offer Wi-Fi 6 capability.
Assuring Wi-Fi quality and reliability is still a big and costly issue for most enterprises. As the industry moves to Wi-Fi 6 (and as high-density Wi-Fi usage intensifies) there is arguably even more at stake if new Wi-Fi 6 networks don't perform as expected. Enter Wyebot: The first of a handful of current Wi-Fi quality assurance platform vendors to include Wi-Fi 6 optimisation into their offering.
Wyebot collects data and runs tests through a dedicated sensor (see illustration above), which roughly looks like an AP. The sensor connects to the Cloud, from which data is analysed and presented to the user via a dashboard. Wyebot prides itself on presenting actionable troubleshooting items to the user, says Wyebot CEO, Roger Sands. "We are an AI-driven solution and our strength is providing automation 24/7. It's kind of like having an engineer on site all the time," says Roger Sands. For more about Wyebot's 'Wireless Intelligence Platform' (or WIP) also see this link.
The sensor unit itself includes three radios: Two 4×4 802.11ac Wave2 (Wi-Fi 5) radios from Broadcom, and one Wi-Fi 6 radio from Intel. The two first radios capture data packets continuously, while the third radio is multi-purpose: It can act like a Wi-Fi 6 client, execute network tests, or can be used for Wi-Fi connectivity for the system itself (if Ethernet is not available). The system also logs a substantial history of data capture so as to identify any performance glitches over time, Wyebot says.
The company claims impressive results: Wyebot says it can reduce remote site visits by up to 80% and Wi-Fi trouble tickets by up to 50% – both represent substantial cuts in OPEX for any enterprise or service provider. Wyebot launched its products in 2018 and says has shipped more than 1,000 sensors to more than 350 clients across 35 US states. Particular growth areas are the health and education segments, says Roger Sands.
Founder and CTO of Wyebot Anil Gupta says there are two very specific reasons why enterprises are looking for automated Wi-Fi optimisation: Engineers with expert Wi-Fi knowledge are scarce and – even for the companies with expert staff available – such resources are often spread thin. "Companies with many locations struggle to get their Wi-Fi support right, and it is costly to fly in expert staff whenever there's an issue," Anil Gupta says.
/Claus.