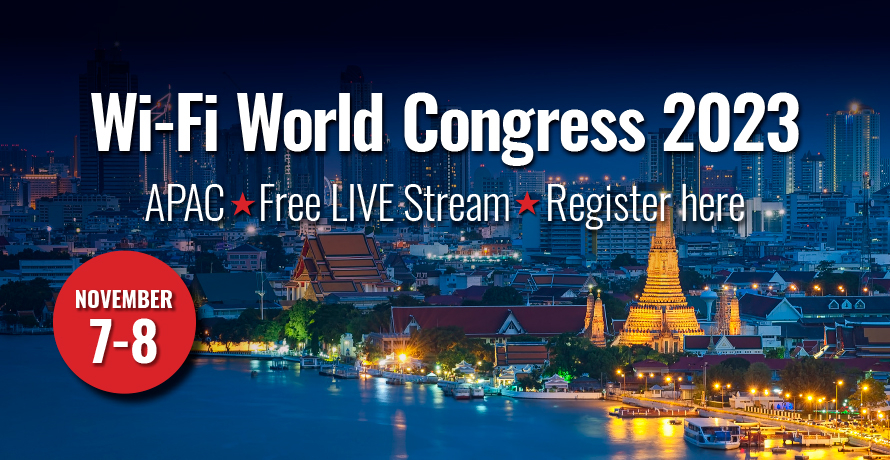 Register above and the recorded event window will appear for viewing. 
How do service providers across the APAC region use Wi-Fi to build profitable and innovative services? Find out as WWC APAC explores what's new with some of the region's most innovative operators.
We'll also take a deep dive into next generation IoT devices and kick off with a full regulatory and standards update. Sign up and become a Wi-Fi NOW free member to receive updates on this event. Time schedules below are in CET (Central European Time).
6:00- 6:20 am: Introduction: Regulatory update – with Martha Suarez, President of DSA
6:20-6:40 am: IEEE 802.11 workgroup update – with Dorothy Stanley, HPE Aruba Networks
6:40-7:00: A new generation of APs & devices for IoT – with Prakash Guda, Morse Micro
Short refreshment break
7:10-7:30 am: Linksys: Residential Wi-Fi by ISPs – with Jeevan Patil
7:30-7:50 am: The potential for B2B Wi-Fi services in Indonesia

with Gunadi Dwin Hantoro, PT Indonesia

7:50-8:10 am: Leading the broadband market in Nepal – with WorldLink
Short refreshment break
8:20-8:40 am: Wi-Fi services for India with Firefly networks

with Anusharan Deep Singh, Business Head – Wi-Fi, Firely

8:40-9:00: Greener WiFi networks for a sustainable net-zero world – with StarHub, Singapore

with Sander Veraar, VP Strategic Services & Enterprise Product

9:00 Wrap-up with Claus Hetting
Duration: Approximately 3 hours including presentations & short breaks. Presentation materials will be made available to registrations that are signed up as Wi-Fi NOW members (free).
With thanks to our sponsors:

Thanks to our speakers – with more to come: