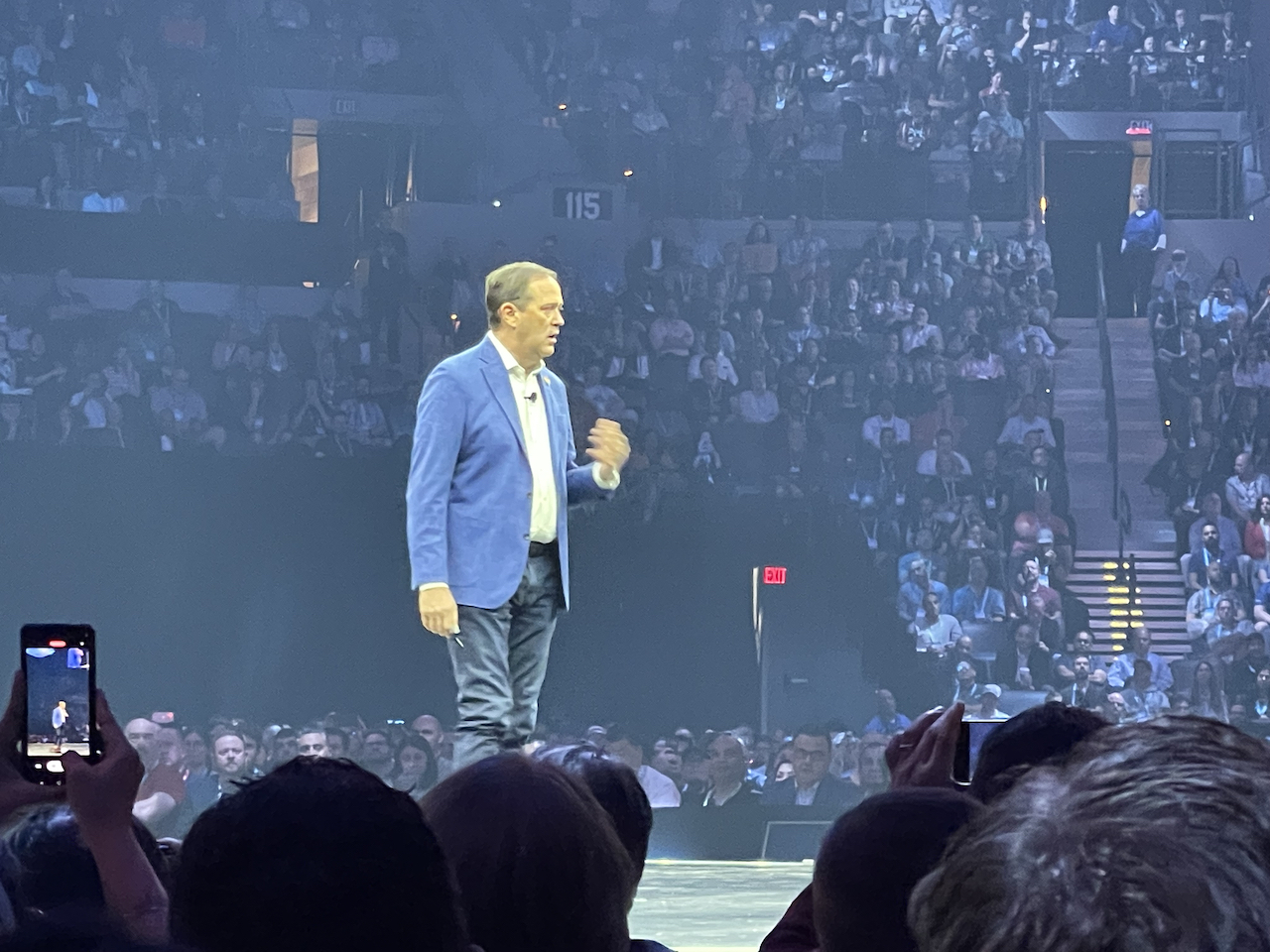 Por Claus Hetting, CEO y Presidente de Wi-Fi NOW
El Cisco Live! de la semana pasada en Las Vegas no solo fue un evento tecnológico gigantesco y opulento para Cisco y sus socios, sino que también fue un tour de force de lo que las redes Wi-Fi pueden hacer cuando se diseñan y administran con los niveles más altos de sofisticación. Un promedio de casi 20 000 dispositivos Wi-Fi se conectaron a la red Wi-Fi de Cisco en el Mandalay Convention Center y sus alrededores, muchos de ellos en condiciones de alta densidad extrema week's Cisco Live! 
Enjoying this story?
Leave your email here and we'll get you all the latest Wi-Fi news.
El mundo que nos rodea (incluida la tecnología) se está volviendo cada vez más complejo y, por lo tanto, también cada vez más difícil de manejar. El antídoto para toda esta complejidad es la IA, que simplificará nuestra interacción con la tecnología y las aplicaciones que nos conectan. Eso dijo Chuck Robbins, el CEO de Cisco, durante su discurso de apertura en Cisco Live! en Las Vegas la semana pasada. Muchos de los otros ejecutivos de Cisco que hablaron en uno de los eventos tecnológicos corporativos más grandes del mundo repitieron lo mismo.
No se habló mucho sobre Wi-Fi durante las conferencias de apertura, a pesar de que el propio Wi-Fi de Cisco fue un componente crítico del éxito del evento: el Wi-Fi es el tejido invisible que conectó a todos con la web y entre sí en este evento gigante. Miles de puntos de acceso Cisco formaron una red de demostración en vivo que sirvió a unos 20 000 dispositivos en el lugar y en los alrededores. Cisco Wi-Fi también ofrecía una conexión automática Wi-Fi segura y sin contacto mediante un Roaming abierto, que se puede activar a través de la propia aplicación de eventos de Cisco. Si quieres saber más, puedes ver la entrevista que le hice a David Benham, el gerente senior de productos inalámbricos Cisco, al final de este artículo.
Podría decirse que la instalación insignia de Cisco para este evento fue la red de alta densidad que cubría el Michelob Arena, donde también se implementa la antena del estadio Cisco Catalyst 9104. La antena de conmutación y dirección de haz configurable por software ganó el premio Wi-Fi NOW 2021 a la mejor solución Wi-Fi empresarial y hoy se utiliza mucho en estadios y arenas en todo el mundo. Puedes leer más aquí.
En Cisco Live! se exhibieron un montón de otras tecnologías Wi-Fi atractivas de Cisco, sobre todo, si se tenía acceso al Whisper Suites y World of Solutions de Cisco, donde se reveló a clientes selectos y a la prensa la tecnología Wi-Fi que pronto se anunciará. Además, había un área de exposición extensa con stands y demostraciones de un centenar de socios tecnológicos de Cisco.
Cisco y el proveedor de servicios de conectividad isco Mobilitie – hoy parte de BAI Communications, que pronto pasará a llamarse 'Boldyn Networks'), brindan Wi-Fi tanto en el Michelob Arena y el Mandalay Bay Convention Center, como en unas 28 propiedades de MGM en Las Vegas. Esto representa una parte importante del vasto complejo de entretenimiento, juegos de azar, y hotelería de Las Vegas.
Por lo tanto, si eres amante de la tecnología y te interesa mucho el mundo del Wi-Fi y la red de contactos empresariales, no hay mejor lugar para saciar tu hambre de tecnología que el Cisco Live! Y, claro, el sitio ideal para hacerlo es la fabulosa ciudad de Las Vegas. Sin dudas, Wi-Fi NOW volverá por más.
/Claus.