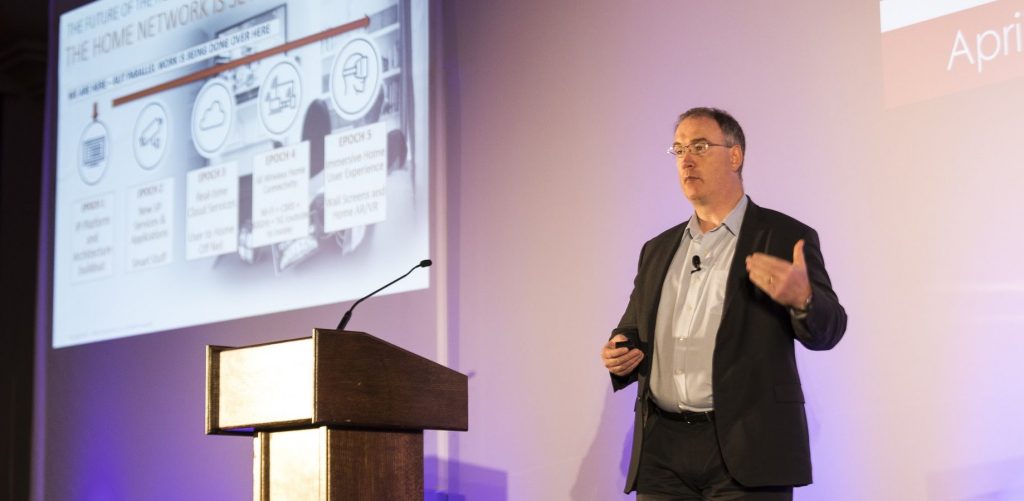 A Wi-Fi NOW USA special report by Claus Hetting, CEO Wi-Fi NOW
Consumers expect Wi-Fi speeds around the house to be the same as the Internet speeds they buy from their ISP. And Wi-Fi is going software. These were two of the key messages delivered by ARRIS CTO Charles Cheevers at Wi-Fi NOW USA in Washington D.C. this April.
The number of gigabit devices around the home are expected to grow by more than 120% a year (CAGR) towards 2019. Add to this the proliferation of 4k video set top boxes, and the race is on: How can service providers deliver the in-home Wi-Fi that consumers want?
Message to ISPs: Get home Wi-Fi right – or else…
There are multiple in-home Wi-Fi challenges and many ways to attack them, said ARRIS CTO Charles Cheevers. "Consumers now expect that Wi-Fi speeds in their home is the same as whatever speed they pay their ISP to deliver to their house," Cheevers said. And if you don't, Wi-Fi quality problems usually fall back on the service provider.
Key components include getting the CPE industrial design right so that people don't hide ugly routers under the staircase, Cheevers said. And before adding satellite and mesh units, getting the Wi-Fi right on the base (CPE) unit is critical and should include 8×8 802.11ac, 802.11ax, and tri-band capability.
Software & Cloud moves the Wi-Fi needle
Getting great Wi-Fi to every corner of your home is what much of the Wi-Fi industry is working on right now. "Using 4×4 extenders as satellite units is one way. Add to this Cloud-based intelligence that controls the user experience, and that will move the Wi-Fi needle," Cheevers said.
The idealised Cloud-based architecture would include data collection, radio resource and policy management, and even a low-latency controller for the home. The aim of all of this is to get Wi-Fi devices to connect gaplessly to the best available signal regardless of where they are and also if devices move around, Cheevers said.
Devices react differently but we're fixing it
"Most of the time, devices around the house move neither very quickly nor very often. So in reality, most devices don't need fast steering to keep them best connected unless we're talking about Wi-Fi voice calling. And they may not all react well to channel, band, or AP steering, although we will solve those issues as an industry," Cheevers said.
WiGig cannot be ignored
Three years down the line, the ideal solution is likely to be a wireless routing device in every room. And WiGig is could well be an important component of that, Cheevers said. 60 GHz Wi-Fi is great inside a room, but ARRIS' experiments also show that 60 GHz will penetrate through sheetrock walls, a common building material especially in the US. "60 GHz Wi-Fi offers so much it cannot be ignored," Cheevers said.