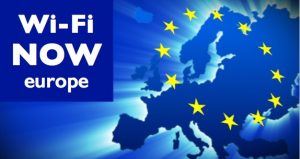 Some of us are still pinching our arms and rubbing our eyes to see if we've been reading this right: EU Commissioner Juncker announced in his annual 'State of the Union' speech in September that the EU plans to subsidise free City Wi-Fi across Europe to the tune of 120 million EUR by 2020.
But will it happen – and if so, will it boost the Wi-Fi industry in Europe? These are the looming questions. And there is still a lot of work for the Commission and its partners to do to get this off the ground.
A CAPEX-only Wi-Fi subsidy
First let's get the facts straight: The EU wants to equip 6,000-8,000 cities with free Wi-Fi by subsiding equipment & installation (CAPEX) costs. If you work out the subsidy per city (assuming that the 8,000 is right) that would amount to about 15,000 EUR per city.
The cities are then expected to pay maintenance and 'subscription costs' themselves. The statement (see the PDF below) also says that communities need to commit to 'very high Internet' speeds.
Finally the proposal still has to pass both the EU Parliament and national ministers' approvals. The statement also says that new city Wi-Fi networks cannot compete with existing Wi-Fi services, commercial or otherwise but the detailed policy documents have yet to be published.
Reputable sources have revealed to Wi-Fi NOW that the initiative is very likely to go ahead and that only the specifics (allocation across countries & details of the policy) are likely to change at this point.
Could free Wi-Fi be a catalyst for Wi-Fi industry growth in Europe?
This is pretty much what we know about this initiative at the moment. The good news of course is that this could be a boost to the Wi-Fi industry in Europe and not least provide underserved communities with free Internet access.
It's no secret that City Wi-Fi in many cases has had a tough time getting off the ground due to lack of finances and fierce competition from ubiquitous mobile data. The challenge for this initiative could be that 15,000 EUR on average will give you about 2-4 outdoor Wi-Fi access points only. So either the new free Wi-Fi networks will be small or they will need more funding. Or cities could decide focus on indoor Wi-Fi deployments which would give them perhaps 8-12 access points to work with.
The scheme likely to stimulate job creation at some level and – with some creativity and thoughtful effort – would create a new platform for more public bodies to enter the Digital Age. And yes, there are communities in the EU that are underserved by service providers of any kind. Not everything in the EU is the land of plenty, as many seem to believe.
Wi-Fi NOW support
For what it's worth, at Wi-Fi NOW we have pledged our full support of this proposal and we will do everything in our power to support it. Now there will of course be companies and individuals (especially in the cellular industry) who will resist this tooth and nail and likely spend large sums of money on lobbying against it both nationally and at the EU level.
But remember this: In the grand scheme of things 120 million EUR – or a mere 15,000 EUR in equipment subsidy per community – is a small amount. Cellular is a trillion-dollar global industry that should comfortably be able to accommodate this with no losses of significance.
At the same time, the fixed telcos will likely benefit from the backhaul services that will be needed to support community Wi-Fi.
Meet the European Commission at Wi-Fi NOW London Oct. 25-27
We're delighted to announce that the European Commission is joining us at Wi-Fi NOW International in London this October 25-27 to give us a full overview of what free EU Wi-Fi is all about. For more see this link and make sure you register to join us in London!
/Claus.
Below: The official statement on the 'WiFi4EU' initiative as released by the EU Commission in September 2016.