By Claus Hetting, Wi-Fi NOW CEO & Chairman
A new white paper by Cisco highlights the benefits of the voluminous Wi-Fi 6 feature set and for the first time presents Wi-Fi 6 performance test results: Wi-Fi 6 vastly outperforms Wi-Fi 5 (802.11ac) and boosts range by more than 60%, Cisco says. The Wi-Fi Alliance's new paper positions Wi-Fi 6 as 'the future of connectivity'. Both papers should be among the first things you read in 2019.
If you are working in Wi-Fi – or in wireless in general – you should know by this time that we are on the cusp of a brand new Wi-Fi technology release: Wi-Fi 6 is slated to hit the markets during first half of this New Year. But what exactly will be the real, tangible benefits of this new technology?
A new white paper by Cisco zooms in on the voluminous Wi-Fi 6 technical feature set (yes, by a long shot Wi-Fi 6 is the most complex Wi-Fi standard ever) and fleshes out the details of how Wi-Fi 6 beats any previous Wi-Fi generation by a wide margin in practically every performance category. There is a lot of excellent information in the paper and we don't have column space to comment on all of it here – but here are two critical performance items we picked up on:
Uplink data rates up to 3 times higher with Wi-Fi 6
In Wi-Fi 6 the new OFDMA scheme will operate in both uplink and downlink directions, which means that Wi-Fi throughput will no longer quickly deteriorate as a function of the number of connected devices. This is particularly true in the uplink direction where the relative throughput for Wi-Fi 6 will be 2-3 times higher with four or more devices connected to the AP. In the downlink direction the gains will be from +10% to +40% also relative to Wi-Fi 5 (see figure below), says Cisco.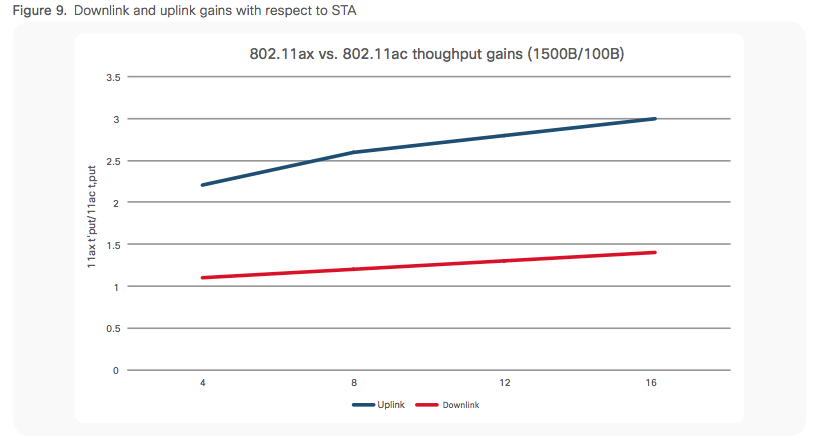 Up to 60% longer range at low data rates
Another highly beneficial effect of Wi-Fi 6 is that Wi-Fi range will be substantially increased – but only for low data rate services using the so-called minimum resource allocation unit of the new OFDMA scheme. Cisco says that in the best case Wi-Fi range may be extended by more than 60% compared to Wi-Fi 5 and reach past 250 feet from the AP (see figure below). The range improvement has obvious benefits especially for IoT-type, low-power use cases.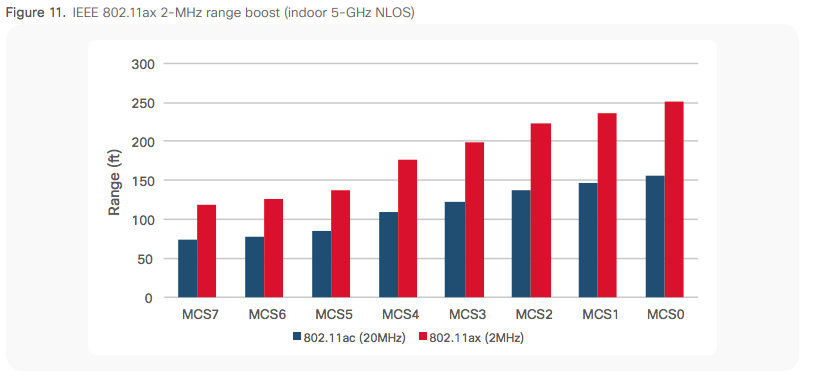 Wi-Fi Alliance: Wi-Fi 6 is 'the future of connectivity'
Meanwhile the Wi-Fi Alliance's new use-case focused Wi-Fi 6 paper presents less technical detail and instead paints a potent image of Wi-Fi 6 as 'the future of connectivity'. The paper brings 5G into the discussion and the rhetoric is unusually bold for the often soft-spoken organisation that has expeditiously guided the global advance of the Wi-Fi industry for close to 20 years.
The Wi-Fi Alliance says Wi-Fi 6 will be complimentary to 5G and will 'continue to carry the bulk of the world's data traffic as 5G is deployed'. The paper also highlights the substantial spectrum efficiency gains of Wi-Fi 6 and its ability to share spectrum 'with other technologies' in unlicensed bands. Finally the paper touts a bigger, more comprehensive picture of the future of Wi-Fi that includes the WiGig and Wi-Fi HaLow standards operating in complimentary unlicensed bands.
Same strengths – but with a litany of new use cases
But of course the big promise of Wi-Fi 6 is its applicability to a host of new use cases including IoT (industrial and otherwise), 'immersive' experiences in the home, much-improved carrier offload, smart cities, and more. In this sense Wi-Fi 6 overlaps with many of the new use cases envisaged for 5G but more likely to be served by Wi-Fi (the Wi-Fi Alliance doesn't conclude that but we will).
And of course Wi-Fi 6 will maintain and expand on Wi-Fi's strengths as well as sustain an unbroken string of Wi-Fi successes spanning a remarkable 20 years. Wi-Fi 6 will be the affordable (some would say capital efficient) option for high-performance, next generation connectivity and can be deployed by not just carriers but by anyone, the paper says.
Given everything we know about Wi-Fi 6 at this point it is hard to imagine Wi-Fi 6 not being everywhere in a couple of years time. It is also easy to imagine Wi-Fi 6 setting off another cycle of accelerated innovation in use cases and – not least – renewed profitability. And all of this without getting anywhere close to the mushrooming costs of 5G.
/Claus.