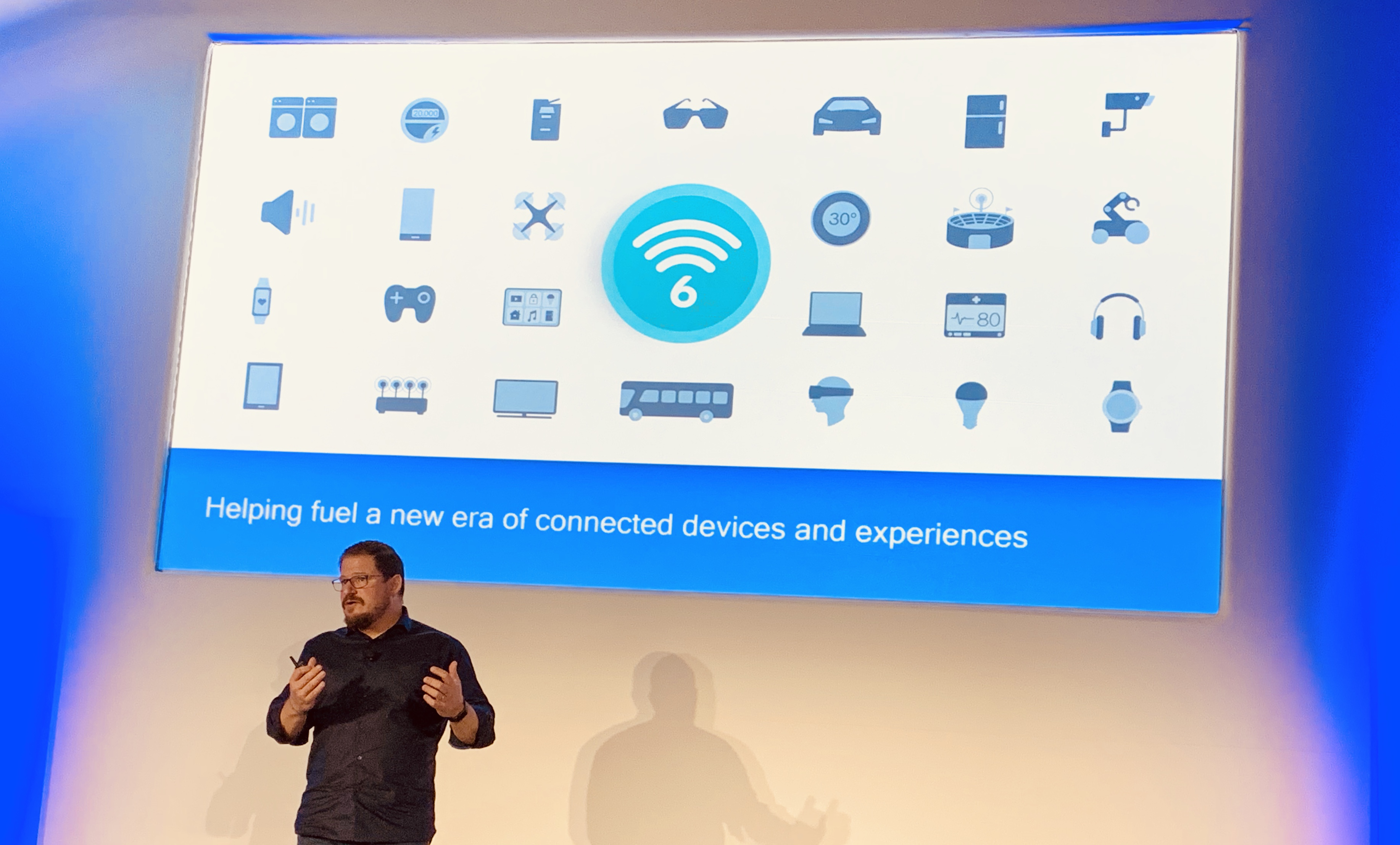 Above: Qualcomm President Christiano R. Amon speaking at Qualcomm's Wi-Fi 6 launch event in San Francisco, California, on August 27.
By Claus Hetting, Wi-Fi NOW CEO & Chairman
San Francisco, August 27, 2019: At a tour-de-force launch event intently coordinated to reinforce the company's Wi-Fi technology leadership, Qualcomm announced four new 'Pro Series' Wi-Fi 6 networking platforms and a new, performance-boosted Wi-Fi 6 'FastConnect 6800' mobile chipset solution to boot.
While most of the wireless world still has its eyes glued to 5G, something else is happening that will arguably impact our connected lives sooner than 5G and more forcefully: Next generation Wi-Fi. Qualcomm's Wi-Fi 6 product launch this week means the world is one big step closer to what everyone undeniably wants: Better, faster, more fully-featured Wi-Fi everywhere.
Enjoying this story?
Leave your email here and we'll get you all the latest Wi-Fi news.
In San Francisco this Tuesday, Qualcomm announced a new and expanded family of Wi-Fi 6 networking (router or AP) chips dubbed 'Pro Series' as well as a new 'FastConnect 6800' client-side solution (a subsystem on the 855 Snapdragon platform). Qualcomm's two new platforms set a high bar for what we can expect from live Wi-Fi 6 performance in the near future.
Four new Wi-Fi 6 networking chips, four times the performance
The 'Pro Series' chipset family comes in four flavours delivering from four to twelve spatial streams. The new chipset family allows consumer and enterprise-grade AP vendors such as Cisco, Aruba/HPE, CommScope, NETGEAR – all speaking at the launch event this week – to create Wi-Fi 6 networking products at a range of price points and performance levels.
And Qualcomm is making some big promises on what performance boost to expect from Wi-Fi 6: The 'Pro Series' will deliver up to four times better throughput per end-user device compared to Wi-Fi 5 "even at extended range and in the most congested of networks," the company said, citing a peak speed (for the 12-stream device) of 6 Gbps. The new chips also support up to a whopping 1500 simultaneous users per access point and 37 OFDMA users per 5 MHz channel.
Features beyond Wi-Fi 6's first release
The client-side platform even brandishes a feature beyond the current first release of the Wi-Fi 6 standard: Uplink MU-MIMO. It also includes '8×8 sounding' allowing mobile phones and laptops to broadcast their 8×8 MU-MIMO capability to APs, hence extracting maximum performance from MU-MIMO-equipped access points and routers.
Another useful client-side feature is 'Target Wake Time' (TWT) that should reduce battery consumption on your phone. Qualcomm says the new 'FastConnect 6800' Wi-Fi 6 platform will deliver up to 1.8 Gbps of data to your phone or laptop using the new 1024 QAM modulation scheme.
A 'toolbox of features' for myriads of new use cases
While OFDMA has often been cited as the most important Wi-Fi 6 feature, Qualcomm was careful to point out that 8×8 MU-MIMO (including its uplink variety) is as important if not more so when it comes to Wi-Fi 6 performance. Qualcomm said it has already shipped 750 million MU-MIMO-capable client devices and a staggering 4 billion Wi-Fi devices in total since 2015.
So whether your preference is MU-MIMO, OFDMA, 1024 QAM or all three or something different: It was abundantly clear at Qualcomm's launch event that Wi-Fi 6 is not just one or two new functions but instead a wide-ranging 'toolbox of features' that can and will be applied to a long list of new use cases from industrial IoT to interactive smart spaces to gaming to – well, you name it.
CommScope: The time is right to upgrade
If you're still thinking it is too soon to upgrade your network to Wi-Fi 6 consider this: CommScope demonstrated at the event that Ruckus Wi-Fi 6 APs with 8×8 MIMO boosts legacy Wi-Fi performance by 30% or more when compared to Wi-Fi 5 APs. And with new Wi-Fi 6 infrastructure you can be pretty sure that you've taken care of your wireless networking needs for the next five years.
Read more about Qualcomm's new Wi-Fi 6 solutions here.
/Claus.
Also check out our video interviews from the event below – enjoy 🙂
Interviews: Qualcomm's Wi-Fi 6 launch event in San Francisco from Wi-Fi NOW on Vimeo.