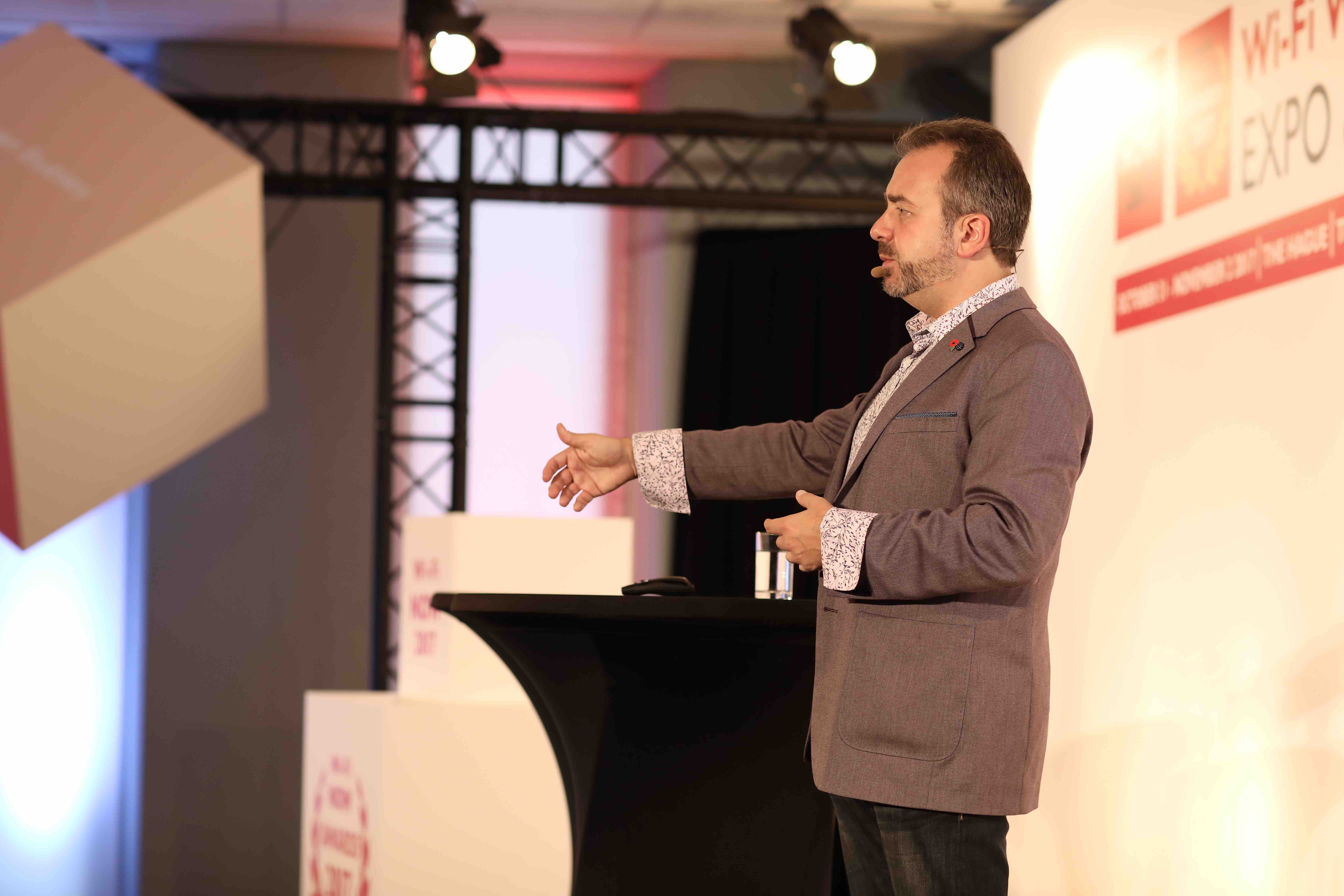 Above: Analyst Dean Bubley speaking at Wi-Fi NOW. Read Dean Bubley's full comments & blog here.
By Claus Hetting, Wi-Fi NOW Chairman & CEO
The Wi-Fi industry deserves congratulations on 20 years and $2 trillion dollars of economic value created, said futurist and telco analyst Dean Bubley at Wi-Fi NOW APAC in Shanghai. But it needs to double-down on scope and ambitions if it is to stay timely and relevant for another 20 years, he said.
How will Wi-Fi technology fare in what is commonly called the '5G era' and how should the Wi-Fi industry both propel itself towards opportunity and brace itself against threats? That was the subject of analyst and futurist Dean Bubley's keynote at Wi-Fi NOW APAC in Shanghai on March 5.
"I'm very positive about Wi-Fi, especially with the capabilities of mesh, cloud, and Wi-Fi 6 for the home. But I'm also concerned that the industry isn't being sufficiently ambitious," said Dean Bubley. Bubley believes residential Wi-Fi will continue largely unrivalled, driven forward by more and better fixed infrastructure especially in the developed world. But at the same time, big new opportunities in multiple segments are not given enough attention if any, he said.
The cellular industry is working hard to create at least the perception that private LTE and 5G networks are imminent. In this space Wi-Fi 6 is obviously a strong candidate to deliver the right services, as it often is today for enterprise applications. But progress will not happen without advocacy. "The industry needs to market itself more loudly, more globally, and to a wider audience. It needs to create more space for innovators and developers. Where is for example the Wi-Fi equivalent of the 5G Alliance for Connected Industries and Automation?" Bubley said.
Bubley was also strongly critical of public Wi-Fi, which he believes is being killed off by a combination of clumsy attempts at monetisation and flat-rate mobile data. "We don't necessarily need full automation. Frictionless, one-click access is fine. But the industry should campaign to get rid of cumbersome logins that just annoy people," he said.
Bubley also believes Wi-Fi has a role to play in licensed bands. "More unlicensed spectrum is great. But I also believe that Wi-Fi should aim to adopt versions that work in licensed bands. There are many benefits and absolutely no reason not to have that ambition," Bubley said.
Last but not least: The Wi-Fi industry is so protective of its own brand that it stifles innovation, experimentation, and even branding, Bubley said. "There's a lot of great innovation going on in for example 60 GHz that cannot officially get the 'Wi-Fi' name so they choose to call it 5G, even though it's not. Maybe WFA should create a new category called something like Wi-FiX for experimental," he said.
Make sure you view Dean's full presentation from Wi-Fi NOW APAC and read all of Dean Bubley's commentary in this blog entry on the Disruptive Analysis website.
/Claus.