By Claus Hetting, Wi-Fi NOW CEO & Chairman
A new study released by the Wi-Fi Alliance today pegs the global economic value of Wi-Fi at $1.96 trillion. This value is expected to rise to $3.47 trillion by 2023. 
The global economic surplus value of Wi-Fi is not just a staggering $1.96 trillion – it is also set to grow by close to 80% in the course of the next five years to reach $3.47 trillion. These are the results of a study commissioned by the Wi-Fi Alliance and released today.
The study also breaks down the value of Wi-Fi according to countries: Topping the list is the USA at $499 billion, while Japan, Germany, and South Korea come in at $171 billion, $94 billion, and $68 billion in Wi-Fi economic value as of 2018, respectively.
"Wi-Fi has a powerful and often underestimated economic impact all over the world," said Edgar Figueroa, president and CEO, Wi-Fi Alliance. "This study brings attention to the tremendous economic benefit from Wi-Fi, and underscores the importance of favourable spectrum policy to ensure Wi-Fi continues delivering even greater economic and societal benefits for many years to come."
The Wi-Fi Alliance says that Wi-Fi brings the greatest economic impact in four ways: Expanding consumer choice, creating innovative business models for unique services, expanding access to communications services, and "complementing wireline and cellular technologies to enhance their effectiveness," with the last category likely referring to mobile offload.
The new study is authored by Dr Raul Katz, president of Telecom Advisory Services. To meet Dr Katz in person and to understand the implications of the new study, do not miss Wi-Fi NOW conference and expo this November 6-8 in Berlin Germany!
For more information go to www.valueofwifi.com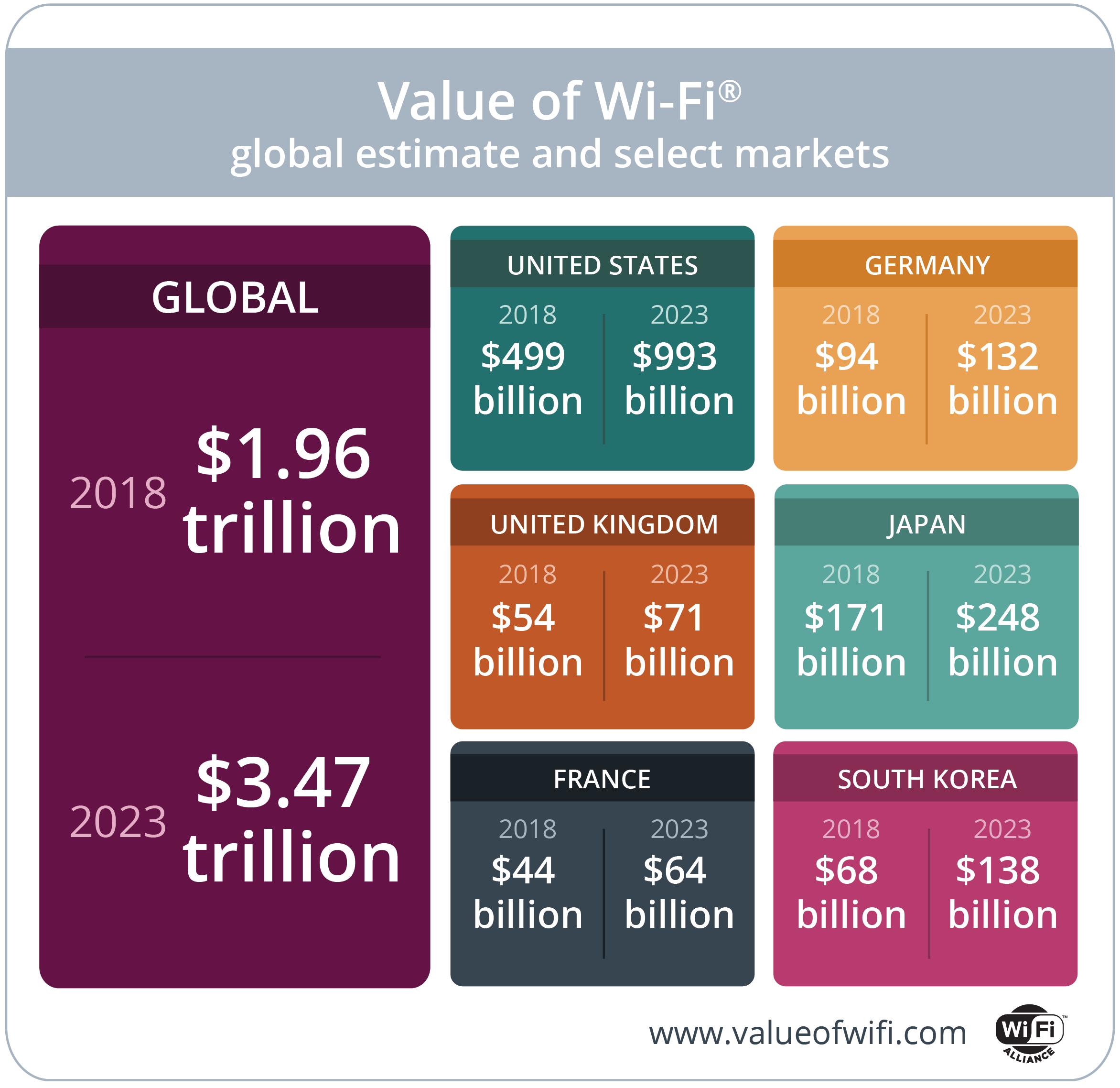 Source of above graphic: Wi-Fi Alliance
/Claus.