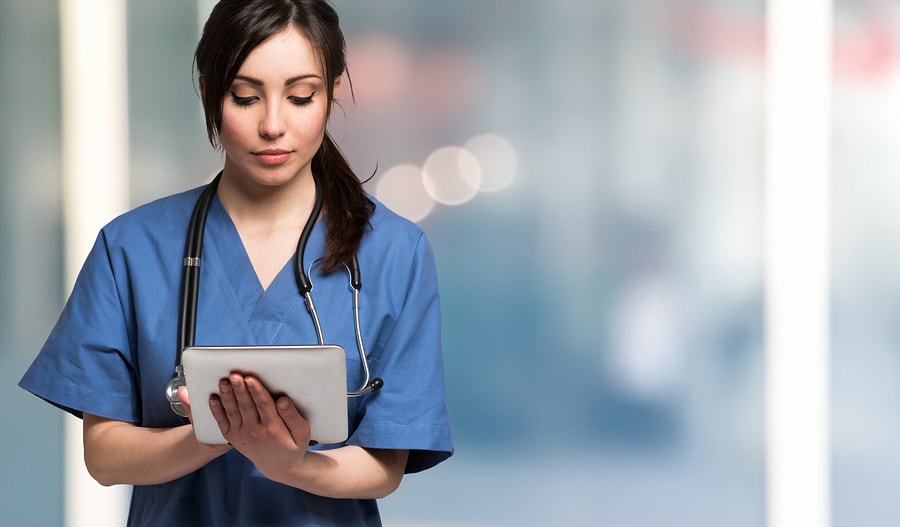 By Stephanie Bergeron Kinch, Wi-Fi NOW Staff Writer
The US Bureau of Labor and Statistics projects the registered nurse (RN) workforce to increase 16 percent by 2024. Nurses will need all the support they can get. A boom in Wi-Fi-based hospital systems could help pick up the slack.
Healthcare, like all industries, is experiencing a disruption. At the center of it is Nursing Informatics, a new field of study that combines nursing science with IT and analytics.
The tech industry has embraced this new field with new products that support a more digital hospital care experience – and many of them use Wi-Fi to connect.
The most recent example is Nihon Kohden's NK-HiQ Wireless Patient Monitoring System, which Wi-Fi to provide continuous patient monitoring in hospitals. While standard systems require that patient monitoring systems are unplugged during transport, NK-HiQ uses the hospitals' existing 802.11 infrastructure to provide continuous monitoring and data collection.
In a statement, Nikon Kohden CEO Dr. Wilson P. Constantine said that "with NK-HiQ, care providers can leverage their investment in existing 802.11 infrastructure to keep patients safe and clinicians informed no matter patient acuity level or location in the hospital."
Wi-Fi-enabled wearables and location-based monitoring tools also help nurses keep track of patients. In Australia, Surecom IT created an IP Wi-Fi nurse call system to replace the standard buzzer that patients use to signal a nurse. The system uses a Real-Time Location System (RTLS) to pinpoint where patients are when they need help.
Wi-Fi's advantage over WMTS
Traditionally, US-based hospitals use a Wi-Fi alternative called Wireless Medical Telemetry Service (WMTS), which operates on the ultra-high frequency bands allocated by the FCC in 2000. Both the FCC and The Food and Drug Administration (FDA) encourage the use of the WMTS over Wi-Fi. Still, there is no international standard for WMTS and only 14 MHz of bandwidth is available. That isn't much for a large hospital campus.
Recent improvements in Wi-Fi performance, security, and reliability encourage a shift from WMTS to Wi-Fi for hospital systems. According to the cybersecurity experts at Fortinet, Hospitals have three options for WLAN models:
The Integrated Model where security and WLAN integrate into a single platform. This is best for health networks with multiple locations
The Controller Model that allows networks and security to be managed separately. This model works best for large hospitals that may need to overcome interference issues from medical equipment.
The Cloud-Managed Model, which integrates security and WLAN control in a cloud management platform. This allows centralized management and policies without on-premise controllers. It is best for doctor's offices and healthcare centers.
No matter the model, Susan Biddle, Fortinet's Sr. Director of Healthcare, writes that security must be in focus. "To protect patient data and deliver the best possible care, health networks need holistic, end-to-end cybersecurity at every point of care and in every facility, from clinics to hospital campuses."
/Stephanie