By Claus Hetting, Wi-Fi NOW CEO & Chairman
Some 20 million US households are 'MDUs' – meaning multi-dwelling units – and more than 300,000 new apartment homes will need to be built every year in the US to keep up with demand. Going from ad-hoc, self-provisioned home Wi-Fi to high-quality managed Wi-Fi is a transformational opportunity for MDUs driving up Wi-Fi quality and delivering a raft of other benefits for all stakeholders. A new editorial report from Wi-Fi NOW and Maravedis Research – brought to you by DISH Fiber – expands on all the details.
For the majority of MDUs – defined as a housing complex with five rental units or more – home Wi-Fi is ad-hoc and self provisioned by tenants. Unfortunately, uncoordinated Wi-Fi of this type is the source of countless connectivity problems and inconsistencies. The right way to deliver quality Wi-Fi for MDUs – says a new Wi-Fi NOW & Maravedis Editorial Report just released – is with managed Wi-Fi.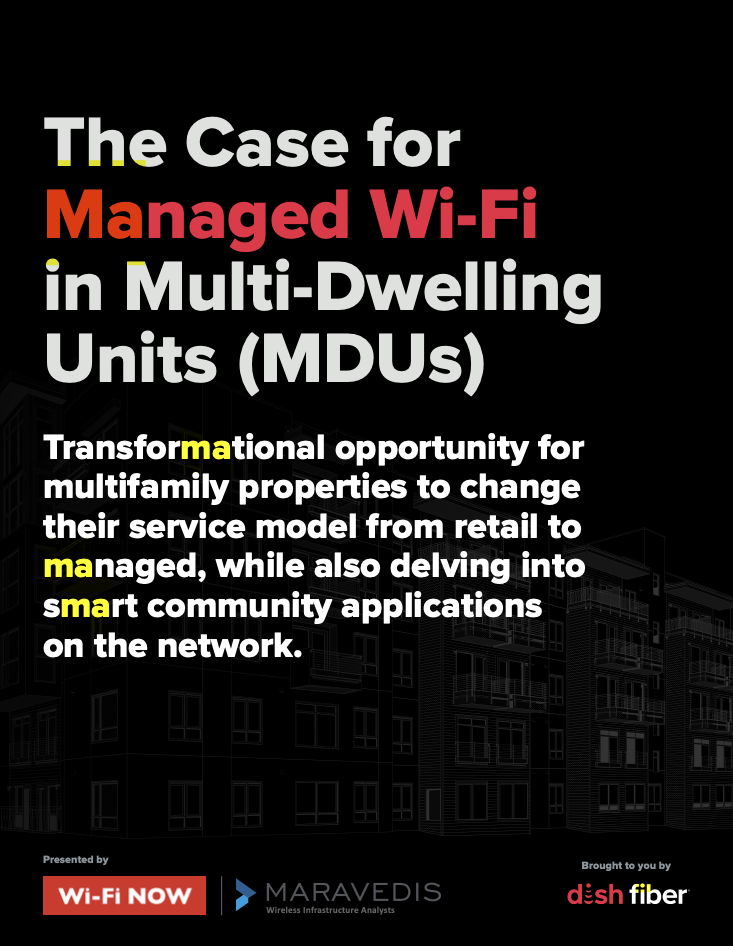 The report says property owners 'just want the technology to work' but are often challenged when trying to keep up with fast-paced technological change or attempting to determine the right path for future-proofing buildings and facilities. Often property owners don't even have full-time IT support. Meanwhile tenants – whom on average today are younger – expect convenience, flexibility, and excellent amenities, including of course Wi-Fi, preferably pre-installed and fast. Add to this peak bandwidth requirements for households continuing to grow at unprecedented rates.
Ad-hoc, self-provisioned Wi-Fi introduces a litany of quality issues caused by poor AP placement, interference with neighbouring APs, and dead zones – just to mention just a few. Users need to reconnect to building or neighbourhood Wi-Fi services (if available) when leaving their premises and security vulnerabilities are rampant. In contrast managed Wi-Fi (usually Cloud-based and monitored remotely) delivers property-wide quality Internet access consistently and securely. The result is a raft of benefits for all stakeholders.
For all the details including case stories, technology, market data, and analysis download the full editorial report below. The report is brought to you by DISH Fiber and co-sponsored by CommScope, Siklu, and RoamingIQ.

/Claus.