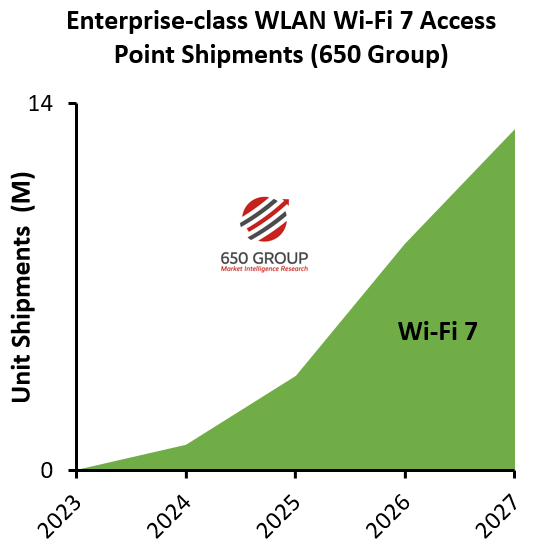 By Claus Hetting, Wi-Fi NOW CEO & Chairman
New forecast numbers by analyst leader 650 Group predicts strong growth for Wi-Fi 7 towards 2027: The total enterprise Wi-Fi market will reach US$10.8 billion in 2027 with Wi-Fi 7 APs representing US$3.6 billion of the total, or about 33%. Consumer-grade Wi-Fi network equipment market will reach US$11.6B in 2027 of which 36% will be Wi-Fi 7-capable equipment, 650 Group says.
"The uptake will be strong because it will be the main way both companies and consumers take advantage of the new 6 GHz spectrum in many countries. We also expect end devices to begin more widespread 6 GHz availability towards the end of 2023, which should drive more immediate demand," says Chris Depuy, co-founder and analyst at 650 Group.
Enterprise-grade Wi-Fi 7 access points are expected to exceed 13 million units by 2027, 650 Group says.
650 Group research reports are available here.
/Claus.