By Claus Hetting, Wi-Fi NOW CEO & Chairman
So will Europe get 6 GHz Wi-Fi any time soon? The question is simple yet the regulatory process set in motion for releasing 6 GHz spectrum to Wi-Fi in Europe is mindbogglingly complex. Fortunately, at Wi-Fi NOW we have befriended one of the world's foremost experts on the subject.
His name is Chris Szymanski – he works for Broadcom as Director of Product Marketing & Government Affairs – and he says that Europe's process to release 500 MHz of 6 GHz spectrum to Wi-Fi is on track and could even conclude ahead of schedule following a regulatory meeting held in Copenhagen, Denmark in mid May.
Enjoying this story?
Leave your email here and we'll get you all the latest Wi-Fi news.
As already said: It's complicated. But here's roughly what we know: CEPT (which does not represent the European Union only but instead 48 European countries cooperating on spectrum regulation) has issued a technical report to the European Commission (the highest regulatory authority on spectrum allocations within the EU) on the feasibility of Wi-Fi in the 6 GHz band.
6 GHz Wi-Fi deemed 'possible' by the ECC
This report is called ECC Report 302 and can be found here. The report was issued by the ECC (Electronic Communications Committee) – one of CEPT's 5 sub-organisations. Stay with us because it gets more complicated still. The milestone reached just a few weeks ago is the so-called 'Draft CEPT Report A', which draws on ECC Report 302 (see timeline below), and which was approved and delivered by the ECC to the European Commission pretty much right on schedule this month.
The bottom line in 'Draft CEPT Report A' is that RLAN operation (technically Wi-Fi is referred to as 'RLAN' aka 'Radio Local Area Networks' by regulators) in the lower half of the 6 GHz band has been deemed 'possible'. At the same time additional 'supplementary studies' on potential interference have been requested by certain member states.
New ECC work item created in support of 6 GHz unlicensed
All of this is happening in a timely manner and according to the expected process. So here's what's new: The ECC – led by Germany – has decided to open a new regulatory 'work item' in support of unlicensed 6 GHz RLAN. This is great news for anyone in Wi-Fi, says Chris Szymanski.
"The purpose of this ECC Work Item is to develop a harmonised regulation for the 48 CEPT countries independent of the European Commission. This is extremely good news because we think this could accelerate the timeline for 6 GHz Wi-Fi operations in Europe before the end of 2020," Szymanski says.
"In the end individual country regulators – and the European Commission – will need to adopt new rules. But with this development, we could have sufficient regulatory certainty to enable manufacturers to target equipment sales mid next year that will unleash a variety of new use cases for the people in any of the 48 European Administrations that quickly adopt the regulations in their own national legislation," Szymanski says.
At Wi-Fi NOW we promise to keep you updated on the process as it develops, of course.
/Claus.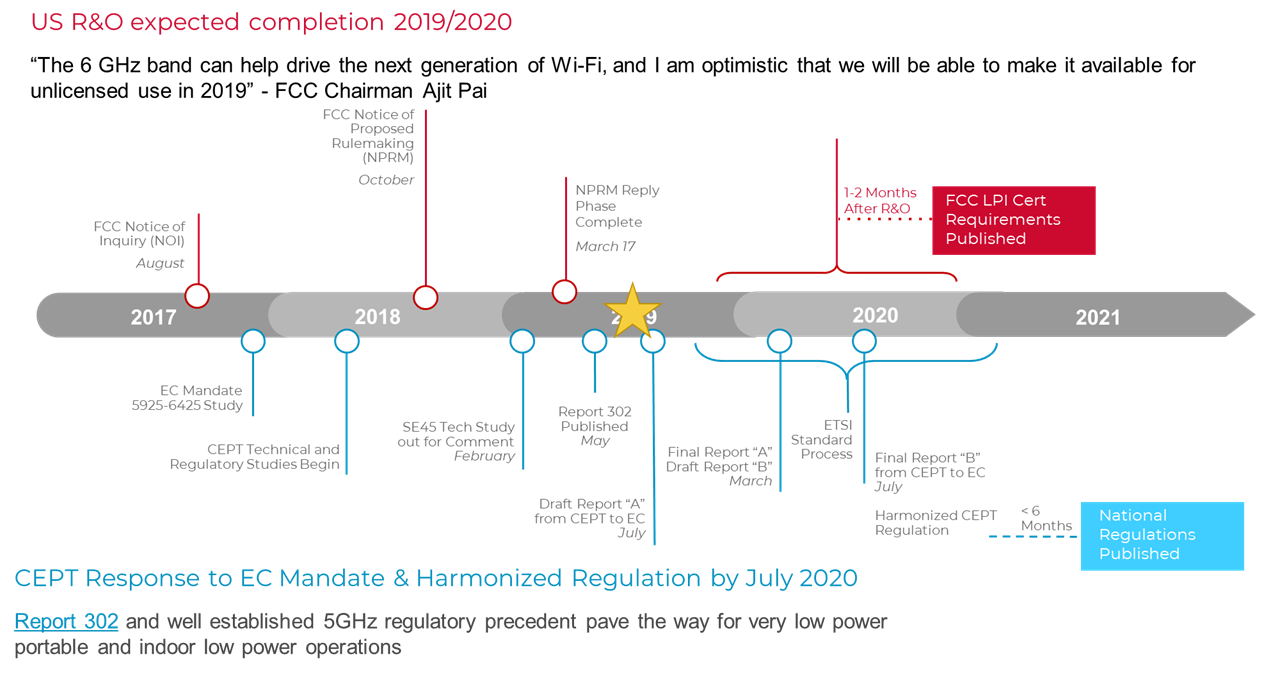 Above: Updated 6 GHz regulatory expected timelines – courtesy Broadcom.