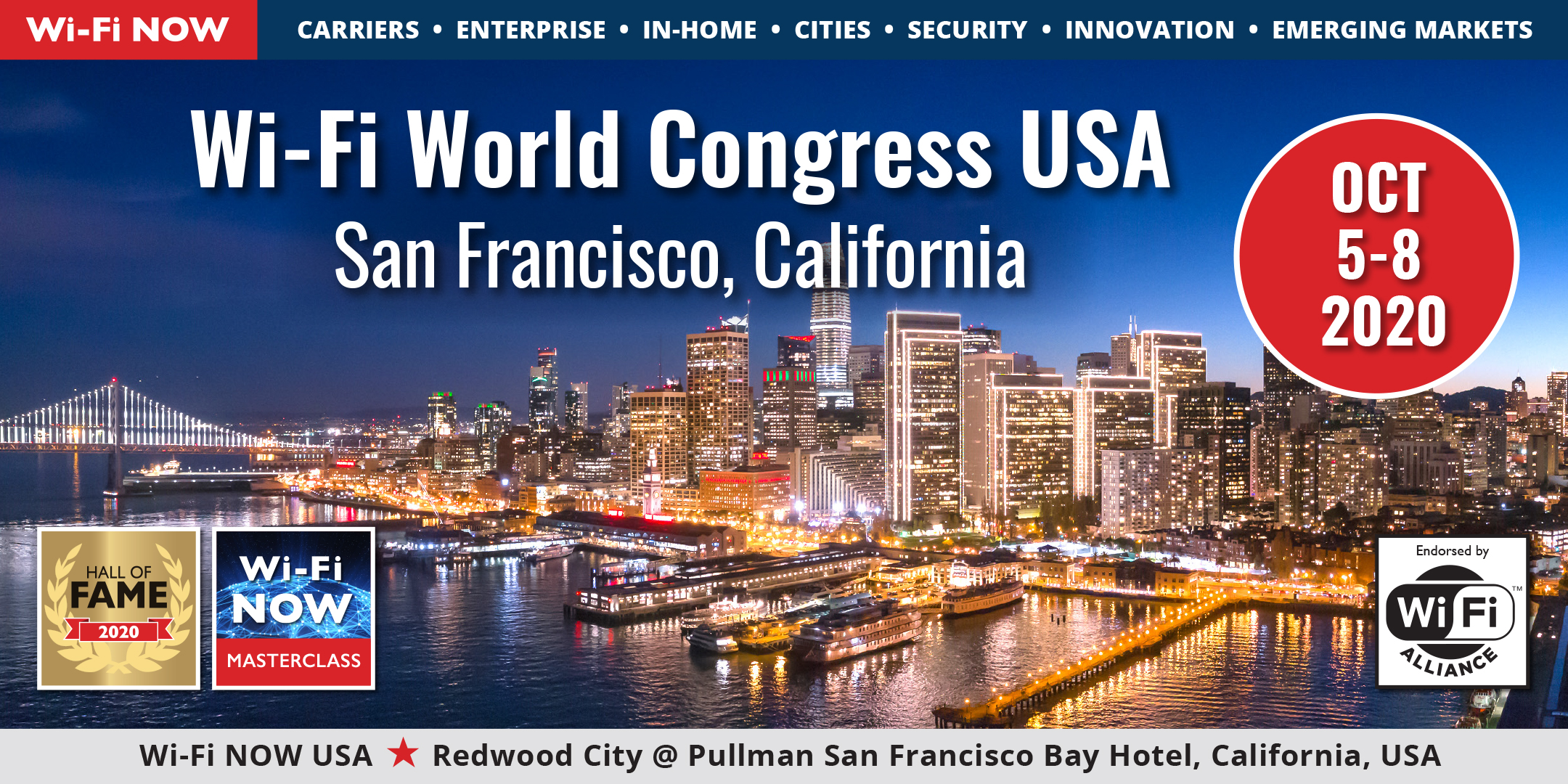 By Claus Hetting, Wi-Fi NOW CEO & Chairman
To make sure we have enough time to deliver to you the world's premier Wi-Fi event we've decided that the Wi-Fi World Congress USA 2020 will take place on 5-8 October 2020. This will be a real event – meaning not a virtual event. In the coming weeks we will work with our speakers and sponsors to reconfirm the program (much of it is already in place). The location is unchanged: Pullman San Francisco Bay Hotel in Redwood City, California.
We still have a small number of speaking and sponsorship opportunities – and expo spaces – available for this event, so if you are interested in any of that please contact me at [email protected] or our event director Jane Mølgaard at [email protected] for more details. As always – and especially now – we want to see our great venue packed.
Our second event this year will be Wi-Fi NOW Europe, which will take place in The Hague, Netherlands, on November 17-19. Similarly, speaking and sponsorship opportunities are available for our Europe event as well. We expect both events to be exceedingly well attended.
So why should you participate? There are two reasons to bet big on the future of Wi-Fi: The first is Wi-Fi 6 – the new and vastly improved Wi-Fi standard, and we're only just getting started on the global Wi-Fi 6 technology upgrade. Wi-Fi 6 will drive growth in every existing Wi-Fi stronghold market and open up for new markets including industrial IoT and more. The second reason and is even more exciting: Wi-Fi 6E aka 6 GHz Wi-Fi. This is not just a new standard but a paradigm shift in connectivity. Read more here about how 6E will revolutionize connectivity in every known market segment.
For both our US and Europe events we will be re-introducing our popular Masterclass series of deep-dive workshops with focus on Wi-Fi 6 and 6E – and more.
To stay tuned on all event updates and to get all the Wi-Fi industry news delivered to your inbox every week make sure you sign up in the box above. And market your calendars now for October 5-8!
/Claus.