At Wi-Fi NOW we're delighted and honoured to be supporting the ITDRC – the world's hardest working non-profit organisation for reconnecting communities in crisis. Here's just some of the work that the ITDRC has been involved in during the past year.
A Decade of Connecting Communities in Crisis
By Joe Hillis, Operations Director, Information Technology Disaster Resource Center
When disaster strikes a community, or as we recently witnessed with Hurricanes Harvey, Irma, and Maria – entire regions are left without reliable communications.
The Information Technology Disaster Resource Center (ITDRC), now in its 10th year, provides in-kind communications and technical resources that connect survivors and responders, and help communities continue operations after a disaster. ITDRC is an all-volunteer organization, whose mission is made possible through corporate and private donations, grants, product and services.
ITDRC was founded in 2008 by a handful of volunteers in Fort Worth, Texas. A decade later, the organization has grown from a small group of "idealistic volunteers" to a nationwide disaster response organization with 1,000 credentialed volunteers across 10 geographical regions.
Last year, ITDRC volunteers logged more than 40,000 hours responding to 15 major disasters; establishing 159 sites in 85 communities.
2017 was a tough year for natural disasters in the United States. Damages from hurricanes alone was over $300 Billion dollars; but the human toll was priceless. Our mission is to enable survivors to communicate with loved ones, and provide first responders with communications solutions.
Hurricane Maria (Puerto Rico)
After Maria struck the island of Puerto Rico, power and communications were down on the majority of the island.Fiber networks were thrashed, and more than 90% of cell towers were offline. ITDRC received a request for assistance from the government of Puerto Rico, and immediately dispatched a team of volunteers and equipment.
Over the last 7 months, more than 50 technical volunteers from ITDRC have worked to establish temporary communications in 80 sites; connecting survivors, responders, and key critical sites.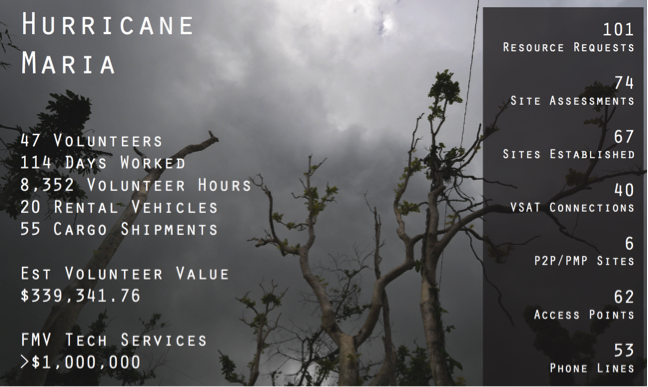 You Can Help!
ITDRC could not help communities in crisis without support from industry and technology partners. Our lifeblood is the volunteers and product and service donations from socially responsible companies like Cisco, Dell, Dish Network, Google, HP, Inc, Ruckus (Arris), and support from Southwest Airlines, just to name a few.
To find out how you and your organization can help connect communities in crisis with ITDRC, visit www.itdrc.org and fill out the online volunteer registration form. We are not only looking for technical people, we also need help with human resources, finance, and operations. ITDRC is split into Western, Central, and Eastern divisions, a total of 10 sub-regions where volunteers are encouraged to attend ITDRC events and network with one another.
Our "Thanks!" to Claus and the Wi-Fi NOW team, offering us a sponsored booth at the upcoming Wi-Fi Now event taking place May 15-17 at the Pullman San Francisco Bay Hotel, 223 Twin Dolphin Drive, Redwood City, CA 94065 USA.
We look forward to meeting you at Wi-Fi NOW USA!
Watch a 1-minute video on the work of ITDRC below: