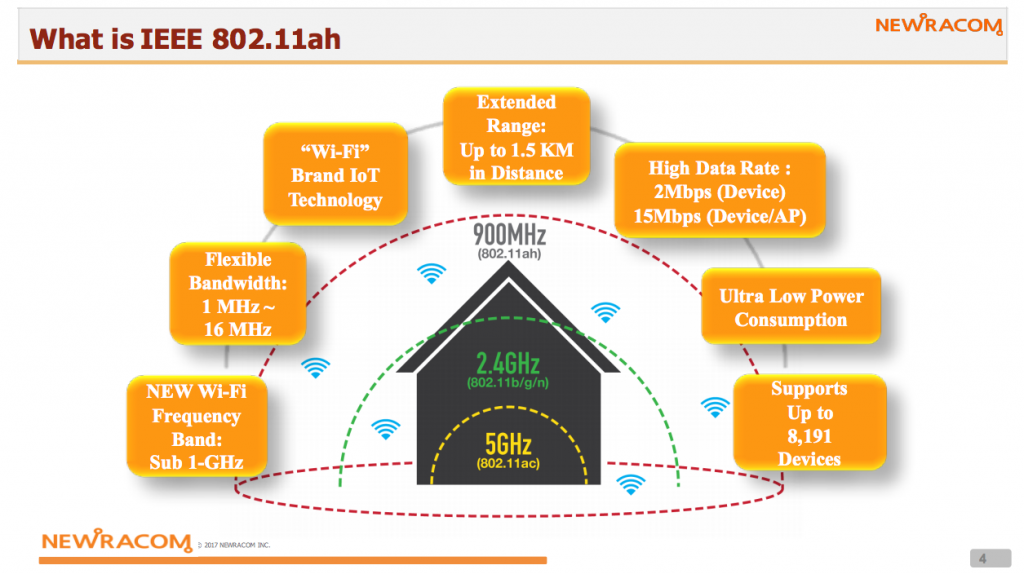 by Claus Hetting, Wi-Fi NOW
A mile of cell range, thousands of devices, and 3 years of battery life: The new HaLow Wi-Fi standard for connecting things is making giant strides to connect all things. But what exactly is it and how can we expect HaLow to be applied in coming years? This Wi-Fi NOW exclusive report is based on Newracom's presentation at Wi-Fi NOW USA in April. 
Getting to know the tech
HaLow is the first Wi-Fi standard specifically designed for IoT applications. And the standard allows for great flexibility in picking suitable data rates while supporting thousands of IoT devices. All of this of course will run on sub GHz frequencies (exact frequency will depend on region) to allow for the longest cell range ever in Wi-Fi. Newracom is (as far as we know) right now the only company that has tested & verified HaLow's range to more than 1 kilometre.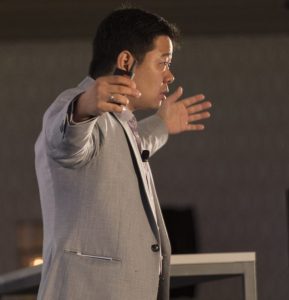 Another huge benefit of HaLow is support for more than 8,000 devices off a single AP. Not only that, the 802.11ah standard supports mesh so that thousands devices can interconnect by daisy-chaining and stringing together thousands of units. This means that an 802.11ah network in principle could cover an entire city using mesh. This makes the technology extremely cost effective, especially for service providers and Smart City-hungry city governments.
HaLow is Wi-Fi
Like everything in Wi-Fi, HaLow is less of a 'network' and a 'service' than a set of building blocks that service providers or enterprises can use to address a plethora of IoT use cases. Also important to note is that HaLow is Wi-Fi. "This is the same Wi-Fi that everyone knows. Anyone from the device or router side who has developed Wi-Fi can easily develop HaLow," said Michael Lee, VP Marketing of Newracom at Wi-Fi NOW USA. He also said that the Newracom's HaLow solution supports location-based services.
HaLow will piggy-back on Wi-Fi by service providers
One of the most important value propositions in HaLow is that the tech is a low cost and technically a fairly modest addition to any existing Wi-Fi network. According to Michael Lee, piggy-backing HaLow on existing Wi-Fi networks (such as those of cablecos in the US) opens up for a big IoT opportunity at low cost. "The HaLow baseband would be embedded into APs and hence the incremental cost on top of existing Wi-Fi networks is maybe a few dollars per AP," Michael Lee said.
Michael Lee also believes that – despite being designed for IoT – HaLow will have a role to play in cellular offload because of it's range. "It won't support tens or hundreds of Mbps. But a lot of the time you don't need that anyway, and that's when HaLow will be useful even for phones and tablets," he said.
Michael Lee's overarching Wi-Fi vision is that HaLow will be included as a fourth band in quad-band Wi-Fi APs that will include sub-Gigahertz for HaLow, 2.4 GHz, 5 GHz, and WiGig to support nearly any wireless use case. Newracom is right now working the Wi-Fi ecosystem to convince everyone that this is the Wi-Fi future we've all been waiting for.
Smart cities & smart homes
Smart cities could well be the big opportunity for HaLow given that a city could be covered effectively using HaLow's built-in meshing technology. For the smart home, a single HaLow enabled AP could comfortably cover an entire family home including surrounding outdoor areas while serving up to thousands of devices including doorbells, alarms, locks, smart metering, etc. etc. Neither Zigbee nor Z-Wave will provide the same performance in the home, Michael Lee said.
Newracom already has HaLow chipsets and software available today, says Michael Lee.
/Claus.