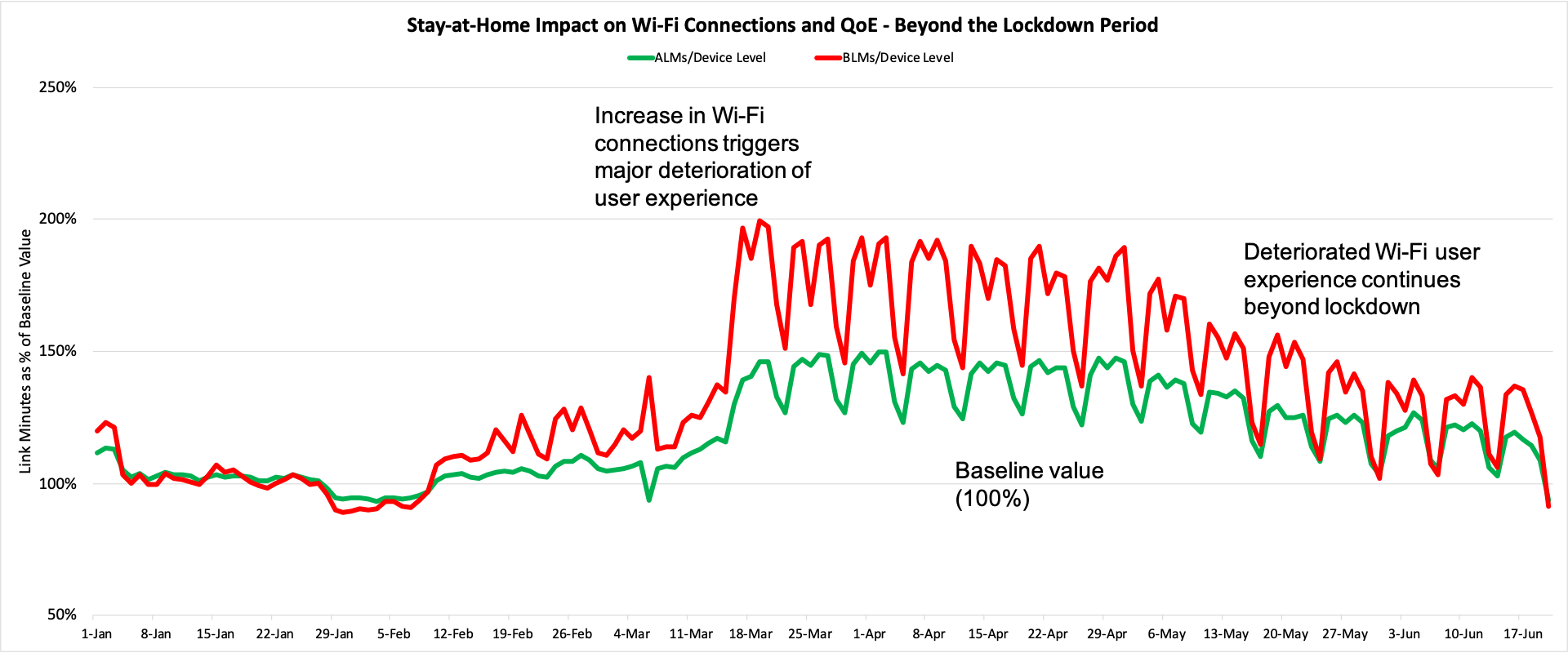 By Claus Hetting, Wi-Fi NOW CEO & Chairman
A new white paper from whole-home Wi-Fi vendor AirTies says loads on residential Wi-Fi networks are causing a disproportionately large amount of bad service quality for home Wi-Fi users. Collection and analysis of managed Wi-Fi data from millions of homes indicates the existence of a 'catalyst' effect where Wi-Fi quality deteriorates exponentially with increased usage, AirTies says in the report. 
It is well known that lockdowns, working-from-home, and home schooling have overloaded most residential Wi-Fi networks but now it seems the resulting deterioration of Wi-Fi quality in the home is even worse than expected. Whole-home Wi-Fi vendor AirTies says they've identified a 'catalyst effect': The Wi-Fi quality of experience degrades exponentially with increased usage, the company says. And that has serious implications for service providers.
AirTies has collected and anonymised managed Wi-Fi data from 25 million homes during and before the lockdown period to investigate new user behaviour and how residential Wi-Fi networks are impacted by radically changed home Wi-Fi usage patterns. During lockdown 'Active Link Minutes' in the home increased more than 80% during working hours compared to pre-lockdown levels while overall data consumption increased 62% to more than 11 GB per day, AirTies says.
Data shows "doubling of the user misery"
AirTies also identified a 116% increase in upload traffic and 30-40% more connected devices in the home on average compared to pre-lockdown levels. But more than anything the disproportionately large dip in service quality is caused by a 'catalyst effect', AirTies says. The data – says AirTies – "clearly shows a doubling of the user misery" as expressed in 'Bad Link Minutes' compared to the increase in activity ('All Link Minutes' in the graph above) and bandwidth.
AirTies says this is due to the combination of increased bandwidth usage, more activity, and new usage patterns. The end result is not just less satisfied users but also a possible increase in help-desk calls, negative impact on brand image, and lowered NPS (Net Promoter Score) values for ISPs. The changed user behaviour also has extended into the non-lockdown period and appears – for now –to be a new reality to be dealt with by ISPs.
"Our priority is to support service providers as they focus on keeping their customers connected and productive during this unprecedented global challenge," said Bart Vercammen, Executive Vice President and General Manager of AirTies' software product line, and one of the paper's co-authors.
Smart Wi-Fi solutions mitigate the catalyst effect
The company notes that next-generation smart Wi-Fi solutions can mitigate the catalyst effect, improve the quality of experience, and differentiate their services in a competitive marketplace. AirTies should know since it serves more than 50 operators across 4 continents, including AT&T, Altice USA, Sky, Singtel, Telia, Telstra and others.
AirTies' Smart Wi-Fi software – used to upgrade third-party gateways – intelligently directs consumers' devices to the best available channel and band (2.4GHz and 5GHz), based on real-time home network conditions to improve performance. AirTies Cloud is a flexible management platform that optimizes the network and gives service providers real-time visibility into their subscribers' Wi-Fi performance, allowing remote diagnostics and troubleshooting.
Service providers get insights and analysis on connected devices as well as on data consumption patterns within the home, along with proactive recommendations. The platform also delivers a "Wi-Fi Experience Index" to help better serve their customers. The company also offers a range of Wi-Fi Mesh extenders, including a portfolio of new Wi-Fi 6 devices.
The entire report entitled 'The Catalyst Effect: Understanding the Impact of Lockdown on Residential Wi-Fi and Future Implications, Analysis and Opinion' is available for download here.
/Claus.